Kohima, March 10: Walking on the path of strengthening and envisioning a bright future for the upcoming generation, the country has been diligently walking on to create a polio free India. Seeping in into the polio eradication drive, Nagaland Health and Family Welfare Department on Sunday launched the first round of 'Intensive Pulse Polio Immunization' programme.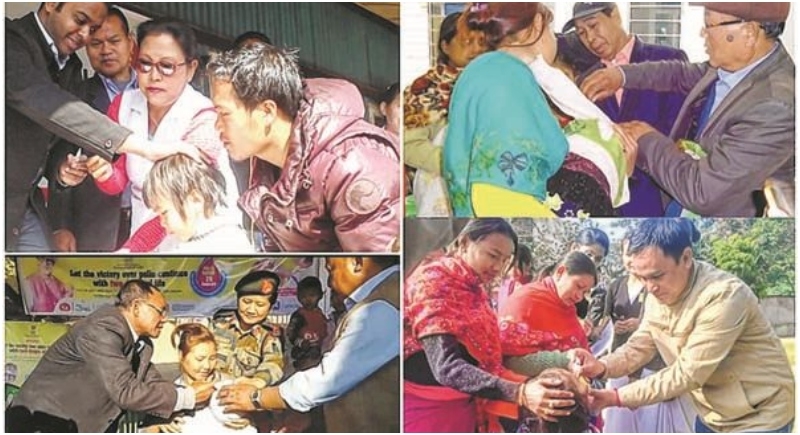 Principal Secretary of Health and Family Welfare, Himato Zhimomi, administered the first two polio drops to an infant at Naga Hospital here marking the launch of the three-day programme to sustain polio eradication drive.
"The department is targeting to administer polio drops to all eligible children upto five years throughout the state in 2,274 polio booths manned by 9096 health personnel and 455 supervisors along with vaccines and other logistics," said Naga Hospital Managing Director, Dr Thorhusie Karity.
Healthcare providers and volunteers would be conducting house-to-house visits to check whether any eligible children have been left out of the immunization programme. More than 17 crore children below five years across the country will be given polio drops as part of the central government's drive to sustain polio eradication from the country.
Pulse Polio Immunization programme was launched in India in 1995. Children in the age group of 0-5 years administered polio drops during National and Sub-national immunization rounds (in high-risk areas) every year. Polio vaccine is an infectious viral disease against which immunization in the form of Pulse Polio drop is given. Newborn babies should be given polio drops in addition to the regular immunization which is carried out at 6 weeks, 10 weeks and 14 weeks after your child's birth.