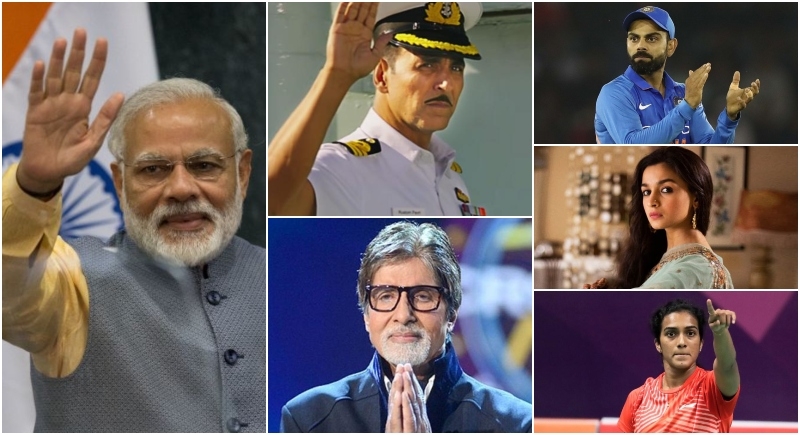 March 13: With the schedule declared just few days back, India has fully immersed into the 'High Josh' of Loksabha Elections 2019. Being fully aware of the power of social media, PM Narendra Modi has decided to use it for a good cause, that being to alert everyone for being a responsible voter in our democratic nation!
While others are busy promoting their parties and agendas, Prime Minister Modi is thinking about the democratic nature of our elections and has come up with an innovative way of spreading awareness of the elections and urging everyone to be a responsible citizen.
Narendra Modi, who has always shared great communication with the filmstars, sports persons as well as media personalities encouraging them, decided to make use of that rapport in spreading some awareness.
Covering a wide spectrum of Bollywood and sports celebrities as well as journalists, Modi started a thread on twitter urging them to help bring more people out to vote in the upcoming election.
Tagging all the filmstars, he tactfully used some specific dialogues from films to make the content more attractive.
Modi shares a notably friendly relationship with the youngsters in the country, also being not unaware of trends these youngsters follow. He also tagged the youth icons such as Ranveer Singh, Alia Bhatt and Vicky Kaushal, using their wildly popular catchphrases from blockbuster movies 'Gully Boy' and 'Uri'.
He also sent out personalised messages other biggies in the country including Lata Mangeshkar, Sachin Tendulkar, MS Dhoni, Akshay Kumar, Shah Rukh Khan, Amitabh Bachchan, Ayushmann Khurrana, Bhumi Pednekar, Phogat sisters, Saina Nehwal among many others.
The recipients of these budding tweets also responded in more and more creative ways supporting PM Modi's efforts to spread awareness about the power of voting in a democratic nation.
So, here's requesting every citizen to follow the lead of your favourite celebrity icons and be a responsible voter in further promoting the biggest democracy in the world!