Mumbai, March 14: Six persons were killed and 32persons injured after a major portion of a foot overbridge near a train station in south Mumbai collapsed Thursday evening, officials said. The bridge connected the bustling Chhatrapati Shivaji Maharaj Terminus railway station with the Azad Maidan Police Station.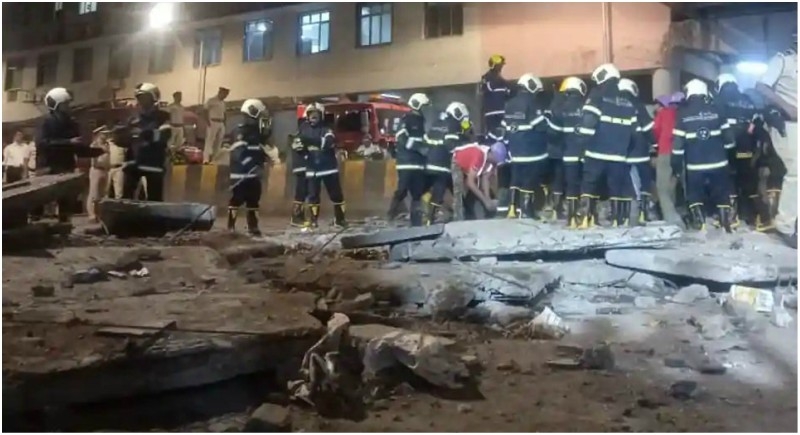 All the injured have been rushed to nearby hospitals, a disaster management cell official said. The body from the collapse was taken to a nearby Mumbai hospital, he added.
The bridge which connected the area near the Times of India building with the iconic CSMT station was commonly known as 'Kasab Bridge' after the 26/11 Mumbai attack terrorist passed through it during the terror attacks.
The incident took place around 7.30 pm when a major portion of the bridge caved in, the official said.
Some motorists, who were passing beneath the bridge when it came down, were among those injured, he added. While six injured were admitted to the nearby St. Geroge hospital, 10 were shifted to the G T hospital, he said.
"Fire brigade personnel reached the spot immediately and rescue work is in full swing. We have appealed the motorists to avoid the D N road to JJ flyover section," he said.
Here is the CASUALTY LIST

DEATHS : 05 deaths
Apoorva Prabhu F/35
Ranjana Tambe F/40
Zahid Shiraj Khan M/32
Bhakti Shinde F/40
Tapendra Singh M/35

INJURED PERSONS
1) SONALI NAVALE F/30
2)ADHVIT NAVALE M/ 3
3)RAJENDRA NAVALE M/33
4)RAJESH LOKHANDE M/39
5)TUKARAM YEDGE M/31
6) JAYESH AVLANI M/ 46
7)MOHAN KAYGADE M/40
8)MAHESH SHERE
9)AJAY PANDIT M/31
10)HARSHADA VAGHALE F/35
11)VIJAY BHAGVAT M/42
12)NILESH PATAVKAR
13)PARSHURAM PAWAR M/
14)MUMBLIK JAISWAL M/
15)MOHAN MOJHADA M/43
16)ANOLKHI M/32
17)AYUSHI RANKA F/30
18)SIRAJ KHAN M/55
19)RAM KUPREJA M/59
20)RAJEDAS DAS M/23
21)SUNIL GIRLOTKAR M/39
22)ANIKET ANIL JADHAV M/19
23) ABHIJIT MANA M/21
24) RAJKUMAR CHAWALA M/49
25)SUBHESH BANRJI M/37
26)RAVI LAGESHETTY M/40
27)NANDA VITTHAL KADAM F/56
28)RAKESH MISHRA M/40
29) ATTAR KHAN M/45
30) SUJAY MAZI M/28
31)KANUBHAI SOLANKHI M/47
32) DEEPAK PAREK