New Delhi, March 13: Rules, regulation and responsible attitude it talked about..! China should have proven this over its motion wheel. It was the fourth time that the UN Security Council had considered a request to put Azhar on the blacklist, to which China, an all time ally of Pakistan has again moved to hold the said request.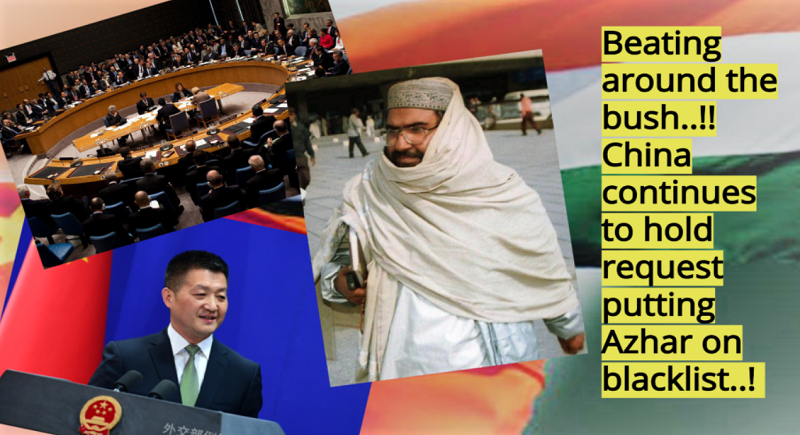 In a note sent to the UNSC, China on Wednesday said it needed more time to examine the sanctions request targeting Jaish-e-Muhammad (JeM) leader Masood Azhar, diplomats said. China has earlier thrice blocked attempts including in 2016 and 2017 using veto, to impose sanctions on the JeM leader.
"This is the fourth time that China has placed a hold on this listing. China should not prevent the Committee from doing the job the Security Council has entrusted it to do," the diplomat said adding that if China continues to block this designation, responsible member states may be forced to pursue other actions at the Security Council.
Reiterating its stand over the rising India Pakistan tensions, Kang had cleared hours before the UNSC's consideration that China has always preferred adopting a responsible attitude by engaging in consultations with various parties and would properly deal with the issue. "The discussions, I want to say must follow the rules and procedures of the relevant bodies and only the solution that is acceptable to all sides is conducive for resolving the issue", he said meanwhile.
Meanwhile, India responding to matter abide have expressed its disappointment over the outcome. "This has prevented action by the international community to designate the leader of Jaish-e-Mohammed (JeM), a proscribed and active terrorist organization which has claimed responsibility for the terrorist attack in Jammu and Kashmir on 14 February 2019", India said in its statement.
India has long accused its neighbour of supporting Kashmir rebels. Pakistan denies any role in attacks in the Indian side of the Himalayan region, where tens of thousands have died in an armed rebellion since 1989.