New Delhi, March 14: Smart India Hackathon 2019 is a nationwide initiative to provide students with a platform to solve some of pressing problems we face in our daily lives, and thus inculcate a culture of product innovation and a mindset of problem-solving.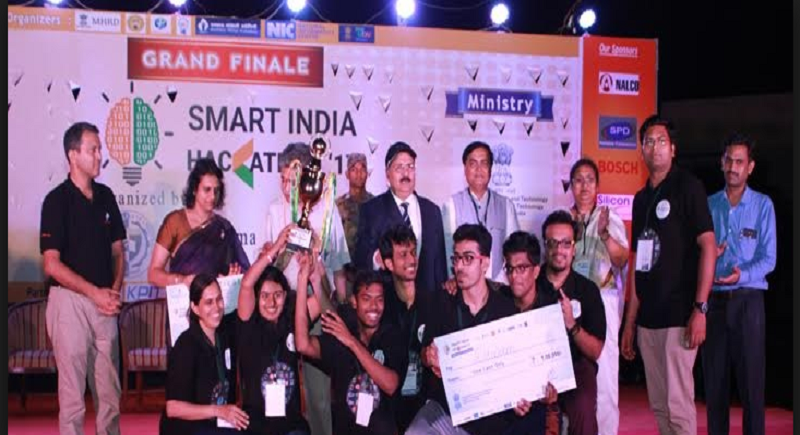 The University of Hyderabad (UoH) team from the School of Computer Sciences named Galileo Figaro are winners in the Software-Web App Development at Smart India Hackathon 2019 (SIH-2019).
Three separate teams from Government Engineering College Aurangabad have won the Smart India Hackathon 2019. Team 'GhoulCoders' was adjudged winner for suggesting an effective solution to tackle the waste management issues.
Another team, 'Nourishers', bagged the top prize in SIH 2019 for providing a solution for forecasting the demand for water pumps for micro, small and medium enterprises.
The third winning team from GECA 'Path Breakers' has designed a portal for information about various national and international scholarships based on merit, a field of study and the annual income of parents.
The last edition of the hackathon saw over 5 million+ students from various engineering colleges compete for the top prize at 35+ locations. An initiative by Ministry of HRD, AICTE, Persistent Systems, i4c and Rambhau Mhalgi Prabodhini
In SIH 2019, the students would also have the opportunity to work on challenges faced within the private sector organisations and create world-class solutions for some of the top companies in the world, thus helping the Private sector hire the best minds from across the nation.
Smart India Hackathon (SIH) 2019 - a unique Open Innovation Model for identifying new and disruptive technology innovations to solve the challenges faced in our country. It's a non-stop product development competition, where problem statements are posed to technology students for innovative solutions.
Harness creativity & expertise of students, Spark institute-level hackathons, Build funnel for 'Startup India' campaign, Crowdsource solutions for improving governance and quality of life Provide opportunity to citizens to provide innovative solutions to India's daunting problems
The first two editions SIH2017 and SIH2018 proved to be extremely successful in promoting innovation, out-of-the-box thinking in young minds, especially engineering students from across India.