New Delhi, March 14: Talking to the point, having a firm stand on issues, not bowing before anyone; yes that's how she works, that's Minister of External Affairs Sushma Swaraj for you! With the ongoing tussle to designate Masood Azhar as global terrorist in the United Nations Security Council, External Affairs Minister Sushma Swaraj coming down heavily on Pakistan said that terror and talks cannot go together. In an open challenge to Pak PM, EAM Sushma Swaraj said, "If you are so generous, hand over Masood Azhar to India."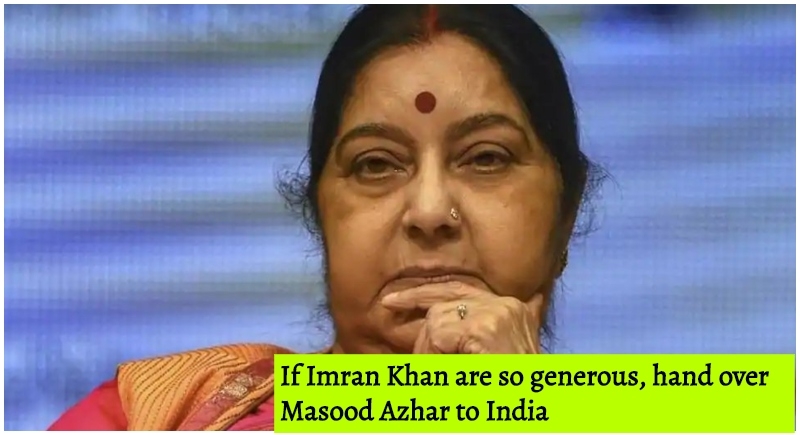 Speaking at an event last night, EAM Sushma Swaraj said that she wants Pakistan's Prime Minister Imran Khan to know that we want action, not talks. "We are ready to engage with Pakistan in an atmosphere free from terror and violence," she said urging Pakistan to create an atmosphere to hold talks.
Taking a sly dig at the so-called liberal voices that hail Imran Khan as the epitome of peace, Sushma Swaraj said, "These voices which are raised in the country citing that Imran Khan is a great statesman, is a generous person, he wants peace. I want to say that if Imran Khan is so generous, then he should hand over Masood Azhar to us and prove his generosity."
Swaraj also slammed Pakistan for its lack of action against the Pulwama terror attack which claimed lives of 40 CRPF jawans. She said, "Following the attack, your Foreign Minister said Masood Azhar is unwell. That he is so unwell, he cannot step out of the house. After few days, your army spokesperson said that Masood Azhar is not in Pakistan." Making herself clear, Swaraj said that normalcy can be reached between India and Pakistan only if Pakistan starts some action against terror camps soiling in its territory.
Questioning Pakistan's retaliation to Indian air strikes in Balakot, she said that India had specifically targeted the Jaish group but "Why did the Pakistani military attack us on behalf of JeM?" "You not only keep JeM on your soil, but fund them and when the victim country retaliates, you attack it on the terror outfit's behalf," Sushma Swaraj said, adding that it needs to control the ISI and its army, who are bent on "destroying the bilateral relations" time and again.
Earlier, China once again put a technical hold on a proposal by the UN Security Council to designate Jaish-e-Mohammad Chief Masood Azhar as a 'global terrorist'.
The proposal to designate Azhar under the 1267 Al Qaeda Sanctions Committee of the UN Security Council was moved by France, the UK and the US on February 27, days after a suicide bomber of the Jaish-e-Mohammed (JeM) killed 44 CRPF soldiers in Jammu and Kashmir's Pulwama, leading to a flare-up in tensions between India and Pakistan.