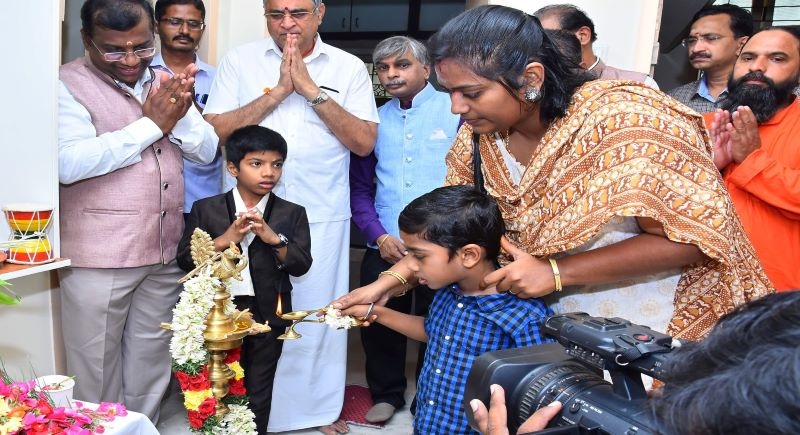 Karthicvasan (4-year-old), a former autistic child from Tamil Nadu lighting the lamp to mark inauguration of the Siddha Clinic
Chennai, Mar 25: The first Manushya Blossom Multi-Speciaality Siddha Clinic was inaugurated in Chennai on March 22 by the former autistic children who were cured by the Siddha medicine.
Dr Guna Magesan, the key figure of this endeavour said that launching of this unique hospital attracted appreciation from parents, general public, community leaders, and entrepreneurs started pouring in as soon as the former autistic children inaugurated the first Manushyaa Blossom Multi-Speciality Siddha Clinic in Anna Nagar, here on March 22.
Three former autistic children, Karthicvasan (4-year-old) from Tamil Nadu; Veer Priteshkumar Shah (8- year-old) and Priyanshi Adeshara (19-year-old) from Gujarat, jointly inaugurated the Siddha Clinic by lighting the lamp.
The inaugural ceremony started with Hindu prayers by the Pandits. Many well-known community leaders and philanthropists from Bharat, Malaysia, New Zealand, Dubai participated and gave encouraging words to promote Siddha through Bharat and worldwide. All three children were blessed by elders who were present at the function.
The parents of these gifted children shared their experiences, before and after Siddha treatment for autism, with the audience. Although these children were born with autism, only recently, they all received treatment with nano-bio-formulations. Within the first 30 days, they all showed tremendous improvement, which brought smiles to parents.
Invited guests and some directors of Manushyaa Blossom performing puja
The children from Gujarat have excelled in education, especially in Mathematics and Physics, following the treatment. This has given lots of confidence to parents regarding the efficacy of the traditional Siddha medicines.
One of the highlights of the inaugural program was the 3rd eye reading (blind reading) and body scanning by Lalith Kishore, a 13-year-old student from Ambattur, Chennai. Now, many young people who were present wanted to learn this technique.
Autism is a complex neuro-developmental condition that affects communication and social behavior. The general belief in the current medical practices is that autism cannot be cured, and the scientists do not know the exact causes of autism. However, with early interventions and treatments it can improve a person's ability to function.
Manushyaa Blossom has a diagnostic mechanism / tool with artificial intelligence to diagnose if the child is autistic at birth. They also have three formulations (medicines) for treatment of autism for any age. Inauguration of clinic by former autistic children is a proof. The clinic has appointed two medical officers with MD in Siddha.
Siddha medicine is the ancient, traditional systems of medicine originated in India. Manushyaa Blossom Private Limited is a Siddha-based pharmaceutical company that produces nano-bio-medicines as per the good manufacturing practice (GMP) standards.
Manushyaa Blossom's current focus is on the following diseases: Autism & Epilepsy, Liver disorders (fatty liver grade 1, 2, 3; Hepatitis B & C), Ulcerative colitis, Lung disorder, Urinary tract infection, Manhood problems and women related issues, High Blood Pressure, and Diabetes type 2.
In addition, Manushyaa Blossom can also help with Parkinson's disease, early stages of Cancer, Psoriasis, Rheumatoid Arthritis, Spondylosis, Leucorrhoea, and Fertility of men and women.
After opening its first Multi-Speciality Siddha clinic in Chennai, Manushyaa Blossom plans to open Siddha clinics throughout India. It wants to collaborate and work with interested parties in this growing community healthcare domain.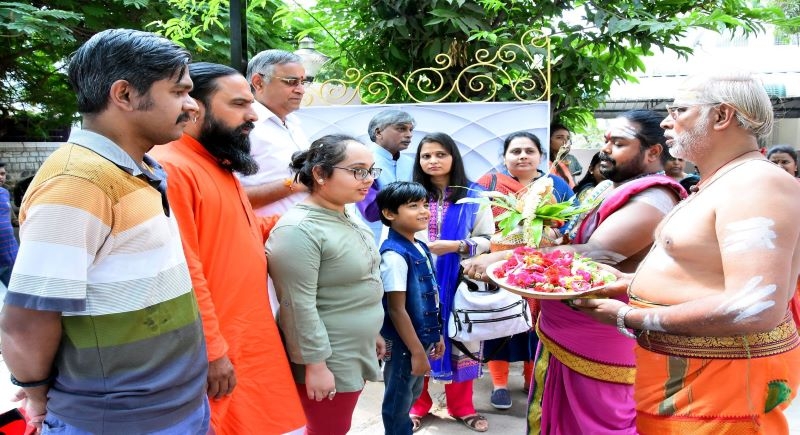 Guests are being invited by Hindu priests with Purna Kumb
It may be mentioned that the Union Minister of State (Independent Charge) of AYUSH Shripad Yesso Naik had launched on March 30, 2018, the higher-order Siddha nano-bio formulations (medicines) produced by Manushyaa Blossom during a national seminar organized at the National Institute of Siddha, Chennai, India. Swami Vigyananand, Founder of World Hindu Economic Forum (WHEF) had blessed the occasion.
Manushyaa Blossom signed a Memorandum of Understanding (MoU) with the WHEF on 29th September 2018 at New Delhi. The startup company will donate 5% of its net profit to WHEF to promote entrepreneurship among youth and women.
The goals of Manushyaa Blossom are:
• To carry out research and development (R&D) in Siddha medicines, especially in nano-bio material synthesis, nano food supplements, and nano drug delivery.
• To demonstrate and bring awareness to the general public and Government agencies about the efficacy of the traditional Siddha medicine in treating chronic illnesses.
• To spread this knowledge worldwide.