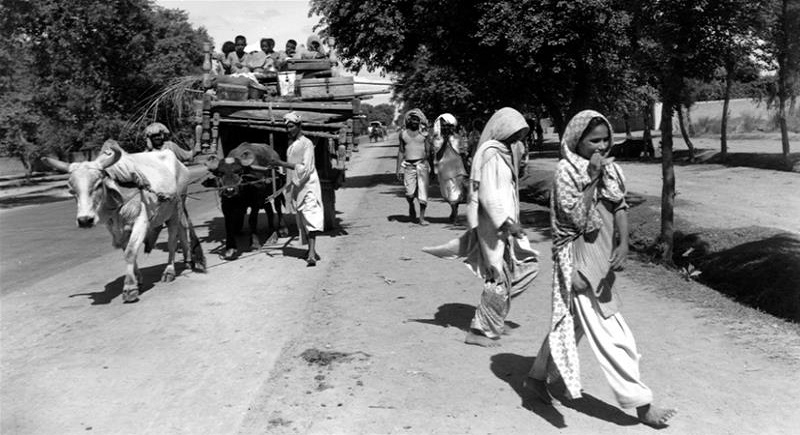 The regions of Jammu and the Kashmir valley became a part of the Sikh empire of Punjab-Kesari Ranjit Singh in 1808. The satrap of the territory was a Dogra Rajput named Kishori Singh who belonged to the Jamwal Rajput clan that ruled Jammu. Kishori Singh was bestowed the territory as a hereditary fiefdom or Jagir in 1820. After his demise his son Gulab Singh inherited the Jagir. He, with the help of a competent general called General Zorawar Singh, extended the boundary of the Sikh empire to Laddakh, Hunza and Gilgit, the present Baltistan of Pak-occupied-Kashmir (POK) being a part of Laddakh. After two Anglo-Sikh wars the treaty of Amritsar was signed in 1846 and the British honored Gulab Singh by conferring on him the title of Maharaja for his discrete cooperation during the second Anglo-Sikh war.
Srinagar town in the Kashmir valley became the summer capital of the Dogra Rajput rulers. Dogra kings appointed numerous relatives and other loyal men, mostly of the Rajput clan as administrators of their far-flung territories, and police and army officers. Some Muslim eminent men were also given important positions. Peace and stability prevailed over the territory for a long span of nearly 140 years between 1808 and 1947.
As a general rule when political stability prevails, commerce flourishes and the trader (Bania) spreads his wings, and the kingdom of Jammu and Kashmir (J & K) was no exception. Under Ranjit Singh's rule this happened in both Afghanistan and J&K where Hindu and Sikh settlements sprang up. The process had a much longer run in J&K because of the continuity provided by the Dogra Rajput dynasty. Wherever the Dogra Rajput and the Dogra Bania went, in their wake followed the priests and servants from their native land. Thus mainly Dogras of all castes but also some Sikhs and Kashmiri Pandits built settlements all over the far flung territory and more so in the Kashmir valley, including the part in POK. In fact, Kashmiri Pandits had already been in the valley of POK even before the Dogra rule.
By the time India was partitioned in 1947 and the ceasefire treaty signed, the Dogra and Sikh settlers would have spent seven or eight generations in their respective abodes in POK including the Northern areas of Gilgit-Baltistan. These hapless people, comprising Dogras, Sikhs, and Kashmiri Pandits were driven out by the Pakistani marauders and they poured into Kashmir valley under legitimate Indian control. At this juncture Sheikh Abdullah became the Prime Minister of J&K and prevented the refugees from POK from staying in the Kashmir valley. They had no option but to move on to Jammu and seek refuge.
One Dogra Brahmin man, who came to Jammu as a boy of four on the shoulders of his father, did well in academics and became a professor. I happened to meet him during a conference where we were both delegates and became friends. The saga of this migration, much smaller than the exodus from Punjab and Bengal but still sizable, was revealed to me and I was truly astonished. Our great historians have done their best to keep us from learning this bit of history into which I was lucky to get a glimpse. The historical narrative given above seemed very natural to me and how could it be otherwise!
Yuvaraj Hari Singh was enthroned as Maharaja in 1925 after the death of his uncle Maharaja Pratap Singh. He made primary education compulsory in the state, prohibited child marriage and opened the doors of Hindu shrines to the low castes. Swami Vivekananda visited Kashmir twice, during Pratap Singh's reign, once alone and later in the company of his western disciples including Sister Nivedita and Josephine Macleod. The Swami's brother-disciple Swami Akhandananda also travelled separately in Kashmir and wrote an account. Swami Vivekananda did not write an autobiography or a travelogue, but he wrote letters aplenty. Biographies of his two disciples, Josephine Macleod and Sister Nivedita, were written based on their letters and verbal descriptions given to friends. All these various sources give the impression of a fairly well administered state and a happy people, both Muslims and Hindu, living in harmony, most of them poor but not in abject poverty or famished. Swami Vivekananda was particularly sensitive to oppression, yet he does not mention this in his letters or verbal narrations. In fact, several prominent Muslims, including a Tehsildar, who was in-charge of the pilgrimage to Amarnath which the Swami undertook, wished to become his disciple. In contrast, during his ambulation (Parikrama) around India, the Swami again and again talks of the anguish he felt seeing the state of his semi-famished, clothed- in- rags countrymen. This was more for the parts under direct British rule than those under the princes.
Sheikh Abdullah and his associates founded the Muslim Conference of J & K in October 1932. Then he wanted to draw into his fold all oppressed people of all religions, for his purpose was to struggle against the Dogra Rajput rule. So he changed the name of his party to National Conference in 1939. In 1946 he launched the Quit Kashmir movement against Maharaja Hari Singh. The notice was not simply to hand over power to a democratic dispensation and quit as Maharaja. It was to quit the land of Kashmir itself – this would become evident later.
In 21 October 1947 over 5000 Pathan tribesmen, at the behest of the Pakistani state and officered by some Britishers, attacked J&K. Maharaja Hari Singh ordered Brigadier Rajinder Singh to proceed to Uri and "save the state till the last man and the last bullet". The Brigadier saluted and proceeded to Uri with only 150 men to hold off the attackers numbering over 5000 and better armed. The men under Rajinder Singh held a series of defensive positions and made a number of tactical retreats in order to make the advance of the invaders as slow as possible. Finally they died to the last man but purchased enough time to make it possible for the Indian armed forces to arrive and rescue the state. Brigadier Rajinder Singh was awarded Maha Veer Chakra posthumously.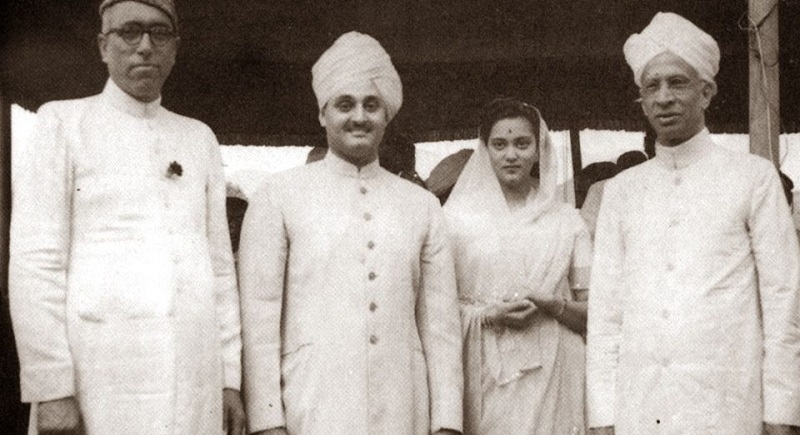 The Maharaja sought India's help and signed the instrument of accession. He was forced by Prime Minister Pandit Nehru and Home Minister Sardar Patel to appoint the most popular leader of J &K, Sheikh Abdullah, as the Prime Minister of the Emergency Administration of the J&K state. His first act was to raise a militia of local men as the small Dogra army had become practically extinct. Abdullah spoke at the UN Security Council on February 5, 1948 thus:
"The raiders came to our land, massacred thousands of people, mostly Hindus and Sikhs, but Muslims too ‒ abducted thousands of girls, Hindus, Sikhs, Muslims alike, looted our property and almost reached the gates of our summer Capital Srinagar."
He spoke the truth in this phase when his humanitarian identity was dominant. But soon his sectarian identity was to take control. He oscillated throughout his life between these two identities. He took formal oath as Prime minister of J&K in March 1948. The ceasefire was declared in the closing hours of the year on 31 December 1948. On 17 October 1949 Indian Constituent Assembly adopted Article 370 of the Constitution, ensuring special status and internal autonomy to Jammu and Kashmir.
One of the first tasks Abdullah took up after this was land reform. The Big Landed Estates Abolition Act, 1950, was passed. The ceiling on land of about 22 acres (186 kanals) was carefully chosen. It affected the Dogra Rajput land owners the most. A handful of Kashmiri Pandits were also at the losing end. Had the ceiling been 25 acres many of the Dogras would not be deprived. Had it been 20 acres many Muslim land owners would come into the drag net. Excess of 22 acres were confiscated and was redistributed among share-croppers and landless laborers without any compensation to the landlord. Transferring land without compensation was possible because of Article 370, which made the property-related provisions of the Indian Constitution non-applicable in the state.
Since 1950 there was a systematic exodus of the Dogras of all castes, rich and poor, from the valley. What triggered this exodus has never been probed by our learned historians. It should be noted that a land parcel of 22 acres is not a tiny holding; it can comfortably support a large family although it cannot support opulence. It should be noted that their houses were still legally theirs. Yet the Dogras chose to leave, lock, stock and entourage, after spending seven generations in the valley.
What was the cause of insecurity? After all, nobody leaves hearth and home, when a livelihood exists, unless forced by circumstances. What were the circumstances? What was the role of the militia of Sheikh Abdullah, mentioned earlier? Within a short span by about 1952 the valley became devoid of Dogras.
What happened to the houses owned by them? Did or could they sell? All these are a matter of enquiry. It is evident that Sheikh Abdullah's Quit Kashmir movement was not only a demand for ending autocracy, a notice to the king to quit, but a notice of exit to the Dogras of all castes and classes. Were it something more benign, he would have allowed the Dogra, Kashmiri Pandit and Sikh refugees from the POK shelter in the valley. Pandit Nehru, India's PM, looked the other way. It should be noted that Kashmir has seen at least two more land reforms in the 1960s and 70s. The ceiling of holding has been reduced further, but no one had to quit the Kashmir valley.
Even now we observe an oscillation of identities between a humanitarian and the sectarian, among the leaders of the two main parties of the Kashmir valley. In one breath they say forcing the Pandits out of the valley (in 1989-90) was wrong and they should be allowed to return. They of course have forgotten the Dogras altogether. In the next, they rule out secured townships for them, knowing fully well that going back to their ancestral towns and villages would result in more killings aborting rehabilitation. In particular, Sheikh Abdullah's grandson Omar Abdullah seems genuinely sorry, judging from his statements on many occasions, that the Pandits were driven out by the terrorists and their neighbours did not offer protection. The fact is that sometimes the neighbours participated in loot and mayhem. But Omar rules out the only possible way to make them return, that is, to offer secure townships. Insaaniyat and Kashmiriyat are only catchy phrases for mouthing slogans.
In the aftermath of the horrific Pulwama terror attack, in February 2019, Meghalaya Governor Tathagata Roy endorsed the suggestion of a retired colonel and said (Ref: The Indian Express, February 20, 2019, New Delhi, Lucknow, Ahmedabad etc.)
"An appeal from a retired Colonel of the army: Don't visit Kashmir, don't go to Amarnath for two years. Don't buy articles from Kashmir emporia, or Kashmiri tradesmen who come every winter. Boycott everything Kashmiri…."
To be noted that Tathagata emphasized that the boycott movement should be totally non-violent. Omar Abdullah of National Conference retorted,
"People like Tathagata want Kashmir without Kashmiris. They would sooner see us driven into the sea. He would be best placed to know he can't have one without the other. So what is it to be?"
Mehbooba Mufti of People's Democratic Party called for him to be sacked. Omar Abdullah may well be paraphrased as folloews:
"People like Omar and Mehbooba want Kashmir without the Dogras, Sikhs and Pandits, all those who have been in Kashmir over seven generations, and if that does not make them Kashmiris then what does? Then citizenship and domicile laws all over the world are invalid! Omar and Mehbooba would be best placed to know that he and she can't have one without the other. So what is it to be?"
Overwhelming majority of the Dogra, Sikh and Pandit refugees in 1947 is from the valley part of Pak-occupied Kashmir. Only a few are from the northern areas of Gilgit-Baltistan. Most important, it did not require Article 370 of the Indian Constitution to be repealed for these people to be rehabilitated in the valley. Then why did Sheikh Abdullah bar them from the valley? This shows up the true nature of his secularism. I am inclined to call it 'sectarian secularism'. Finally, our historians should be asked to explain why they have made the refugees from POK a non-people, a people who have no trace in history.