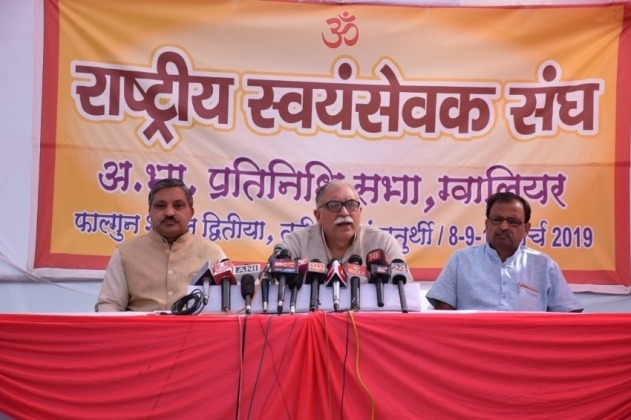 Gwalior, Mar 7: The three-day annual meeting of Akhil Bhartiya Pratinidhi Sabha (ABPS) the apex policy making body of Rashtriya Swayamsevak Sangh (RSS) will begin from March 8 in Madhya Pradesh's Gwalior.
Speaking to the media, Akhil Bharatiya Prachar Pramuck (Media in-charge) Arun Kumar said that near about 1400 office bearers and representatives from 43 Pranta and 11 Kshetra will attend the three-day conclave. During this meeting, RSS will take the stock of annual activities and review the ongoing projects across the country.
RSS Chief Mohan Bhagwat on March 8 will officially inaugurate the meeting which will conclude on March 10. The top brass of RSS including Sar-Sanghchalak Mohan Bhagwat, Sar-Karyavah Bhaiyaji Joshi along with all national executive members will attend the same.
Informing about the agenda of ABPS, Kumar said that detailed discussions and deliberation on the issues such as Ram temple, Air-strikes, internal security and various subjects of national interest will be held and RSS Sar-Karyavah Bhaiyaji Joshi on last day will interact with media.