Syria, March 7: In Syria, hundreds of Islamic State group terrorists were captured or surrendered while fleeing armed group's last enclave. US-backed Kurdish-led SDF said in northeastern Syria that 400 IS terrorists were captured who were trying to escape the armed group's last enclave in Deir Az Zor.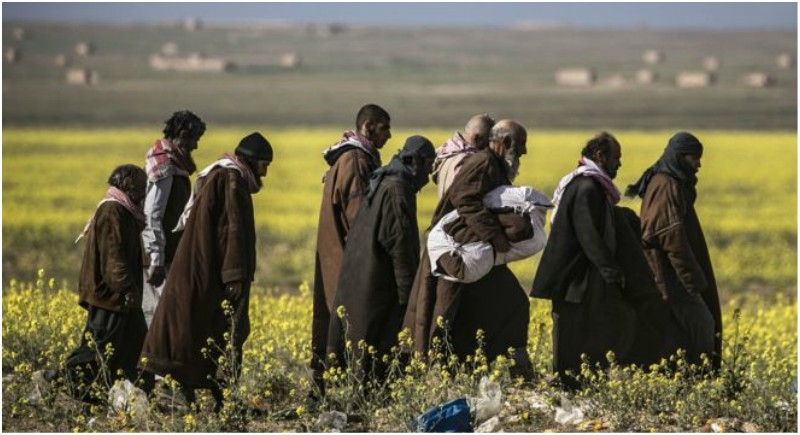 A senior commander for the Syrian Democratic Forces (SDF) also said on Wednesday that hundreds more Islamic State fighters surrendered from the last shred of territory they control in the village of Baghouz, east of the Euphrates river.
Those surrendering were among more than 2,000 people who left Baghouz on Wednesday in the latest evacuation, transported by trucks to a patch of desert where they are questioned, searched and given food and water.
Scenes of surrender, humiliation, and anger highlighted the desperation of the armed group as its last major bastion in Syria teeters on the edge of collapse.
The evacuations came as the US-backed force slowed its latest push on Baghouz, east of the Euphrates River, to allow people to leave the enclave.
Some of the women evacuated were defiant despite the situation, chanting "God is greatest" and "Islamic State will remain" as they passed on the front line.
The siege of the jihadists' last holdout is sealed across the border by Iraqi forces and allied militia and on the other side of the river by Syrian regime forces and their proxies. According to the Syrian Observatory for Human Rights monitoring group, at least 6,000 of the 58,000 people who left IS's last bastions since December were jihadists who were subsequently detained. The loss of Baghouz would signal the end of territorial control for IS but the organisation remains a potent threat and can carry out attacks from hideouts in desert regions in both Syria and Iraq.