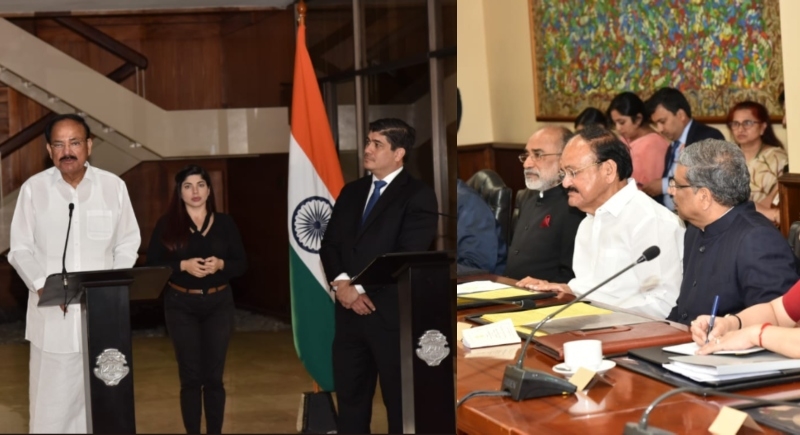 Costa Rica, March 9: Vice President of India Venkaiah Naidu who is on a visit to Costa Rica since March 8, held bilateral and delegation level talks with President of Costa Rica Mr. Carlos Alvarado Quesada, in San Jose, Costa Rica.
Earlier in the day, Vice President Naidu became the first Indian to receive an honorary doctorate from the University of Peace founded by the United Nations in San Jose, Costa Rica. He was honoured with the doctorate for his contribution 'to the rule of law, democracy and sustainable development in India'.
Expressing his gratitude he said, "I was honoured to be given the opportunity to speak at University of Peace. Coming from the land of Mahatma Gandhi and in the year when we celebrate 150th anniversary of Bapu's birthday, the gesture was particularly moving for me. India is a peace loving country but has been a target of terrorism from across our border for the last few decades".
Later, he also called for strengthening of United Nations including expansion of UNSC, which should include India, to make it more representative and effective.
While addressing a joint press statement with President of Costa Rica, Vice President expressed, "My delegation and I are indeed delighted to visit Costa Rica, which is a beautiful country and a leading economy in Central America. Costa Rica has highest per sq km biodiversity in the world".
He also stressed on combating terrorism with all the collective might. "We discussed in detail the menace of terrorism and the need to fight in one voice. The dastardly terrorist attack on the Indian security forces on February 14, 2019 in Pulwama by a terrorist organization proscribed by the UN has once again demonstrated the need for decisive action by international community against individuals and terrorist groups engaged in terrorist activities", said Naidu.
Agreements were signed between India and Costa Rica in various sectors. "President Quesada and I have had fruitful and cordial exchanges covering a range of areas of mutual interest spanning bilateral, regional and multilateral fields", he further added.
"Indian strengths that Costa Rica can benefit from include space and biotechnology, renewable including solar, pharmaceuticals, ICT particularly eGovernance, hydroelectric generators and power plant equipments, farm machinery and skill upgradation, railway construction and rolling stock", Naidu said, inviting Costa Rican companies to invest in India.
He applauded proclamation of a Presidential decree in October 2018 whereby all activities and initiatives related to promotion of Yoga and Meditation were declared to be in public interest thereby facilitating the promotion of Yoga within Costa Rica.