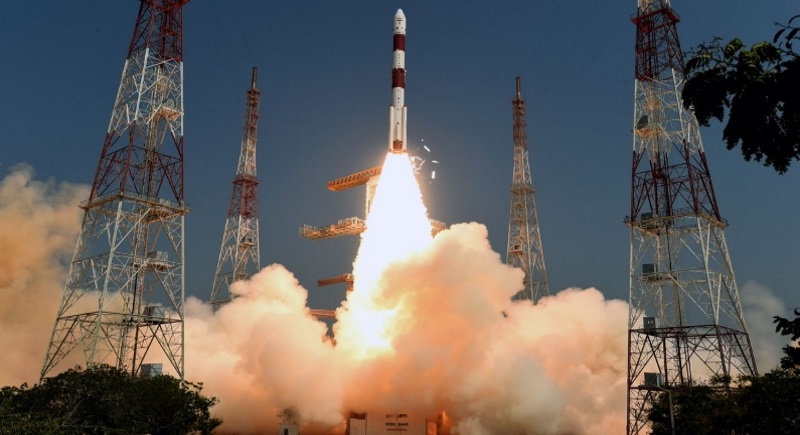 Sriharikota, Apr 1: Today morning, 1200 people witnessed the magnificent launch of ISRO's PSLV-C45 from 2nd launch pad of Satish Dhawan Space Center in Sriharikota carrying electronic intelligence satellite, Emisat for the DRDO and 28 other third-party satellites.
This launch places India's Emisat satellite, moreover 28 other nanosatellites in different orbits. ISRO's PSLV-C45 mission successfully completed with the separation of Emisat and other satellites.
This mission marks several 'firsts' for the Indian space agency, as it maneuvers satellites in various orbits and orbital experiments which includes maritime satellite applications.
ISRO said, a new variant of the rocket PSLV-QL equipped with four Strap-on motors in the first stage used for the launch.
Along with DRDO's Emisat, the 28 international satellites, 25 3U type satellites, 2 of 6U satellites and 1 of 2U type nano-satellite which are from Lithuania, Spain, Switzerland, and the US launched under the commercial engagements.
On this occasion, the Chairman of ISRO, K.Sivan said, "ISRO's PSLVC-45 successfully injected electronic intelligence satellite Emisat along with 28 international customer satellites into sun-synchronous polar orbit today".
He said, 1200 people watched and enjoyed today's PSLV-C45 launch from the new viewers' gallery at Sriharikota. Next time we will have 5000 people watching the launch.
While congratulating ISRO for this success, Ex-ISRO chairman, G Madhavan Nair said, "PSLVC45 is a very imp milestone for ISRO. It's not only going to launch our own satellite but also those from other nations. The uniqueness of this mission is, it's going to place satellites in 3 different orbits. I hope it'll be 100% success as usual".