In the elections, politics take many twists and turns. Now in this era of social media, we can see that the might of social media is helping political parties on a larger scale. This might sometimes be used as the weapon against the truth.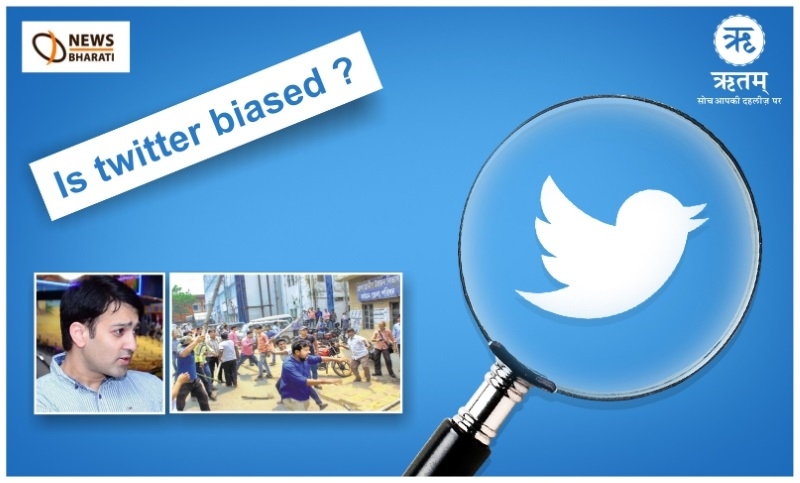 There are many incidents, where Twitter took sides and suspended many accounts which are making the difference. Now again the biased nature of Twitter is exposed!
The Twitter account of Rishi Bagree who is an 'Ordinary tax paying citizen' is one of the most followed accounts in India. He has 160 K followers on this micro-blogging site. His followers include top leaders of the ruling party and the Central government as well as PM Narendra Modi.
On April 17, Rishi Bagree announced that his account was suspended by Twitter with the reason of 'Copyright violation'. But in reality, that tweet is from 2016 in which there is a video of British Bridegroom was seen dancing on a popular Bollywood song.
Twitter says the song playing in the background of that video amounts to copyright violation.
As per the statement of Bagree, "My handle was suspended for a tweet which dates back to 2016 in which a British Bridegroom was seen dancing on a Bollywood song. This viral funny video was floating on the internet & I just tucked it in the said tweet to amplify a point I was making abt Soft power of India".
Rishi Bagree hails from West Bengal and had broken much important news from WB. His Twitter account is one of the most influential right-wing accounts. Considering recent BJP's aggressive campaign in West Bengal this move of Twitter shows clear bias, It is for sure that Twitter is trying to suppress voices which is not democratic at all.
On this issue, Rishi Bagree tweeted on his new Twitter account, "My handle played an important role for Social media in West Bengal as it helped in bringing issues from Bengal in Limelight".
For this suspension, Rishi Bagree alleged to the Congress ecosystem, he said on Facebook, "My Twitter handle @rishibagree has been suspended by Congress ecosystem as I use to bust all their propaganda. I had a monthly reach of 40 million which was envied by Congress and other parties". Further, he added, suspending my twitter handle at this crucial juncture has caused a massive setback to our Social Media Campaign in West Bengal.
Now the main question remained constant. Why Twitter needs to suspend the Bagree's account when it is meant to express one's views. As per the Twitter internal data, there are 45.6 million tweets recorded by Twitter from the announcement of elections till 11 April 2019. On the day of voting for phase 1, there are 1.2 million tweets recorded. Now, why in this flood of tweets, with so many accusations and allegations against each other, Twitter suspended Rishi Bagree's account on April 17?
There are reasons for this. Bagree's handle played an important role in Social media in West Bengal as it helped in bringing issues from Bengal in Limelight.
Bagree with his team exposed TMC Jadavpur candidate Mimi Chakravarthy Untouchability issue where she was seen shaking hand wearing hand-gloves. Further, they also exposed Her antics where she was blasting voters in case they don't vote for her.
Bagree's team also exposed Ratna Ghosh Kar video where she is seen instigating TMC workers to break the law to win elections. they exposed How Foreign actors campaigning for ruling TMC parties which is completely in violation of the model code of conduct with Abhishek's wife Citizen issue and 100 more issues.
On this incident, netizens reacted instantly and backed Rishi. They said, Now we can clearly see that this is biased action by Twitter! They raised questions like there can be the hand of Trinmool or left? Or who want to suppress the BJP's penetration in the West Bengal?
The electoral fight in West Bengal is becoming bloodier the days go. Yesterday only another BJP worker's body, only 22 years old- found hanged in Purulia district. Due to the adamant behavior of TMC and Congress in West Bengal, the political situation is violent.
Rishi Bagree stated in his tweet, "I belong from West Bengal which is a tinderbox of Violent politics. There is a massive surge of anti-incumbency but at the same time, the common man is afraid to vote against ruling party fearing backlash. Workers & Volunteers of other parties Can't campaign on ground fearing backlash".
In this situation, the suspension of the Twitter account is major biased action by Twitter which is condemned by Twitteratis with the #BringBackRishiBagree. This hashtag trended no 2 on 18 April in India.
On his first tweet after this incident, there is a huge response from twitteratis. Within the 8 hours, Rishi Bagree got 7,722 followers, on the first tweet he got 12 K, 1.1 comments and 4.3 K retweets.
So, the greatest thing about social media is that it gives us a voice against the tyranny of mainstream media. But after such incidents, it makes us think about how much we rely on social media.on the one side, social media is an excellent platform to express our opinions, but at the same time, netizens also have to think about propaganda spread by such social media.
The mysterious behavior of Twitter which often found censoring social media users for disagreeing to certain ideologies at the time of crucial general elections has angered several users. With various influential elements, the false narratives and propaganda, the users have expressed fear that more suppression can emerge in social media platforms.