Abu Dhabi, April 20: Known for its cultural beauty and religious beliefs, India has wooed the entire world with its exemplary traditional presence. Signifying its presence on the international soil, a Hindu temple that is being entirely built out of stones is being constructed in Abu Dhabi for the first time. The foundation stone laying ceremony for the temple was held today at the site where the temple will come up.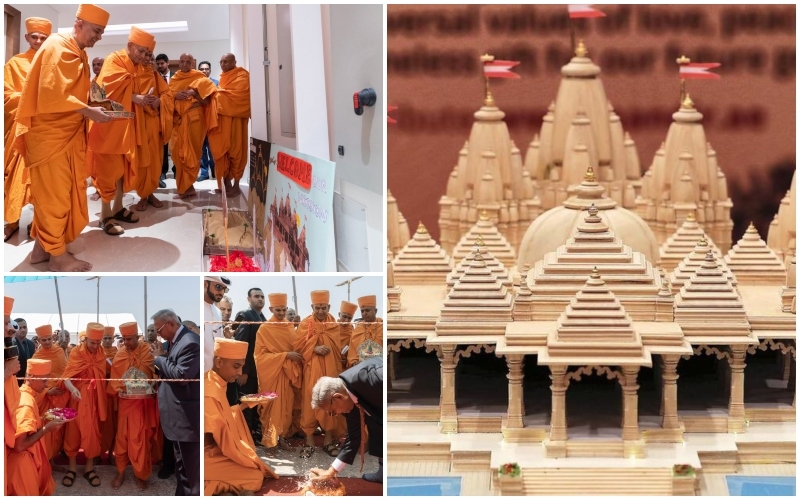 Mahant Swami Maharaj, spiritual leader of Swaminarayan Sanstha that will construct the temple, guided the procedures. The 'Shilanyas Vidhi' ceremony presided as the ceremony started with rituals led by Pujya Ishwarcharan Swami. Children in traditional attire gave the spiritual leader a floral welcome. Sanskrit verses filled the air as priests described to devotees how each ritual had to be conducted.
Pink sandstones are being used to lay the foundation of the temple. The priests offered puja to them besides performing holy rituals lasting a few hours. These stones have been brought from Rajasthan in India.
The temple complex will also have a cultural complex, library, and other facilities. For participation in the function, passes were distributed in advance to those who donated Dh 2,500 or Dh 5,000 for the construction of the temple, in the form of 'Yajaman Seva'.
UAE foreign affairs and international cooperation minister, Sheikh Abdullah Bin Zayed Al Nahyan, and minister for tolerance, Sheikh Nahyan Mubarak Al Nahyan, graced the occasion. A number of leaders of various sectors including spiritual and social, along with thousands of believers got together for the occasion at Abu Murelkha near Al Rahba to participate in the programme.
The temple will be a cultural complex with an art gallery, halls, library, and gym, it said, adding that it is not clear when the temple would be completed. The temple with seven towers representing the seven emirates in the UAE will come upon a 14-acre piece of land at Abu Mureikhah, close to the Abu Dhabi-Dubai highway.

The stones for the temple will be carved by temple artisans in India and assembled in the UAE. The plan to build the temple in the UAE's capital was approved by the Abu Dhabi government during Prime Minister Narendra Modi's first visit to the country in 2015.