Colombo, April 23: One of the deadliest attack on humankind was witnessed when Sri Lanka was attacked with a serious of heinous bomb blast attack. With countries offering assistance and Interpol stepping in to investigating the incident, the Islamic State has claimed responsibility for the terrorist blasts. The attack in Sri Lanka has killed 321 people and left several injured.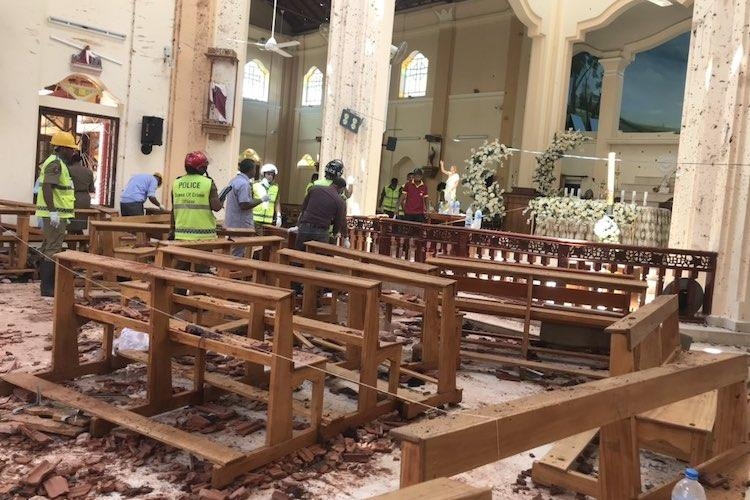 According to reports, the group's Amaq News sent a tweet citing a 'security source' as saying the attacks were the work of 'fighters of the Islamic State.' The Interpol also steeped in to join the investigation to help identify potential international connections. Giving special attention, the Interpol also focused on a second extremist group known as Jamaat-ul-Mujahideen.
In a special session of the parliament today, State Minister of Defence Ruwan Wijewardene said investigators were probing links between the local jihadist group National Thowheed Jamath and Jamaat-ul-Mujahideen. He noted the Easter Sunday bombings could have been retaliation for the terrorist attacks on two New Zealand mosques last month. As many as 50 people were killed in the shootings at mosques in Christchurch, New Zealand on March 15.
Admitting to ignore warnings given by other countries, Sri Lankan Defence Minister stated that their defence system did not work accordingly. He said the government will take all measures to eradicate all terror groups. President Maithripala Sirisena in a statement earlier said, 'The intelligence agencies have reported that there were international organizations behind these acts of local terrorists.' 'Hence, it has been decided to seek international assistance for investigations.'
Prime Minister Ranil Wickremesinghe vowed that Sri Lanka would not allow the attacks to lead to another war, referring to the three-decade civil war that ended in 2009.