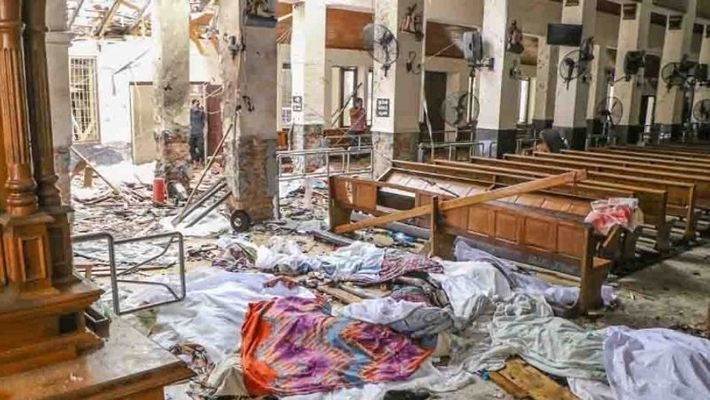 The Sri Lankan serial bomb blast in which over 290 innocent souls were killed and scores were injured has shaken the entire humanity. Condolences are pouring in from across the world with Indian Prime Minister Narendra Modi strongly condemning such cowardly attack saying that there is no place for such inhuman acts in the sub-continent.
The blasts had targeted a particular religion and its followers on the Ester Day when they were gathered at Church and hotels for religious celebrations. But the terrorists did not like them celebrating the festival and they simply turned their celebrations into a horror show.
The Easter Sunday blasts in Sri Lanka did not augur well for the Indian Sub-continent.
The blasts raise many a question. Was this attack a counter to attacks in New Zealand Mosque some days ago? Or is it an extension of communal violence going on in Sri Lank since last one year? It may be mentioned that a year ago curfew was imposed in Simhalese and Buddhist areas due to Islamic extremist attacks.
But the attack on churches has given a new angle to investigating agencies. There was no chance of attacks on Simhalese and Buddhists in Sri Lanka. Earlier, the Island nation had gone through the agony of the 26-year-old bloody war between the Tamils and Simhalese but after the elimination of Liberation Tigers of Tamil Eelam (LTTE), the possibility of a confrontation between these two communities was also remotely considered.
The Sri Lankan serial blast was condemned by the heads of the nation across the globe in the strongest terms. This attack was similar to the one happened in New Zealand Mosque in the recent past. In both cases, the people engaged in religious acts were targeted. This violent attitude is more dangerous for humanity. This is another kind of blind violence that emanates signals of a different type of ethnic or communal violence. And these signals are not only for Sri Lanka, they are for entire South Asia and the world also.
Though no one has ever claimed responsibility for these attacks, it is believed that the Tauheed Jamat is behind them. In 2103, the name of this organization surfaced first when Sri Lankan Defence Minister linked this organization to ISIS. The Secretary of this organization Abdul Raizik is known for his provocative speeches. He had given very derogatory statements about Buddhist religion in 2014.
The members of Peace Loving Muslims in Sri Lanka had demanded a ban on this organization. They had moved the United Nations in this regard. Abdul Raizik was arrested twice in 2016 for his controversial statements and the organization was held responsible for indulging in violence. This organization had damaged the idols of Buddha last year and due to this tension between the Muslims and Buddhists was visible then.
As far as India is concerned, Tauheed Jamat's one faction is active in Tamil Nadu and an FIR was registered in October 2017 against this organization. It was alleged that this organization converted some Christians to Islam by force. Government of India must also take cognizance of this while trying to resolve the issue of communal and caste violence in the South Asian region. The recent blasts in Sri Lanka is a kind of warning for all of us in South Asia.