The interview of Prime Minister Narendra Modi with famous cine actor Akshay Kumar was in a way unfolding the personality of Prime Minister Narendra Modi as a most common man who rose to such a height in his personal life and who took the country to a certain height of glory as Prime Minister in the last five years.
This was not the first interview Modi gave. He had given interviews to television news channels earlier, but those were the political interviews mostly. What was very special about this interview to Akshay Kumar was Modi unfolded his journey from a tea-seller boy to the Prime Minister of the largest democracy in the world in a most interesting, lucid and manner unwinding the past that everyone who watched this or read the text got engrossed with it.
There is always a veil of secrecy or mystery around great personalities in their public and their private life. Many a great personality in public life appear to be tall and unreachable for the common man but in their private life they are not so. But when I watched the interview of Prime Minsiter Modi live, I thought here is the man who does not have dual personality. What he is as a public leader, he is the same as a good human being in his personal life. The nation undoubtedly cherished such a personality who disclosed many 'secerts' about his personal life that created a new definition of Prime Minister Narendra Modi.
Besides the political interviews he gave, there are a few books written on him explaining some traits of his personality. But the interview with Akshay Kumar was unique in the sense that it brought out many more details of Modi's personal life, his general interests, his habits of relaxing, and his techno-savvy attitude. The hour-long interview with the famous thespian was the most enjoyable of all the television interviews Modi had given earlier.
The interview also unfolded the nuances of the personality of Modi. His outward appearance may be stern, but that he has a very special ability to connect with the people. He is equally good at mixing with children. This is his personal charisma that attracts lakhs of people to his meetings and road shows, his popular appeals appear to have grown with the time.
Some political leaders may take exception to the timing of this interview as the third phase of Lok Sabha polls was just concluded and the country is preparing for the fourth phase of the seven phase election exercise. The opposition parties have already taken objection to screening of a bio-pic on PM Modi and the election commission has held that the time was not opportune to screen this movie.
But this interview with Aksahy Kumar has brought out more than what the Modi biopic could have presented about the life of the Prime Minister. Those who watched this interview felt happier to know many unknown facts of his personal life.
The Congress party was the first to take strong objection to telecasting of this non-political interview of Prime Minister Narendra Modi. Congress General Secretary Priyanka Gandhi-Vadra, who dared to contest against Modi from Varanasi but backed out at the last moment fearing major defeat, was the first to criticize Modi for his continuous tirade against her family i.e. Gandhi-Nehru family. She called him as "Pradhan Prachar Mantri".
But she received a counter from none other than Tom Vadakkan, a former Congress spokesperson who recently joined the BJP. Tom Vadakkan called her a 'Page 3 socialite' and alleged that Priyanka is in the grip of 'Page 3' mindset. He asked Priyanka to decide about her own fate before commenting against Modi.
Other BJP leaders including Meenakshi Lekhi and Nalin Kohli lashed out at Priyanka for her uncharitable criticism of the Prime Minister. Lekhi reminded her how her father Rajiv had gone to see a special event by actor Sridevi at Hotel lalit. The BJP said that actor Simi Garewal too had interviewed the then Prime Minister Rajiv Gandhi on 15th July 1991, barely weeks ago before his tragic death in a blast at Sriperambudur in Tamil Nadu. The series "India's Rajiv" was a three-part series made by Simi Garewal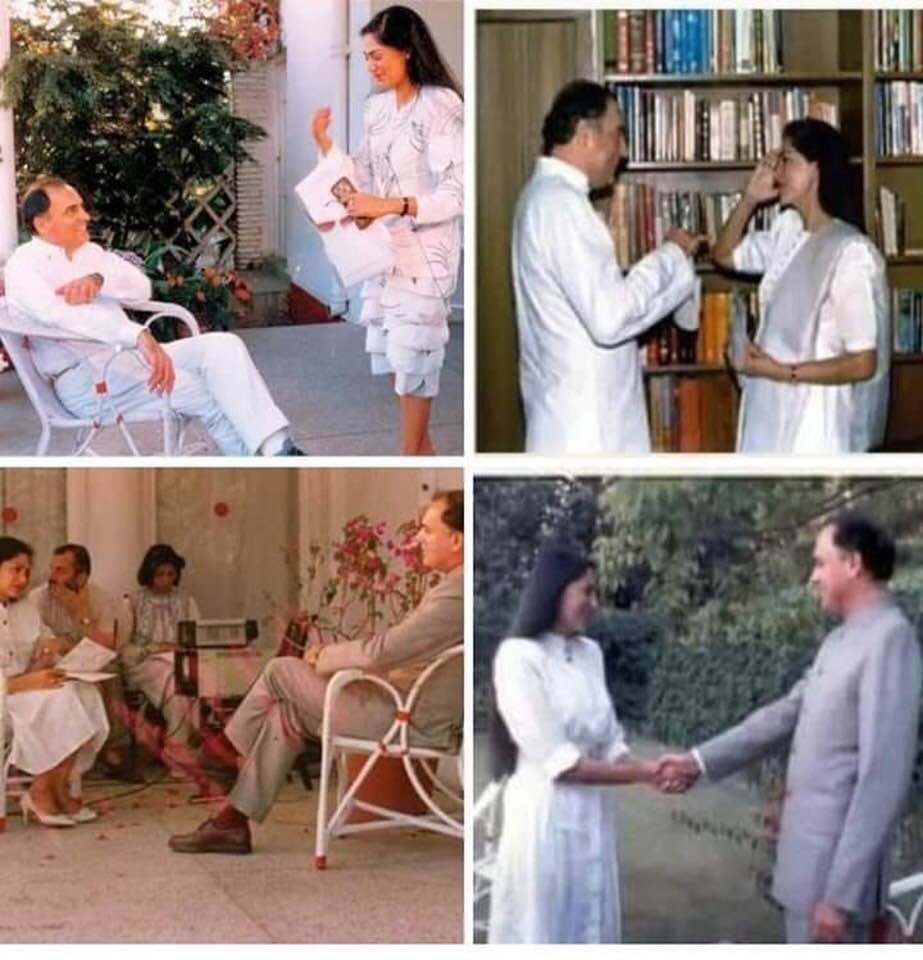 Simi Garewal even contemplated on approaching Congress President Rahul Gandhi for an interview but dropped the idea because the format had a fun element.
Simi, who had interviewed Rahul's late father former Prime Minister Rajiv Gandhi for a documentary told said that Rahul is a very serious person with a mission in life."I would definitely like to interview him, but not in this format," she said.
That takes away the wind out of the sails of the Congress party's criticism of Modi's non-political interview. It also points to the stark reality of defeat staring at
the the Congress party. The massive and unprecedented response to PM Modi's roadshow in Varanasi on Wednesday cleared the slightest of doubts about the BJP's return to the power in 2019 with full majority and decisive mandate.