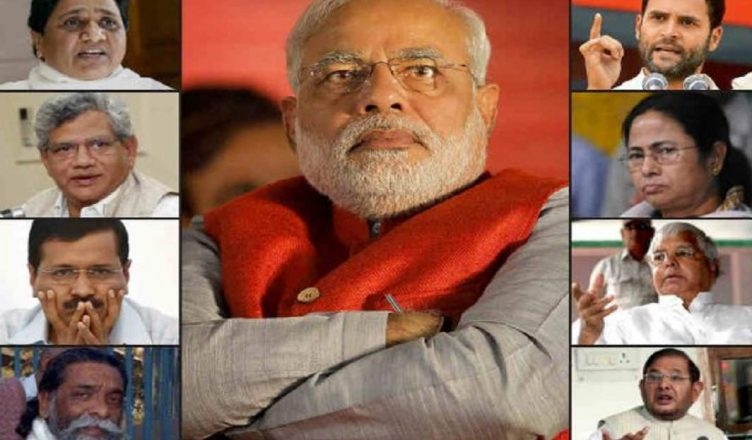 Political rhetoric of Elections 2019 has stooped to lowest of low levels titled in some media headlines as "Gaali, Gulli or Gutter Politics" to score brownie points over each other during the campaign. Never ever in the past was political discourse had sunk to such lowest depths.
If voters still opt for such leaders indulging in "Gaali or Gulli or Gutter Politics" or "Fish Market free for all derisive brawls" none can save democracy.
P. Chidambaram termed the ongoing political negative rhetoric or abuses as "Outrageous" in his column in the print media recently.
Patently preposterous it is for Chidambaram to flay his rivals by selective coverage. Political fraudsters are everywhere. Chidambaram is no exception. After all, he owes his political rise to the Congress Party stable.
Who started "politics of slander" in the first instance? It was Sonia Gandhi who was the first one to indulge in slander of Narendra Modi who was then Chief Minister of Gujarat in early 2000-01 by castigating Modi as "Maut ka Saudagar".
Having initiated the use of choicest abuses, P Chidambaram 'Chiddu' must remember that the outbreak of outrageous campaign was first fueled by the "Uncrowned Empress of India" and the tirade continues against Modi-Amit Shah and the BJP even in the ongoing 2019 election campaign.
What followed thereafter is history of litany of abuses burled by "Gandhi Dynasty" cronies to include: Chaiwala, zaher ki kheti' (cultivating poison), 'Neech kism ka Aadmi, "Khoon ki Dalali", snake, scorpion (Bichoo) on Shiv Ling, Lohi purush, neech, gutter worm, mad dog, impotent, Bhasmasur, monkey, Aurangzeb, mentally retarded, illiterate, Stupid, Ravan, Yamraj, 'Rakshash Raj', Hitler, Gaddafi, Gabbar Singh Tax, Chowkidar Chor, Dawood Ibrahim by Manish Tiwari, Gandi Nalli ka kida, Psychopath, etc.
Chiddu may like to revisit his team mates who abused Modi like Mani Shankar Iyer, Digvijay Singh, Kapil Sibbal, Manish Tiwari and now their champion of congenital liar Rahul Gandhi.
The outrageous abuses were not only invoked against Modi, but also against the BJP President Amit Shah – 'the murder accused' being the latest Rahul Gandhi's sound bite to the media.
Now, Priyanka Gandhi-Vadra is attempting to bring the political discourse to a modicum of sobriety. Can her latest comment "Never attacked personally PM" or "Opposition never questioned PM's caste" be viewed as a well-intentioned corrective or is she too traversing on the "congenital liar's path? Time alone can answer.
In contrast with the expletives of abuses hurled against Modi-Amit Shah and the BJP, their diatribe is more restrained.
Never too late for the media to carry out "in-depth" research of the key issue of "outrageous campaigning" and provide a balanced perspective.
Factually, political discourses in recent past in various so-called civilized nations like the USA and other European nations have also sunk to the lowest of low – abuse and slander of rivals before the voters.
Lord Acton, a British historian of the late 19th and early 20th century, lamented long ago: Power tends to corrupt; absolute power corrupts absolutely. He observed that a person's sense of morality lessens as his or her power increases.
How true it is with respect of Indian political class, particularly those who have lost power but residing in Royal Palaces turned Fortresses at Taxpayers costs, to hurl verbal abuses or choicest expletives!
Yet other farcical spectacle is the spokespersons, particularly lawyers on opposing sides, rushing to the Election Commission failing which to the Supreme Court, to file petitions against each other knowing full well about their outcomes except for cautioning errant leaders.
Can the trend of obnoxious politics be reformed what with the political parties, the so-called legislative authorities, turning a blind eye to the electoral reforms gathering 'cobwebs' in their shelf's.