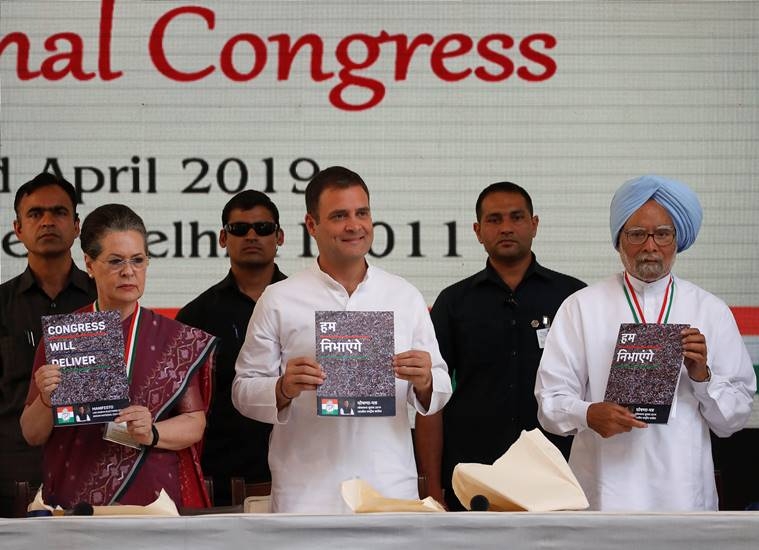 There is absolutely vague focus on Defence Affairs to include welfare of ex-servicemen in the Congress Party 2019 Election Manifesto - Ghosana Patra.
One para statement – Para 20 on Page 25 out of 27 pages booklet. What does it indicate?
Ipso facto, the country is facing highly complex threats – Hybrid Warfare on multiple fronts. Yet, the Congress Party has adopted the familiar "legendary Ostrich" posture. Why? Is the Congress Party mortally scared of "friends and foes" alike?
Reproduced is the para for the readers to draw their own conclusions:
"The Indian National Congress is committed to rapid modernization of our defence forces. India's security preparedness will be based on a comprehensive security doctrine that combines conventional and strategic measures.
1. The continued and rapid modernization of our Defence Forces is imperative. The Indian National Congress shall ensure that this process of procuring the finest state-of-the-art equipment is carried out in an atmosphere of efficiency and full transparency.
2. India has emerged as one of the world's largest importers of defence equipment; it is thus imperative to encourage indigenous manufacturing in every way. This will also generate substantial employment. To this end, we shall work towards giving a fresh impetus to upgrading our existing manufacturing capabilities while creating new avenues for expanding military capability.
3. The Indian National Congress has always given the highest priority to the welfare of ex-servicemen and their families. One of the first achievements of the first Indian National Congress-led UPA government was the creation of the Department of ex-servicemen's Welfare. In pursuance of our continued commitment, the Indian National Congress led UPA-II has now fulfilled the long-standing demand of One Rank-One Pension, a key campaign promise of the Indian National Congress in 2009. This will bring tremendous relief to the families of ex-servicemen.
4. A "National Commission for Ex-Servicemen" will be established to provide a further impetus to programs designed for the welfare of their families and expand opportunities for them in Nation building and other productive activities.
5. On the strategic front India will maintain a credible deterrence and second strike capability. We shall continue the missile program to meet potential threats in the region."
Who does not know that "modernization" is an imperative? Such a highly vague and cavalier expression of intent or purpose does not augur well for the Congress Party's strategic wisdom.
Furthermore, very few takers among the ex-servicemen will give credit to the Congress Party to take credit for granting the OROP for it had only allocated just prior to 2014 elections a sum of Rs.500 crore towards OROP when the requirement was well over Rs.12,000/- crore.
Surely, the Congress Party could have included specifically the outstanding demands of defense personnel particularly to include the award of the NFU status on parity with the IAS, IPS and even other Central Government cadres.
Add to it, the declaration of intent to establish "National Commission for Ex-Servicemen" is yet another time tested ploy of the Congress party to hoodwink people. Mere establishment of "National Commissions" may be to provide space for their followers and sycophants among the ex-servicemen. Even a layman is aware that such national commissions in many other fields are purely cosmetic institutions incapable of effective delivery.
And, the inclusions of "credible deterrence and second strike capability" that already exists does not impress even a layman considering the threat of nuclear war in the case of Nuclear Weapon States is ruled out.
The need for a comprehensive security doctrine that combines conventional and strategic measures is yet another bogey!
In sum, the wise men, more aptly the Congress Party "Blind men of Hindustan", have articulated INTENT in the most broadest and vague manner. Naturally, it does not lend hope for the posterity of national security against our adversaries hell bent upon "disintegrating' Modern India.