Prime Minister Narendra Modi during his recent election campaign meetings has raised the issue of former Prime Minister the late Rajiv Gandhi and his alleged involvement in much publicized Bofors corruption scandal. Modi's response came to the continuous criticism heaped on him by incumbent Congress president Rahul Gandhi son of late Rajiv Gandhi who was never tired of calling him a 'Chor'.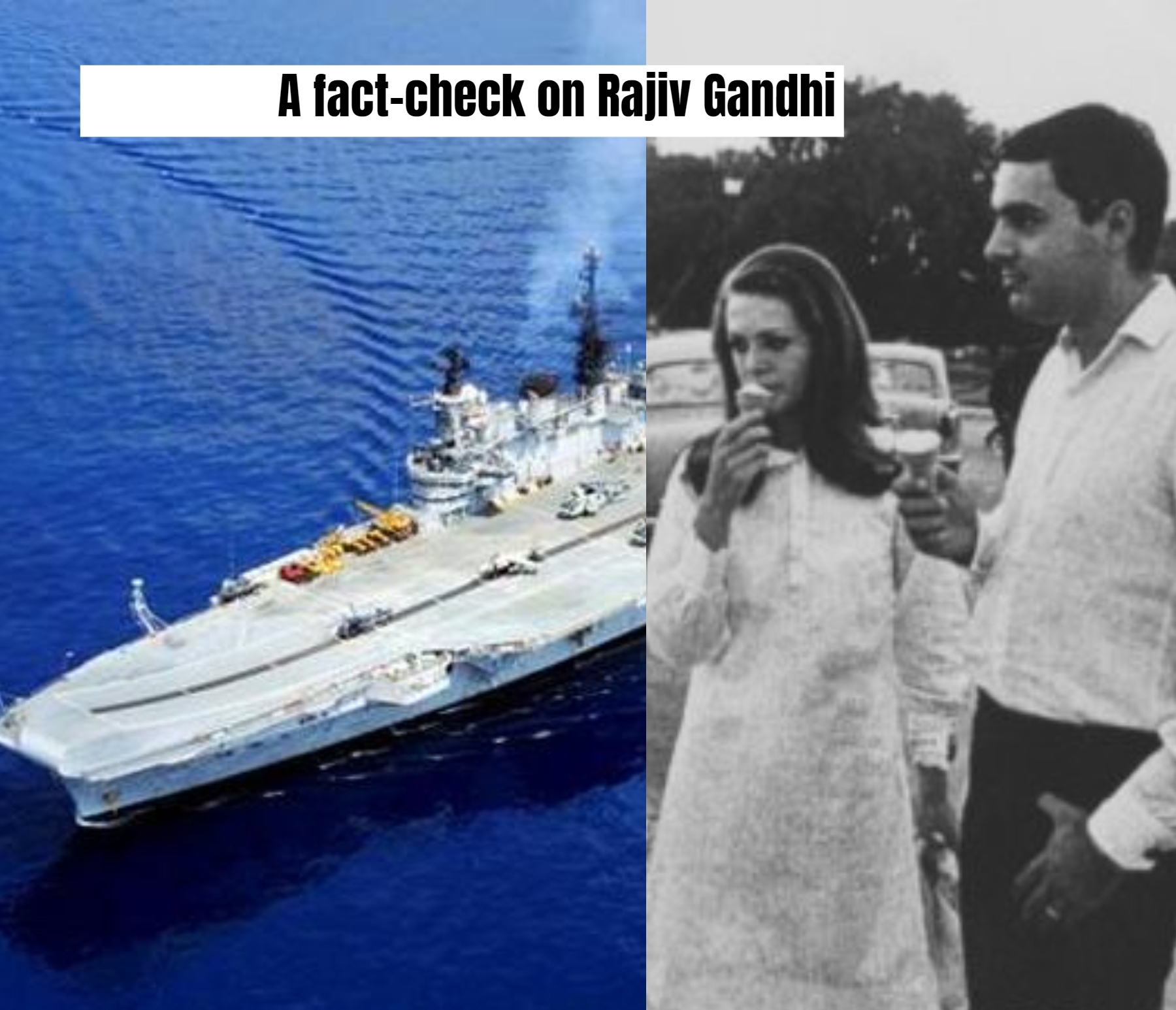 Those who tolerated Rahul's diatribe against Prime Minister Narendra Modi were so disturbed and agitated over Modi raising the issue of corruption during Rajiv Gandhi's tenure and calling him 'Bhrashtachari Number 1' that they immediately swung into action and started trolling Modi for 'insulting' the former Prime Minister who according to them sacrificed his life for the nation. The Congress leaders, their friends in the media and other political parties all were at once busy projecting a larger than life image of Rajiv Gandhi as if he was the only pious soul arrived on this earth.
But what is the reality? We did some fact-check on him, here are the results. We leave it to the wisdom of our readers to arrive at conclusion after going through this fact-check on Rajiv Gandhi.
But they are wrong and projecting falsehood about Rajiv Gandhi. The facts, evidences and proofs tell the story in a different manner. Let us see what they say:
Rajiv was not brilliant at studies. He had his schooling at five-star Doon School. Later he was sent to Trinity College London for studying engineering in 1961.
He could not clear the exams till 1965 following which he was removed from the college. Then he sought admission in London's Imperial College in 1966 in Mechanical Engineering but here also he could not obtain desired result.
The same year his mother Indira Gandhi became the Prime Minister of India and Rajiv came back to India. He joined the Delhi Flying Club in 1966; learned flying and on recommendation of his mother was employed as a commercial pilot in Air India.
Wikileaks has exposed that Rajiv was working as a middleman in arms dealing during Indira's Premiership. The Shah Commission has also endorsed this. It was proven that Rajiv Gandhi was actually working as a middleman in buying aircraft from a Swedish company. Later he also intervened as a middleman in purchasing of 3 Boeing 737 aircraft.
In 1971 India-Pakistan war all the Indian Air Force and Indian Army needed pilots and Air India commercial pilots were called to air drop arms and other supplies. All the pilots complied to the order but for one that one was none other than Rajiv Gandhi.
Rajiv came into Indian politics in 1980s much against his willingness, we were told. In 1984, Indira Gandhi was assassinated by her bodyguards. The same day Rajiv was made Prime Minister of India and a visibly anguished Rajiv presided over the mayhem and pogrom of innocent Sikhs in Delhi and elsewhere in the country just because the killer bodyguards were Sikhs. His statement 'if a big tree falls, the ground shakes', not only justified the Sikh mayhem but also instigated many a Congress leader to shamelessly indulge in such anti-humanity crime. These leaders of the Congress party entered the houses of the Sikhs, killed them, raped their women and burnt them alive.
In 1985, the Supreme Court gave a verdict in Shahbano case which would have come as a great relief to Muslims women suffering due to instant triple talaq. The court allowed the provision of alimony to such women. But Rajiv Gandhi who was the Prime Minister then and had a brute majority in the parliament, reversed that judgement by introducing a constitution amendment and threw Muslim women in the dungeon of slavery in the name of triple talaq just to appease the Muslim fundamentalist leaders.
Then there was Bhopal Gas leakage case from the Union Carbide factory killing thousands and maiming hundreds. But Rajiv allowed the owner of Union Carbide Warren Anderson to fly out of India to the USA by striking a deal with the Americans. In turn the release of Adil Shahriyar, son of Indira's confidante Younus Khan was sought. Adil was serving jail term in the USA. Rajiv allowed the killer of 30,000 innocent Bhopal citizens to escape to USA.
Rajiv terribly lacked in understanding of global diplomacy and effective use of armed forces. So, based on his limited wisdom he forcibly deployed Indian Peace Keeping Force (IPKF) to fight the Liberation Tigers of Tamil Eelam (LTTE) in Sri Lanka. In the armed combats 1400 IPKF soldiers were killed, 3000 were injured. Rajiv had to call back the IPKF from Sri Lanka. He had to face an unsuccessful attack on his person when he went on a visit to Sri Lanka. He was the only and only Indian Prime Minster who had to face a serious attack on foreign soil by a foreign soldier.
In 1989, the Bofors scam came in public domain and it was made public that Rajiv Gandhi had received kickbacks in Bofors deal along with the middleman Ottavio Quattrocchi.
In 1991 a Swiss magazine named Schweizer Illustrierte published the names of those involved in black money and had their illegal money stashed in Swiss banks. The list included the name of 'Mr Clean' Rajiv Gandhi and the magazine said that Rajiv Gandhi had deposited 2.5 billion Swiss Franks in a Switzerland Bank account.
In 1992, Times of India and The Hindu published news that Rajiv Gandhi used to receive funds from Soviet secret service KGB and Russia too had endorsed this. These funds were given to him to preserve and protect Soviet interests.
In 1994, Yevginia Albats anfd Catherine Fitzpatrick presented a letter signed by KGB Chief Victor Chebrikov and explained how after Rajiv Gandhi the KGB continued to provide funds to Sonia and Rahul Gandhi and how the KGB maintained contacts with the Gandhi Family.
So, what in sum Rajiv Gandhi was? He was an ordinary person who became Prime Minister just because his mother served on that post. He presided over pogroming of thousands of innocent Sikhs; was responsible for the 'safe' escape of the killer of 30000 innocent citizens of Bhopal; converted the life of Muslim women into hell; received kickbacks in defence deals; lacked understanding of the global diplomacy and allowed 1400 Indian soldiers to die in Sri Lanka for his foolish decision.
After knowing all these facts who will call him a great person? When he came to political scene he was hailed as 'Mr Clean' by the bards of the Congress party. But as Prime Minister Narendra Modi said, he ended his life a 'Bharashtachari Number 1'. So, when Rahul and Company hurl choicest of expletives at PM Modi, and nobody, not even the 'independent' media, questions them, what is wrong if the PM defends himself by raising the corruption issues related to late Prime Minister Rajiv Gandhi?
When Rahul and Company indulge in mudslinging at national heroes like Veer Sawarkar and Bhagat Singh, they do not cross the limits, but when Modi says something about Rajiv Gandhi then suddenly, he crosses all the limits. How is this logic? Who will buy this argument?
The voter is wise enough to understand and see through the game plan of the Congress and opposition parties and their friends in the media. They have decided to give them the most befitting reply. Wait for May 23rd to get that reply.