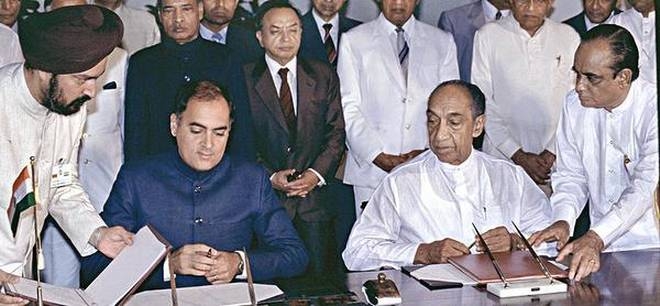 Since the gloves are off in the campaigning of 2019 elections with rivals indulging in 'jibes' against each other, particularly of the Rajiv Gandhi era, let me highlight the "Great Blunders" of Rajiv Gandhi, besides the India's "National Humiliation" on alien soil.
The Indian Peace Keeping Force (IPKF) was sent to Sri Lanka in July 1987 under the Indo-Lanka Peace Accord signed between then Prime Minister Rajiv Gandhi and Sri Lankan President JR Jayewardene.
Ram Jethalmani stated, "India's Sri Lanka diplomacy under Rajiv Gandhi turned out to be his fatal misadventure; a thoughtless military intervention under the guise of peace keeping that brought great humiliation and loss to our Army, before taking his own life." Some subcontinent analysts termed it as India's Vietnam.
Furthermore, Ram also stated, "Handling the Lanka-Tamil problem needed diplomatic skill, vision and sound advice, all of which seemed lacking."
Natwar Singh, former Minister of External of Affairs of Rajiv Gandhi regime, stated, "He was badly advised… Rajiv Gandhi sent troops to Sri Lanka without telling the Cabinet. Sri Lanka policy led to his assassination".
Furthermore, Natwar Singh highlighted, "There was no coherence in India's policy. MGR (then Tamil Nadu chief minister MG Ramachandran) had his own Tamil Nadu policy; India had its own policy. The IPKF was not prepared for what they were undertaking in Sri Lanka."
The 83-year-old estranged Gandhi family friend has claimed Sonia and daughter Priyanka Gandhi-Vadra visited his home to dissuade him from writing about certain specific incidents in his autobiography.
The IPKF was sent to keep peace between Lankan government troops and the Liberation Tigers of Tamil Eelam (LTTE). The IPKF was to disarm the rebel outfit. Instead, the IPKF earned the dubious distinction of "Innocent Peoples' Killing Force" from Sri Lankan Tamils.
The intervention of the IPKF ended with its withdrawal in 1990 – a la Vietnam debacle.
And, the LTTE assassinated Rajiv Gandhi in May 1991 — during a Lok Sabha poll campaign in Sriperumbudur around 40 km off Tamil Nadu capital Chennai — at a time when he was largely expected to return to power in India.
Be that as it may, more importantly India as nation suffered the worst possible humiliation when Rajiv Gandhi, the Prime Minister of India, while inspecting the guard of honor at the in Sri Lankan airport during the ceremonial send off, was assaulted by a naval rating (sailor), who reversed his rifle and attempted to hit Rajiv on the head with it, but the rifle struck Rajiv a glancing blow on his shoulder.
A Doordarshan cameraman who was shooting the departure for the news bulletins caught all this on camera. Today, the incident is available on "YouTube".
In retrospect, not only the intervention by the IPKF was ill-conceived unilateral decision by Rajiv Gandhi without taking his own Minister of External Affairs into confidence or the Cabinet that finally resulted in worst diplomatic foray not only in regional geo politics but also international affairs.
Finally, the assault on visiting Indian Prime Minister on alien soil is only one of its own incidents until date that must be viewed as a "Slap and Slur" on the face of the "Nation" and its pride; but ignored.