New Delhi, May 10: The Supreme Court has extended till August 15 the time given to the Ayodhya mediation panel to complete the process. The Three-member Constitution Bench observed, "The mediation is on and the Chairperson seeks an extension until August 15 to arrive at an amicable and complete solution which we are inclined to grant. But we would like for the progress (between the parties) to remain confidential for now", Chief Justice Ranjan Gogoi said that the report of the Chairman of the court-appointed mediation committee has been received and the progress made in the process is noted. The Committee had submitted its interim report in a sealed cover earlier this week.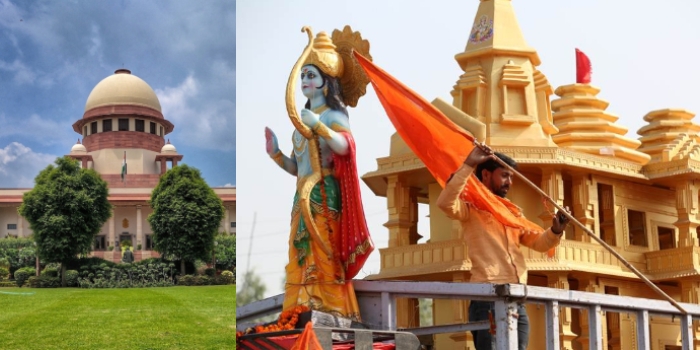 While Senior Counsel Rajeev Dhawan, for the Sunni Waqf Board, expressed utmost support towards all attempts of mediation, Senior Advocate C. S. Vaidyanathan for Ram Lalla insisted that the committee be granted time only until the end of June.
"When they are seeking time till August, how can we do that? We don't want to short-circuit the process", observed the Chief Justice.
Two months ago, the Court had referred the matter for mediation to a court-appointed panel of former SC judge Justice F M Khalifullah, Sri Sri Ravi Sankar and Senior Advocate Sriram Panchu. The bench also clarified that the mediation process should be held in-camera, and had barred media from reporting on its developments.
On 8th March 2019, the five-judge bench constituted a Three-member panel to be headed by (retd.) Justice F. M. I. Khalifullah, Sri Sri Ravi Shankar and Senior Advocate Sri Ram Panchu. The panel had the liberty to solicit more mediators or seek legal assistance.
The disputed structure at Ayodhya was destroyed during a rally which turned into a riot on 6 December 1992. A subsequent land title case was lodged in the Allahabad High Court, the verdict of which was pronounced on 30 September 2010. In the landmark hearing, the three judges of The Allahabad High Court ruled that the 2.77 acres (1.12 ha) of Ayodhya land be divided into 3 parts, with 1/3 going to the Ram Lalla or Infant Rama represented by the Hindu Maha Sabha for the construction of the Ram temple, 1/3 going to the Islamic Sunni Waqf Board and the remaining 1/3 going to a Hindu religious denomination Nirmohi Akhara. While the three-judge bench was not unanimous that the disputed structure was constructed after demolition of a temple, it did agree that a temple or a temple structure predated the mosque at the same site.