New Delhi, May 15: The entire country applauded Supreme Court's decision when it directed to grant Priyanka Sharma bail without tendering an apology. But seems like West Bengal Police had some other plans in store. Known for their undemocratic rule, West Bengal's government has been following dictatorship rule by enforcing their own demands.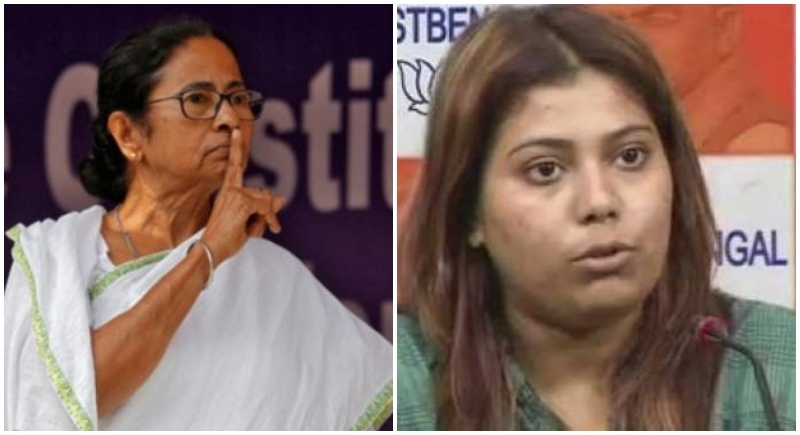 BJP youth wing worker Priyanka Sharma and her advocate Neeraj Kishen Kaul have decided that they will file a contempt plea against the Kolkata Police. This move came after the police allegedly made Sharma sign an apology letter before her release from jail and also to recall the apology. Advocate Kaul has said that the apology letter was prepared by the Kolkata police which said that she will not post the meme again.
The Kolkata Police have violated the Supreme Court order by making Sharma sign the apology letter. Priyanka Sharma's counsel NK Kaul told the Supreme Court earlier on Wednesday, "Sharma is being released, but before her release she was asked to sign an apology letter prepared by the Police which says she will not post this again.
"I'm told, subject to verification, that she was released at 9:40-10:00 am and that too after was made to sign a statement prepared by police. It reflects an extremely disturbing trend that SC's order that said 'forthwith release her' wasn't followed for 24 hours."
The Supreme Court has said it will hear BJP Youth Wing Convenor Priyanka Sharma's application seeking action against the West Bengal police authorities in July first week. Asserting a huge embarrassment for the West Bengal government, the Supreme Court on Wednesday pulled up the West Bengal Police for not releasing Priyanka Sharma following its order on Tuesday. Sharma was released on Wednesday at 9:40 am.
Justice Indira Banerjee said that not releasing Priyanka Sharma on Tuesday despite the Supreme Court order amounted to contempt. She has also said that Priyanka Sharma's arrest was arbitrary.
The BJP youth wing member Priyanka Sharma was arrested by the Kolkata Police for posting a meme of Mamata Banerjee on social media Facebook. Addressing right to freedom od speech and expression, the Supreme Court on Wednesday had released her without tendering an apology. But Sharma was not released until she had signed the letter written by Kolkata police.