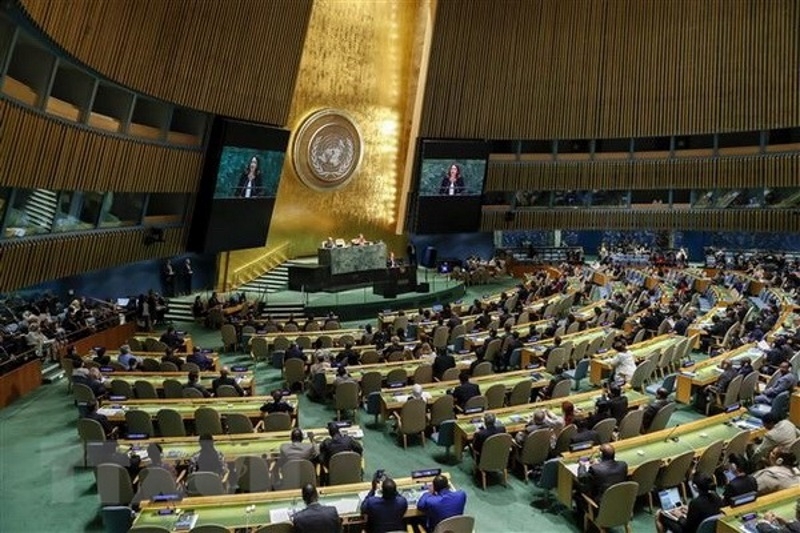 United Nations, May 29: The raising religious violence is a universal issue in front of global leadership. To tackle this monster and to remember the innocents who become the victims of religious violence, The UN General Assembly on Tuesday, declared Aug.22, as International Day Commemorating the Victims of Acts of Violence Based on Religion or Belief.
The UN General Assembly has declared August 22 as the International Day for Victims of Religious Violence to combat hate crimes and persecution on the basis of beliefs.
Poland's Foreign Minister Jacek Czaputowicz said, "We hope that it will help combat hate crimes and acts of violence related to religion or belief, and will further strengthen inter-religious dialogue".
Recalling the wave of attacks that targeted a mosque in New Zealand, and churches in Sri Lanka during Easter Sunday services, Poland's Foreign Minister Jacek Czaputowicz, who introduced the resolution on Tuesday, said that the international day will honor the victims and survivors of religious violence who are often forgotten.
This followed the adoption of draft Resolution A/73/L85 tabled by Poland with support from several other countries.
The supporting states include the core group consisting of Brazil, Canada, Egypt, Iraq, Jordan, Nigeria, Pakistan, and the United States.
He also added, "The resolution is not focused on victims of any particular religion or belief and seeks to raise respect for religious diversity".
The Acting US Representative to the UN Economic and Social Council, Austin Smith, said that in the Xinjiang Uighur Autonomous Region "more than one million Uighurs, ethnic Kazakhs, Kyrgyz, and other members of Muslim minority groups in Xinjiang have been arbitrarily detained in camps since April 2017. There are disturbing reports of forced labor, torture, and deaths in these camps."
"Chinese authorities are restricting religious freedom by labeling peaceful religious practices as manifestations of 'religious extremism and terrorism'," he added.