New Delhi, May 3: India is engaging with various countries on several levels. India is now 'Acting on East' rather than 'looking on East'. Now, furthering this commitment, As a part of India's 'Act East Policy', 1st India-Korea 2+2 dialogue will take place once the new government is formed as well as the defense secretary takes over next month.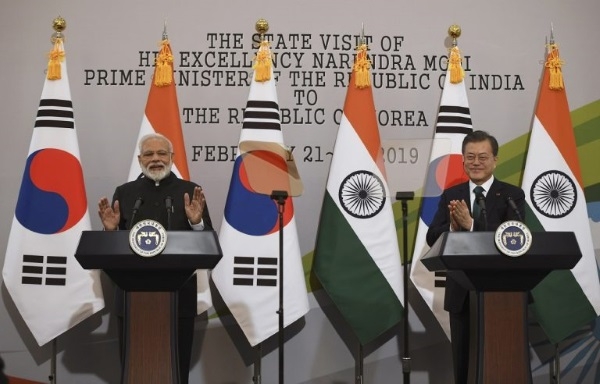 Under this arrangement, the dialogue will take place between defense secretaries of the two months.
South Korea becomes the third country to hold such a dialogue with India, after Japan and the United States.
As per the official statement, "The defense secretaries of the two countries were expected to meet in May under the first 2+2 Dialogue. However, the dates have to be re-worked as the present defense secretary Sanjay Mitra is retiring later this month."
Further, the official statement added, "Fresh dates will be worked out once the new the government takes office and there is a new defense secretary".
For South Korea, India is a key power and is its significant partner in the region. And, for India, South Korea is deliberated as an important partner under the `Act East Policy' and both Prime Minister Narendra Modi and of President of Korea Moon Jae-in, last July had agreed to start the 2+2 Dialogue format.
Defense companies from South Korea have been occupied with their local partners for manufacturing defense platforms under Prime Minister Narendra Modi's `Make in India' initiative. The two countries 2015 inked an agreement to firm up bilateral cooperation in military shipbuilding. Inked under the umbrella of the special strategic partnership, each country has to nominate one shipyard each for this purpose.
ADMM-Plus is a platform for ASEAN and eight Dialogue Partners which works towards strengthening security and Defence Cooperation for Peace, Stability, and Development in the Region. Ten ASEAN member countries and eight other Countries including Australia, China, India, Japan, New Zealand, Republic of Korea, Russia and the US.
As has been stated several big and small defense companies are keen on setting up their base in India for jointly manufacturing military platforms for the Indian Armed Forces. "In South Korea, there is no law which curtails the Transfer of Technology (ToT), hence any Indian company tying up with a Korean company will get the latest technologies.
The country is also keen on cooperating with India to secure the sea lines of communication (SLOCs) in the Indian Ocean. And recently navies of the two countries participated in ADMM-Plus Maritime Security Field Training Exercise (FTX) at Busan, South Korea. Indian Naval Ships INS Kolkata and INS Shakti were on a three-day visit, as part of the deployment of the Eastern Fleet to the South China Sea last week.