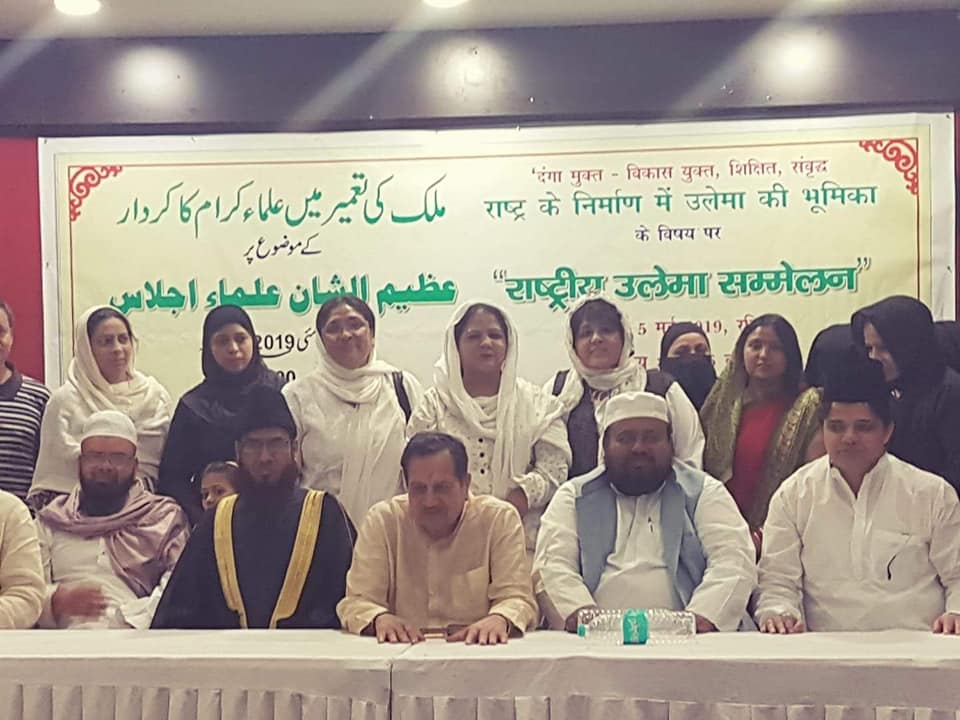 Indresh Kumar addressed the Ulema Conference in Delhi on May 5, 2019
When the Bharatiya Janata Party (BJP)-led NDA Government came to power at the Centre with full majority in 2014 under the leadership of Prime Minister Narendra Modi, the Muslims were terrified. They had the memories of Gujarat riots back in their minds and the Congress-Left-Secular politicians and media combine have impressed on them that with Modi government firmly in saddle they have no future but to face torture, intimidation and even forceful eviction from their hearths and homes.
However, the five-year tenure of the Narendra Modi government succeeded, partially though, in removing this misgivings and misleading propaganda by their actions and programs guided by the principle of "Sab Ka Saath- Sab Ka Vikas" (Development of all and appeasement of none).
The MRM drive:
The Muslim Rashtriya Manch (MRM) since its inception in 2002 tried to assuage the hurt feelings of the Muslims and remove the fear instilled in their minds and hearts about the RSS and BJP. In 2014 the MRM tried to play its role in the election campaign by launching a voter awareness drive. But it had evoked a limited response then. However, that effort of the MRM could turn around 5 to 10 percent of Muslim voters towards the BJP, according to the reports of the Urdu Press and Media.
Buoyed by the response in 2014, the MRM decided to play a vigorous role in 2019 elections launching a massive voter awareness drive in the constituencies that have a sizeable Muslim population. In the last five years the MRM had successfully handled the issues of Triple Talaq, Ramjanmasthan Ayodhya dispute, Article 370 and 35A, cow protection, etc. taking them to their logical ends. The response the campaigns on these issues evoked from the Muslim women, intellectuals and religious leaders was historic and fantastic both.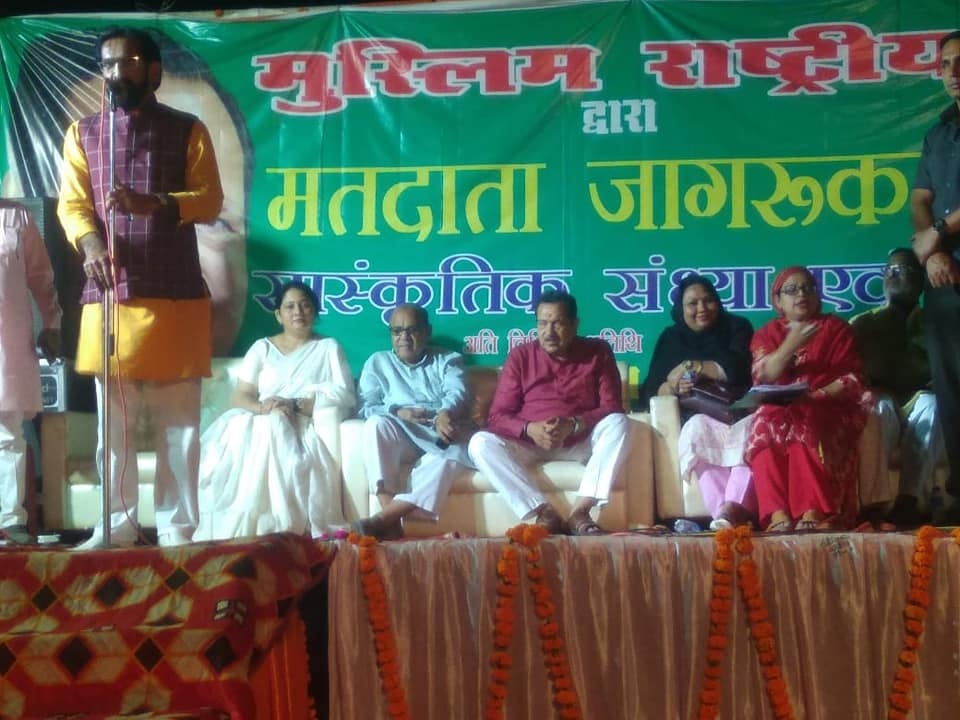 Press Council Member and MRM National Convener Raza Rizvi addressing a gathering
The government passed the triple talaq bill twice in the Lok Sabha but because of the adamant nature of the Congress party could not get it passed in the Rajya Sabha following which it had to issue an ordinance. But this has created a sort of faith and goodwill about the Modi government among the Muslim women who number around 50% of the total Muslim population of 17 crore in India.
Based on these successes the MRM chalked out a strategy to extensively contact the Muslim voters, convince them about the positive steps Modi government had taken and implemented for their uplift and progress, the enhancement in scholarship of girl students, for students going for higher studies and promotion of Urdu language and upgradation of the madarasas.
As per the plan, the MRM office-bearers and workers at national, state and regional levels fanned out in different areas covering various parliamentary constituencies and organized the meetings of the Muslim voters. At some prominent places, MRM Patron and Guide Indresh Kumar addressed the meetings, conducted press conferences and interacted with Muslim intellectuals. He addressed some 20-25 largely attended congregations of the Muslims in places like Varanasi, Lucknow, Ranchi, Jaipur, Jabalpur, Nasik, Mumbai, Azamgarh, Moradabad, Surat, Wapi, Patna and Kolkata. MRM National Conveners Mohd Afzal, Islam Abbas, Dr Shahid Akhtar and Madarsa Cell convener Mohd Mazahir Khan accompanied him at some of these places.
Other leaders including National Conveners Mohd Afzal, Islam Abbas, Girish Juyal, Abu Bakar Naqvi, Irfan Ali, Dr Tahir, Women's Wing National Convener Reshma Hussain, Adv Shaheen Pervez, Shahnaz Afzal, Raza Rizvi, S K Muddin, Latif Magdum, Badruddin Halani and others conducted a massive contact campaign and succeeded in generating awareness among the Muslim voters.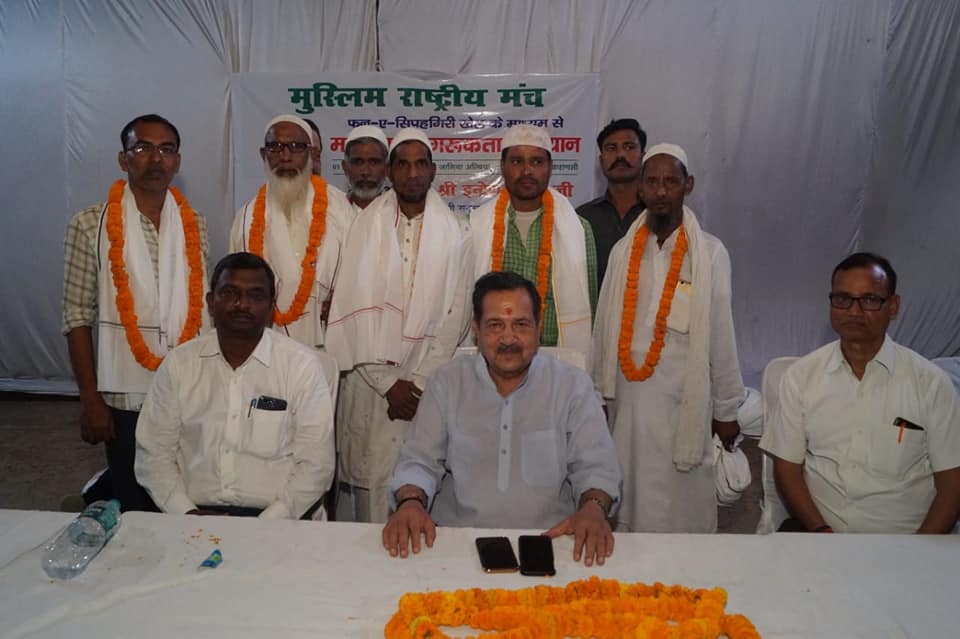 Indresh Kumar addressed the Khalifas of Muslim Akharas in Varanasi
Indresh Kumar addressed specially convened meetings of women, madarasa teachers and directors, Muslim Akharas, and their Khalifas and Muslim Dalits. The directors of Madarasas and Ustads of Muslim Akhadas in Varanasi were so impressed that they had a group photograph with Sri Indresh Kumar and decided to circulate those photos with a caption "Hamara Booth Bolega – Modi Sarkar, Modi Saarkar".
These meetings were largely reported in the print and electronic media emanating most positive message and response to his appeals. He appealed to the Muslims to vote as an awakened citizen of this country and ensure their participation in the development of the nation.
"Your vote is not for sale; once you sell your vote you become a slave for five years", he impressed upon them. He also urged them to give up liquor addiction and go in for education to improve their future.
The Modi Government has implemented many welfare schemes for the development and uplift of the Muslim community, Indresh Kumar told the audiences in these meetings.
All put together, the MRM leaders and activists have addressed over 2000 small, medium and largely attended meetings during the four phases of Lok Sabha elections involving a battery of over 1000 activists contacting hundreds of thousands of the Muslim audience.
Special meetings of Muslim women were also organized at Jabalpur, Surat, Wapi, Jaipur, Lucknow, Rae Bareli, Agra, Moradabad, Jammu and Delhi. These meetings were addressed by MRM Women's Wing National Convener Reshma Hussain, Co-Conveners Adv. Shaheen Parvez, Shahnaz Afzal, and Adv Shabana Azmi. These meetings witnessed women's participation in hundreds and thousands and evoked a very encouraging response from the Muslim eves, especially in view of the Modi Government's decision on Tripal Talaq matter.
Role of MRM:
Till 2014, the Muslims of India were full of antagonism and hatred for the RSS-BJP. The fear and the poison of hatred was so deeply injected by the elements inimical to nationalist organizations, namely Rashtriya Swayamsevak Sangh (RSS) and BJP that the average Muslims were psychologically not prepared to accept the RSS-BJP as their well-wishers and friends. Though there were some Muslims associated with BJP and its earlier avatar as Jan Sangh, they formed a microscopic minority and had to suffer a lot for their association. But still they continued to be with them.
The MRM started its work in 2002. However, it was during the period of Prime Minister Atal Bihari Vajpayee that this jinx of Muslim apathy towards BJP could be broken. Though it did not bring all the Muslims to the BJP, but it succeeded in converting a less than one percent of them towards this party. So, the period of 'I Love You' for the Muslims began during the time of Atal Bihari Vajpayee.
Meanwhile, the former RSS Sarsanghchalak the late Sudarshan started a dialogue and had regular correspondence, meetings and exchange of ideas and thoughts with prominent Muslim scholars. On the other hand, Indresh Kumar too had launched a dialogue with the Muslims while he was in Jammu & Kashmir as RSS Pracharak. Those were the heydays of violence, intimidation, and terrorism in J & K. But Indresh Kumar established a straight dialogue on various contentious issues with the Muslims in Kashmir at times risking his life!
There were some thousand Muslim students studying in Vidya Bharati affiliated schools or Shishu Mandirs; thousand more in the BJP and an equal number might be in contact with the RSS. With the efforts of Sudarshan and Indresh Kumar, the movement of Muslim Rashtriya Manch (MRM) was born.
The nascent movement suffered a severe blow when the then UPA government raised the bogey of Hindu Terrorism and tried to implicate Indresh Kumar in various acts of terrorism. But they were in a shock when the Muslims stood firmly behind Indresh Kumar. It was a surprise positive signal for the RSS-BJP too.
MRM & 2014 elections:
The MRM decided to play its role in 2014 General Elections for the first time and organized many programs, meetings and conferences under "Mission 272 +" theme. MRM is not a political organization. It is a social reform movement. In tune with its aims and mission, the MRM decided to play a role to awaken the Muslim voters by presenting a nationalist perspective to them and inviting them to contribute their mite in the development of the nation. This was the first such experiment performed by a non-Congress, non-Secular platform working among Muslims.
The BJP too came forward and offered their candidatures to some Muslims in J & K, Lakshdweep, Rajasthan, Gujarat, etc. In the local body elections, the BJP fielded a good number of Muslim candidates who registered a massive victory and some of them have been elected as Mayors of major municipal corporations. Thus, the association of Muslims with BJP and their participation in its activities and programs increased to a certain considerable extent.
Some MRM karyakartas got the Cabinet Minster status in the wake of their appointment on various government boards and commissions at the national and state level post 2014. This has helped in instilling some faith and positivity about the BJP and RSS among the Muslim community. This was not the situation earlier.
Bhagwat's views on Muslims:
Meanwhile, this changing attitude of the Muslims got a further impetus with two statements of RSS Sarsanghchalak Dr Mohanrao Bhagwat. When the Allahabad High Court verdict on Ramjanmabhumi dispute came Bhagwat had said that this should not be construed as defeat or victory of any particular community.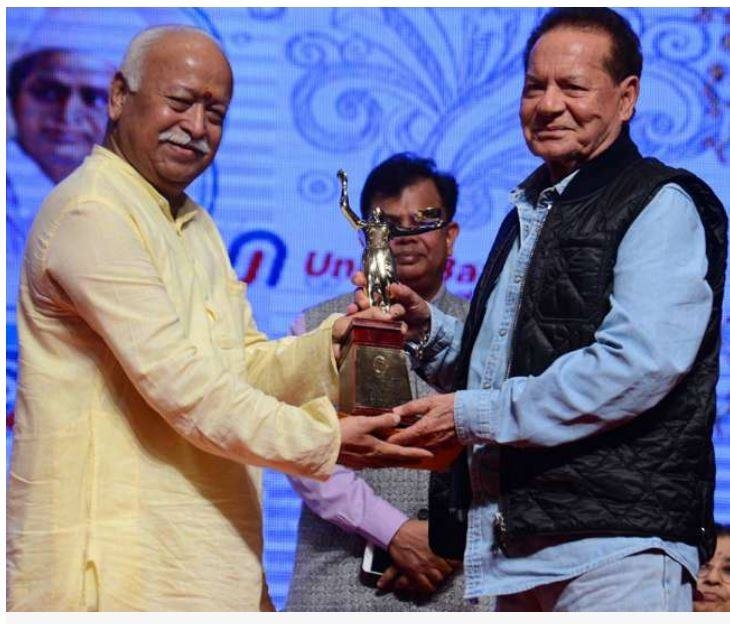 RSS Sarsanghchalak Dr Mohanrao Bhagwat felicitating Salim Khan
Later, in his three-day discourse in Vigyan Bhavan in New Delhi in September last year, the RSS Sarsanghchalak had again stated that Muslims are very much included in RSS' concept of Hindutva and the idea of Hindutva is incomplete sans Muslims.
His both these statements lend more credence to the mission of MRM besides sending a very strong and positive message of inclusive Hindutva among the Muslims and other minority communities.
Thus, with the efforts of the MRM the Muslims in India could think of their role in national perspective and it was recognized also. But there was opposition to MRM. For example, in Indore, Pune, and some other places Indresh Kumar's photograph was displayed with a cross on it as a mark of opposition. Messages were circulated on mobile phones against him. But in spite of that the MRM grew from strength to strength though it was not a major force to reckon with then. Nevertheless, its presence and cognizance could no longer be ignored.
Media attention:
Earlier, the Urdu Press and Media hardly gave any space to RSS-BJP or MRM, but now they are publishing MRM news, inviting MRM workers for television debates and cover MRM activities and programs. The Urdu newspapers are flooded with the news, interviews and articles about MRM these days. This is a most welcome change. With these changes, the sting of negativity in the thinking of Muslims got blunted, but not entirely gone. There has been a drop in their wholesale voting to a particular political party.
The efforts of the religious fundamentalists and left-secular political parties to instigate Muslim masses are going on. Immediately after the 2014 election and victory of the BJP the Muslims were told that with Modi as Prime Minister, the bad days of Muslims have begun. They will be forced to leave this country or will be subjected to harassment and torture. But the experience of common Muslims was exactly opposite of what was told to them by these parties.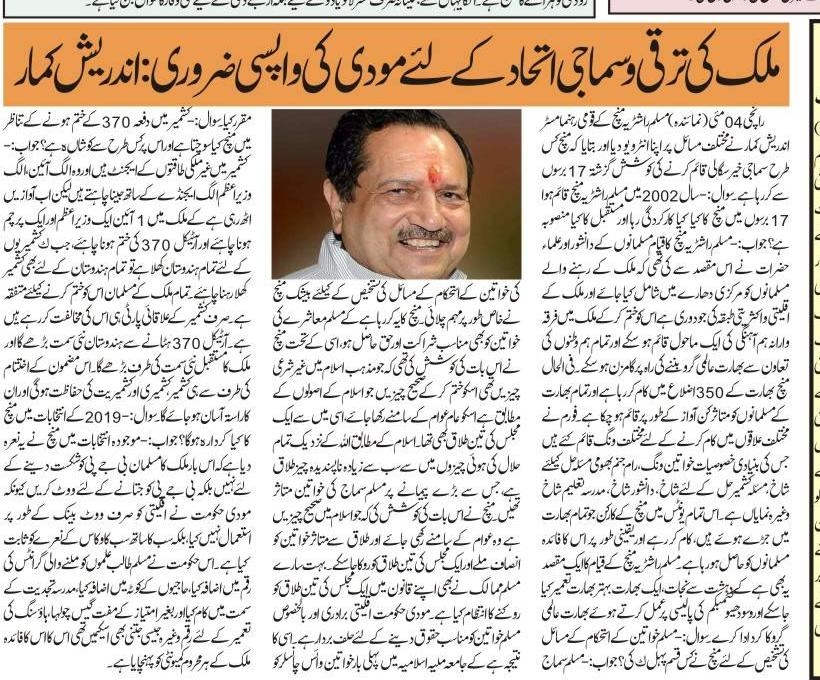 Urdu Print and electronic media gave ample publicity to MRM activities
It resulted in exposing a major ground reality that these religious fundamentalist and political leaders had no proper issues to raise against Modi and BJP and convince the Muslim masses; they lost their credibility and they have to face a Muslim who can give them befitting reply and silence their voice.
Morevoer, in absence of a strong contender in opposition, and the benefits of schemes like 'houses for all', 'toilets for all', and 'Ayushman Bharat' reaching directly to them, there is a strong undercurrent among the Muslim voters in favor of BJP and particularly Prime Minister Narendra Modi which most likely help BJP to get a higher percentage of Muslim votes in 2019 Lok Sabha elections.
BJP-RSS not untouchables for Muslims:
"The BJP-RSS is no longer untouchable for the Muslims", says, Islam Abbas. However, he hastens to add that this does not mean that all 100 percent Muslims hold the same view. Press Council Member Raza Rizvi supports him saying that before 2014 the Muslims were not in favor of BJP but after that the situation has changed. "Today Muslims are coming closer to BJP but the process would take some more time. Today there is a visible support to the BJP", he said.
Dr Tahir, former Professor of Jamia Milia Islamia, Delhi, started a school for Muslim boys in Mewat in Haryana. He was confronted by some Muslims of the region who said he was spreading RSS ideology. He confidently responded to them saying that he will also start an RSS Shakha here. Today, the school is overflooding with admissions of Muslim boys exceeding the intake capacity. "You speak with confidence to these fundamentalists, they will relent", Dr Tahir said.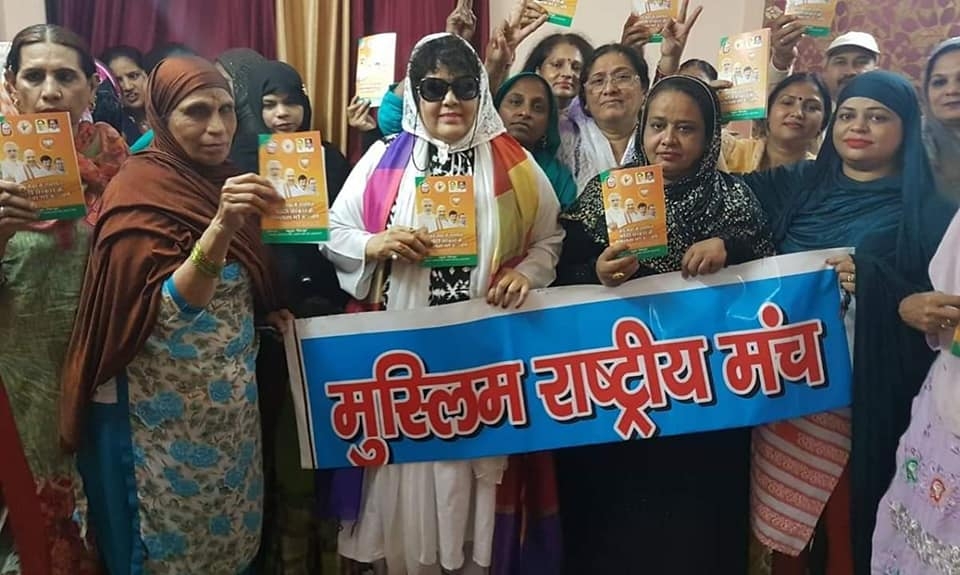 Muslim women hail Modi governement for its efforts to ban triple talaq
"The MRM through its efforts of the last 17 years, has carved out a niche for itself among the Muslim community and brought a sizeable chunk of Muslims under its ideological influence", said Indresh Kumar. The success of anti-Triple Talaq campaign has been a great motivator in garnering support of the Muslim women for the BJP and Prime Minister Modi in particular in 2019. The Muslim women of Varanasi gave a very interesting slogan. They said:
"मोदी खुदा का नूर है
,
भारत का कोहिनूर है."
This is definitely a welcome change from "
मौत का सौदागर"
to
"भारत का कोहिनूर".
There is a general perception among the Muslims that there is no other leader who can match the sincerity, commitment, honesty, vision and hard work with that of Narendra Modi, added Indresh Kumar. This feeling will attract more Muslim voters to BJP, particularly towards Modi and the MRM has a definite role in turning the Muslim vote, he said.