Perth, May 9: Indian Hockey team kick start it's Australia Tour 2019 on a high, with a warm-up match which saw them produce a disciplined 2-0 win over the WA Thundersticks here at the Perth Hockey Stadium on Wednesday. Initially both the teams started the match with fluent hockey. WA is representing Western Australia in the Australian Hockey League.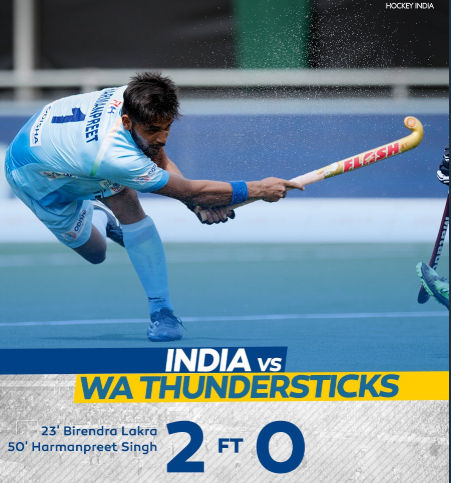 It was India's debutant Jaskaran Singh who shot at goal in the 5th minute but could not keep it on target, while the home team also tried their best to penetrate India's defence, but were well kept out by a resilient defending by India's Harmanpreet Singh and Rupinder Pal Singh.
India's dominance in possession and patient build-up play saw them create another opportunity in the 23rd minute, which saw Defender Birendra Lakra score a field goal through a delightful finish to give his team a 1-0 lead. After conceding, WA Thundersticks tried to make a comeback in the match but India's defence again proved to be too strong for the home side.
The last quarter started well for the Indian team as they pushed for a second goal, which finally came through a Penalty Corner in the 50th minute. Harmanpreet Singh took a well-crafted drag-flick to put the ball into the back of the net and extend his team's lead to two goals with 10 minutes remaining. The away side looked more threatening in the next few minutes but Thundersticks also tried to counter.
The Indian Men's Hockey team will play their next match of Australia Tour 2019 against Australia 'A' on 10th May 2019