Fukuoka, June 10: Admitting the worsening condition of the trade and its posed risk to the global economy, the policymakers at the G20 Minister's meeting in Japan yesterday tackled the thorny issue of taxing internet giants and the economic challenges posed by ageing.
Following 30 hours of wrangling, G20 finance minister and central bank chiefs produced a hard fought final statement acknowledging that growth remains low and risks remain tilted to the downside. "Most importantly, trade and geopolitical tensions have intensified," the G20 said, adding that they stood ready to take further actions if required.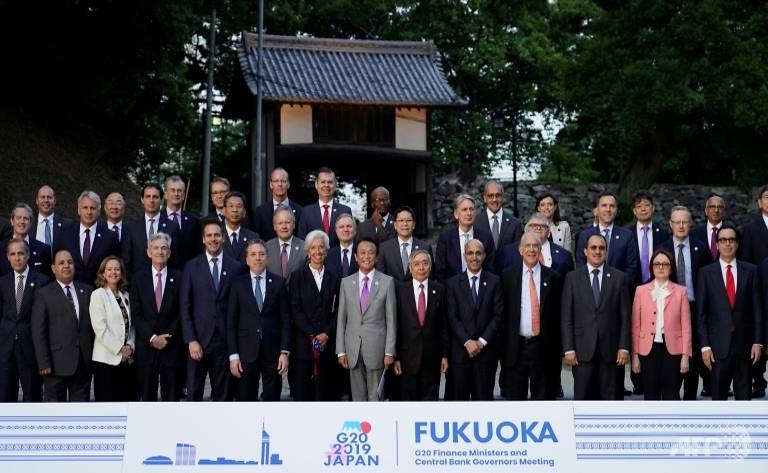 Trade battles were front and centre of policymakers' minds as the US and China continue to threaten each other with tariffs that economists fear could slam the brakes on global growth. "I wouldn't say it's them against all the others but it looks like it sometimes, even if everyone criticises some aggression from China", a delegate form the US said referring to the US China trade conflict.
"If China wants to come back to the table and negotiate on the basis that we were negotiating, we can get a great historic deal. If they don't, we'll proceed with our tariffs", he added further.
Meanwhile IMF chief Christine Lagarde warned about that the tariffs could shave global GDP by 0.5 per cent or about USD 455 billion in 2020 and said that the trade conflicts constituted the principal threat to the global economic outlook.
The quandary of reforming the global tax system to take into account the rise of internet giants such as Google and Facebook was another issue exercising the minds of policymakers in the coastal city. In the final statement, the G20 agreed to redouble our efforts for a consensus-based solution with a final report by 2020.
Appropriately for a meeting held in Japan, on track to become the world's first super-aged society in which more than 28 per cent of the population is over 65, the G20 ministers discussed for the first time the challenges and opportunities posed by ageing. It suggested getting more women and elderly people into the workforce and promoting elderly-friendly industries, as well as reforming the fiscal and banking systems to take into account ageing populations.