Kolkata, June 11: In a fresh clash of political violence coming in limelight from West Bengal, BJP, RSS worker was killed for chanting 'Jai Shree Ram'. The Bharatiya Janata Party has claimed that their supporter was killed by the Mamata Banerjee led Trinamool Congress (TMC) workers. It came into notice that the BJP party worker Samatul Doloi was strangulated to death by the TMC workers. The dead body of Doloi was found in a field at Sarpota village under Amta Police Station limits.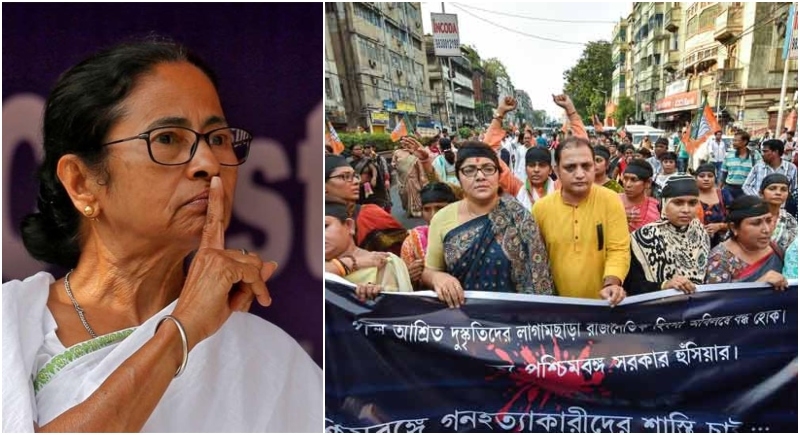 BJP's Howrah district president Anupam Mallik was quoted as alleging that Dolui began receiving death threats after taking out a Jai Shri Ram rally in the region. Mallik added that the deceased worker's home was also ransacked soon after the 23 May results. The violence did not end even in Dolui's death as some miscreants tried to snatch away his body while it was being taken for a post-mortem.
On Sunday (9 June) a senior RSS worker Swadesh Manna was found dead in a similar manner in Achata Village after he too had taken out Jai Shri Ram rallies in the region.
Ever since the Jai Shree Ram slogan started in West Bengal, TMC has been petrified with the growing popularity. Alleging that BJP is using it as a political tool to polarise voters, Mamata Banerjee can be clearly seen marking unnecessary allegations on the party. Chief Minister Mamata Banerjee has lost her cool twice during the elections last month when crowds chanted Jai Shri Ram while her convoy passed.
Losing her control, Mamata Banerjee clearly shows that Jai Shree Ram has become a phobia for her and she is trying her level best to move out of it. The violence in the state is not first of its kind activity. It has also been reported that over 50 party workers have lost their lives in the state in several incidents of political violence being orchestrated by the TMC.