The article published on the news portal named 'the conversation' (Australia Edition) by Jordan N. Galehan highlighted that Nigeria's Boko Haram terror group recruited more women as militants and suicide bombers than any other terrorist organisation did in the past.
The conclusion is based on data found in the global terrorism database and other scholar's research. There have been over 150 incidents of female bombings affiliated with the group. The reason behind this mentioned by the writer is the high incidence of women abduction and kidnappings after the establishment of Boko Haram Islamic terror organisation in Nigeria.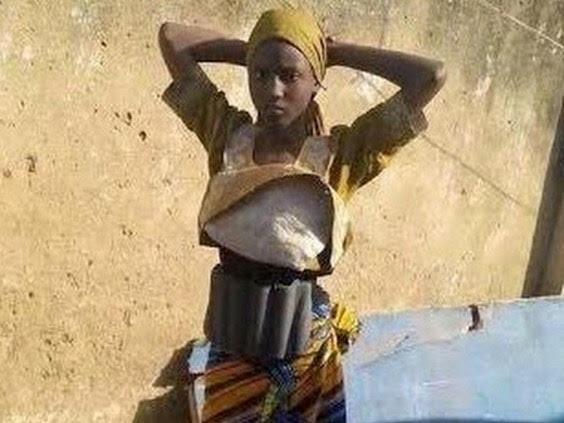 The writer analysed the pattern, themes and nuances regarding the bombings through the 200 news sources that provided rich narrative information about each incident.
The following are some important observations of the writer
• It is more cost effective for the organisation to use a female suicide bomber for terrorist activities because they were recruited by force kidnappings and abduction.
• The female suicide bomber increases the publicity and media attention and added to fear in the population. Women infiltrated civilians area effectively in about 45% terrorist attacks. Also, they weren't searched at checkpoints.
• Women joined the group to escape the patriarchal structure of domestic life, while others joined to gain money, respect and status. But the biggest majority was abducted and forced to join.
• Nigeria scores low in areas of gender development and equality. Low literacy rate, unemployment, adolescent birth rates.
• Some women had joined voluntarily while some said, that they had chosen to marry the militant in the camp for status, respect and money.
According to the article published by International crises group, under manpower pressure particularly from 2014, some women and girls were trained and joined in attacks. Wife of Boko Haram leader in the Gwoza Hills reportedly carried a gun and killed a vigilante. Armed female militants were sighted in the Sambisa Forest riding their own motorcycles. On 10th July 2014, armed females between 14-21 age, fighting like professionals, attacked Kirenowa in Marte LGA, Borno state.
About Boko Haram
Boko Haram is an Islamist terrorist movement founded in 2002 by Yusuf Muhammad in Borno State of northeast Nigeria. Yusuf demanded the full implementation of the Sharia in Nigeria to usher in the perfect Islamic State. By 2009 the group had evolved into a jihadist movement with the goal of using military campaigns to create an Islamic State in northern Nigeria. In further developments, it declared a caliphate in the territories of northern Nigeria under its control and pledged support for the Islamic State in Iraq and Syria (ISIS). The Boko Haram focuses on Islamic jihadist movements which claim that Boko Haram is fighting a religious war against unbelievers with the goal of turning Nigeria into an Islamic theocratic state. But Boko Haram fighters have killed Christians and Muslims alike.
Following are Major terrorist activities of Boko Haram related to women published by CNN.
14th April 2014 - kidnapped appx 276 teenage girls from a boarding school in chobok in Borno.
May 5, 2014 - In a video statement, a man claiming to be Shekau says, "I abducted your girls. I will sell them in the market, by Allah...there is a market for selling humans. Allah says I should sell. He commands me to sell. I will sell women. I sell women."
June 7-8, 2014 - Suspected Boko Haram militants kidnap at least 20 young women over a weekend in the northeastern Nigeria village of Garkin Fulani, eight kilometres from a town where more than 200 schoolgirls were taken nearly two months earlier.
June 18-22, 2014 - Boko Haram militants hold the village of Kummabza in Borno state, northeastern Nigeria, hostage for four days. They abduct more than 60 females, including children, and kill 30 men in the raid.
July 7, 2014 - Sources say at least 57 girls kidnapped by Boko Haram last month from the Kummabza village in northern Borno state have escaped from their captors and returned to their village. Boko Haram is still believed to be holding about 200 schoolgirls abducted April 14 from a boarding school in the town of Chibok.
April 25-26, 2015 - The decomposed corpses of at least 400 men, women and children are found in shallow, mass graves and on the streets of Damasak in northeastern Nigeria. Due to a joint Nigerian-Chadian military operation, the town has recently been freed of Boko Haram, which seized the town in November.
February 2016 - Militants from Boko Haram attack two villages in northeast Nigeria, killing at least 30 people. In another attack, two female suicide bombers kill 58 people at a Nigerian refugee camp for villagers fleeing terrorism. A suspect in the attack on the camp tells officers that she and the two suicide bombers were dispatched by Boko Haram.
August 14, 2016 - Boko Haram releases a video of some of the girls kidnapped in April 2014 and demands the release of Boko Haram fighters in exchange for the girls.
February 19, 2018 - A faction of Boko Haram raids the Government Girls Science and Technical College in the northeast Nigerian town of Dapchi, kidnapping 110 students of the college.
April 13, 2018 - UNICEF says Boko Haram has kidnapped more than 1,000 children in northeastern Nigeria since 2013.
January 29, 2019 - The UN Refugee agency says escalating attacks by Boko Haram militants have forced 30,000 people out of Nigeria's northeast into Cameroonian borders over the weekend. The United Nations says more than 250,000 people have already been displaced from northeast Nigeria, and surging militant attacks targeting civilians have forced thousands more to run for their lives each day.
In the end, still some questions remain unanswered on the basic motive; why Boko Haram wants sharia? Here, the reader must understand what is sharia? Why they want to establish an Islamic state by conducting terrorist activities. Also, the writer quoted that some women joined the organisation by marrying with militants in the camp for respect, status & money; means, these women are also supportive of such inhuman organisation who want to form Islamic state by killing innocent people. Or is this the only way left for Muslim women to sustain in Nigeria. What will be the position of women in Islamic state if presently their utilization for suicide bombings? Also, There are many rape and sex slave cases of jihadis highlighted by women who manage to escape from the Islamic state of Syria.
Source:
https://thewire.in/world/boko-haram-women-suicide-bombers
https://theconversation.com/boko-haram-deploys-lots-of-women-suicide-bombers-i-found-out-why-118535
https://edition.cnn.com/2014/06/09/world/boko-haram-fast-facts/index.html