Srinagar, July 10: Emancipating its love and respect towards mother India, the young bloods have shown the willingness towards dedicating their lives in protecting the country. As youngsters came in large number, almost 5,366 candidates on Wednesday registered for Indian Army's recruitment rally which commenced today in Baramulla district of Jammu and Kashmir.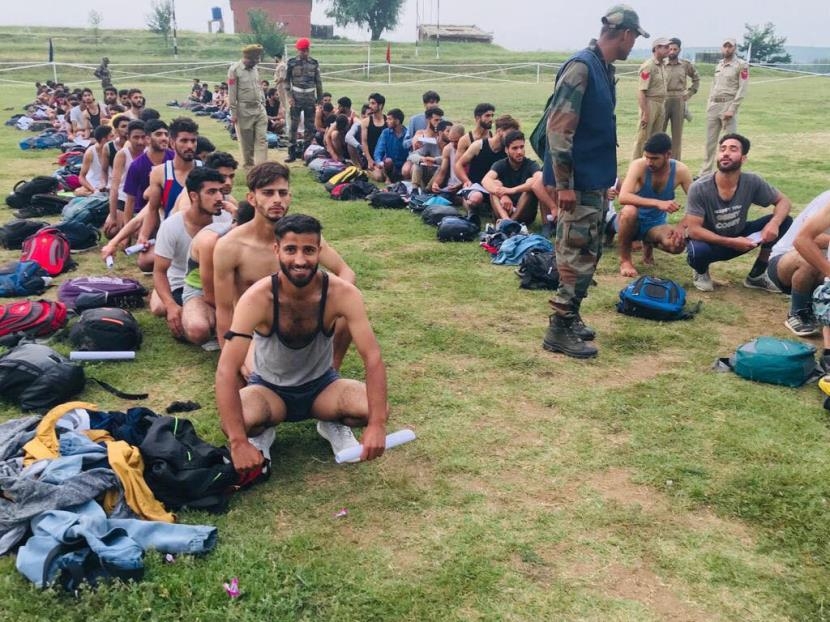 The recruitment process of the Indian Army depends on the talent and physical strength of the person and thus gives them an opportunity to serve the nation by joining the Indian Army. The recruitment process is divided into several rounds which include physical fitness test, medical test, and written test.
Jagdeep Dahiya, Deputy Director General, Recruiting HQ Zone, Jammu and Kashmir said, "The posts are open for four categories this year, which are - Soldier General Duty (All arms), Soldier Technical AAE, Soldier Nursing Assistant, and Soldier Clerk SKT."
Meanwhile, Government on Tuesday informed the Lok Sabha that the security situation in Jammu and Kashmir has improved and cross-border infiltration in has reduced by 43% after the Balakot airstrike.
The minister said the government in link with the state government has adopted a policy of zero tolerance towards cross-border infiltration. This includes multi-tiered deployment along the International Border or Line of Control, border fencing, improved intelligence and operational coordination, equipping Security Forces with improved.
Last month, Home Minister Amit Shah had chaired a security meeting to take stock of internal security in the country and the situation in Jammu and Kashmir, attended by National Security Adviser Ajit Doval and the Intelligence Bureau chief. Shah has asserted that the policy of Prime Minister Narendra Modi-led NDA government of zero tolerance towards terrorism will continue in Jammu and Kashmir.