New Delhi, July 11: Responding staunch to Rahul Gandhi's voice in the lower house alleging that the Union Budget presented by FM Nirmala Sitharaman on July 5 took no concrete steps to provide relief to the farmers, Rajnath Singh on Thursday held those in power for decades more responsible for farmer's situation.
This is two days after the lower house considered the Congress party culpable for increasing number of farmer's suicide post loan waiver of Rs 70,000 crore was announced by the previous UPA government in 2008.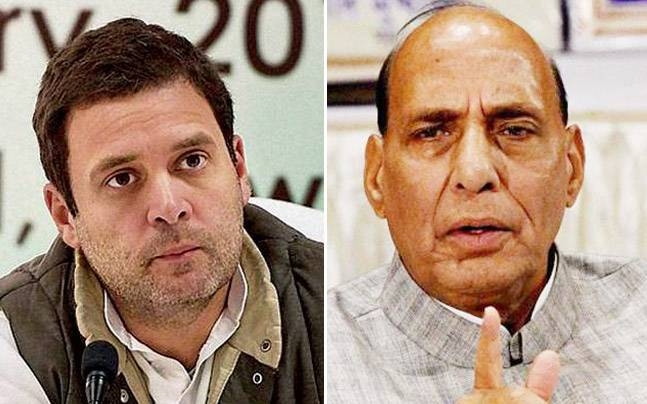 "Suicides by farmers increased after a loan waiver of Rs 70,000 crore was announced by the previous UPA government in 2008', said Parshottam Rupala on Tuesday uprooting the roots of rising farmers suicide cases.
Rupala, minister of state for agriculture, further had said that an audit conducted after the announcement of the mega loan waiver scheme had found that people who were not farmers were also given the loan waiver.
Gandhi, while addressing the lower house said, "A farmer in Wayanad yesterday committed suicide due to debt. Bank notices for non payment of loans given to 8000 farmers. Under a relevant act their properties are attached against their bank loans, this is resulting in rise in farmers suicide", he said.
He further requested the Central government to direct RBI to consider the moratorium by Kerala government and ensure that banks don't threaten farmers with recovery notice.
The Budget this time focussed on reorienting the agriculture sector by focusing on an income-centric approach as against the earlier production centric policy. "This focuses on achieving high productivity, reduced cost of cultivation and remunerative price on the produce, with a view to earning higher profits for farmers", it noted.
Further stressing over the need for a new deal to deal with rural Indian evolution, the traditional 'bahi-khata' noted it's all efforts to be at the core of 'Gaon, Garib and Kisan'.
Driving the force to apply ease of doing business to farmers and the fishermen community, FM Sitharaman on Jule 5 said that these two were significant and most crucial to the nation's development. "We should go back to basics on zero-budget farming. We need to replicate this model across the nation", she affirmed.