New Delhi, July 17: Accomplished Indian Sportspersons Smriti Mandhana and Rohan Bopanna received the prestigious Arjuna Award yesterday. Minister of State (Independent Charge) for Youth Affairs & Sports Kiren Rijuju gave the awards to Smriti (Cricket) and Rohan (Tennis) in a ceremony held in New Delhi yesterday.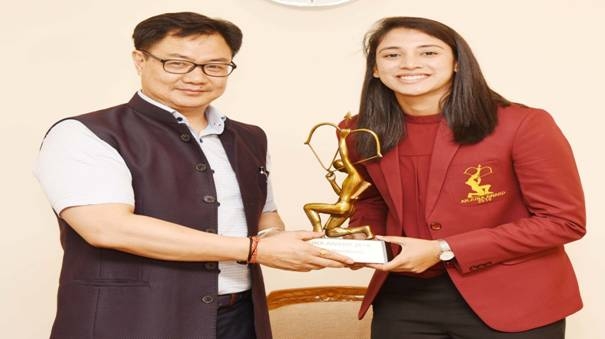 Smriti Mandhana and Rohan Bopanna were selected for Arjuna Awards 2018 for their outstanding achievements in the sports disciplines of Cricket and Tennis respectively. They could not receive the Arjuna Awards from President of India during the Award Ceremony held on 25th September 2018, as they were out of the country at that time taking part in international tournaments.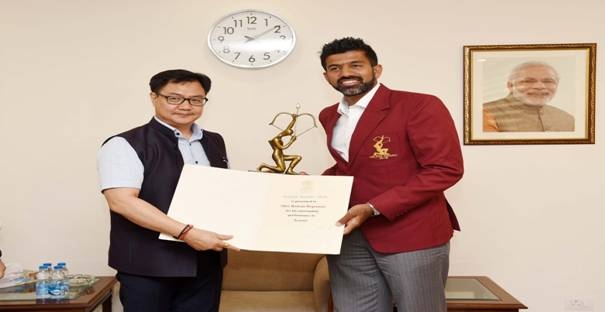 Smriti Mandhana is one of the finest women cricketers to have represented India in all formats in recent times. She is the first Indian woman to achieve a double-hundred in a one-day game. She is the only Indian player to be named in the ICC Women's Team of the Year 2016. She was given Best International Cricketer (Women) Award by BCCI for 2017-18.
As every Indian knows, Rohan Bopanna is one of the outstanding tennis players of the country. He won gold Medal in Men's Doubles in Asian Games 2018 and also he is the fourth Indian Player to win a Grand Slam (French Open) Title in Mixed Doubles in 2017.