New Delhi, July 23: Striking comments by United States president Donald Trump created much controversy with upsetting many countries. After asserting false remark between India Pakistan over Kashmir issue, Afghanistan's government called on Tuesday for clarification of U.S. President Donald Trump's remarks that he could win the Afghan war in just 10 days by "wiping out Afghanistan from the face of the earth", the presidential palace in Kabul said.
Trump's remarks followed a meeting with Pakistan Prime Minister Imran Khan at the White House on Monday. He voiced optimism that Pakistan could help broker a political settlement to end the nearly 18-year-old war in Afghanistan. In a stern statement, Afghan government said that, "Afghanistan will remain with all glory in world political scene. Afghan nation has not and will never allow any foreign power to determine its fate."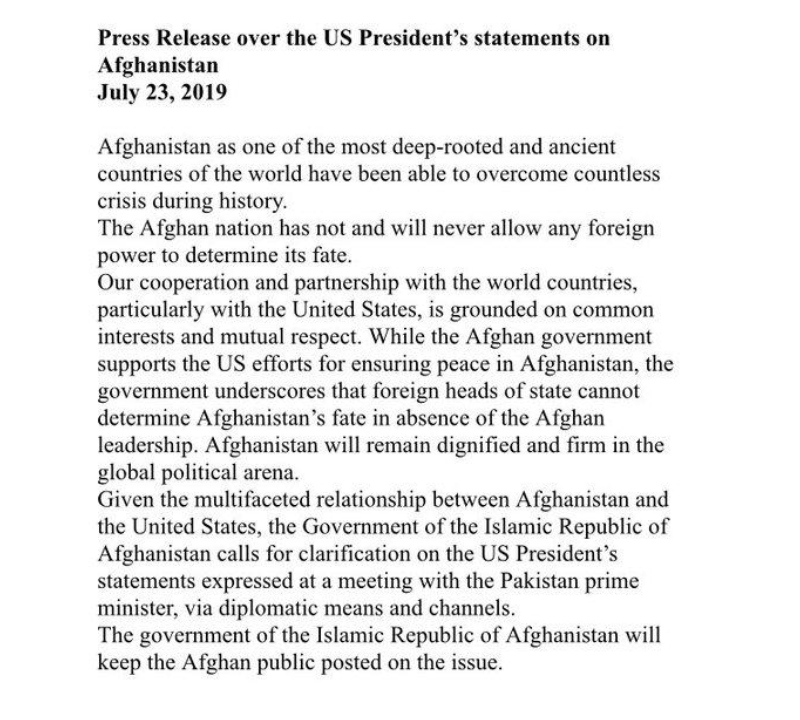 During a meeting with Pakistani Prime Minister Imran Khan, Trump reportedly said that, "We're like policemen. We're not fighting a war. If we wanted to fight a war in Afghanistan and win it, I could win that war in a week. But I don't want to kill 10 million people. Afghanistan could be wiped off the face of the Earth. I don't want to go that route."
The press statement by Afghanistan stated that the nation's cooperation and partnership with countries and particularly with United States has been grounded by common interest and mutual interest. It further stated that while Afghanistan supports US efforts for ensuring peace in Afghan, the government underscores that foreign heads cannot determine the fate of the country.
Earlier in the day, India in a strong negation to the US President Donald Trump denied his claims to mediate in Kashmir issue, further clearing straight that no such request had been made by Prime Minister Narendra Modi to Trump.