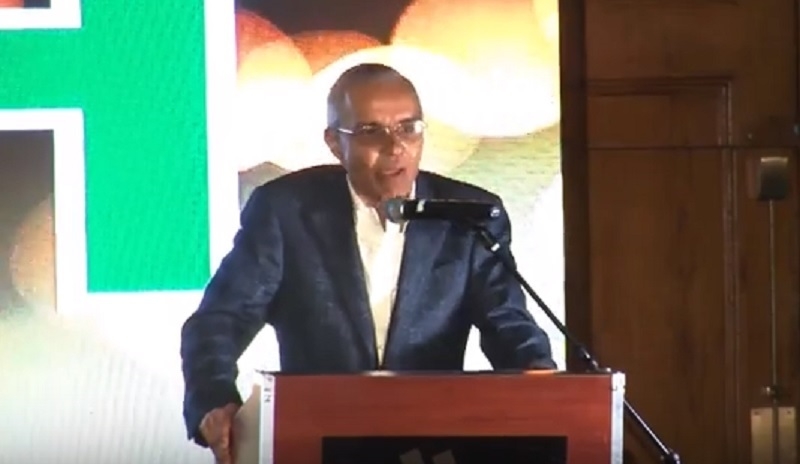 Ramesh Bhutada, national Vice President of the Hindu Swayamsevak Sangh (HSS), USA, speaking at the Eid Milan program of Indian Muslim Association of Greater Houston, USA
Houston: There are plenty of heartwarming stories of Hindu-Muslim unity but it'll be hard to top the one that took place in Houston recently.
The Indian Muslims Association of Greater Houston (IMAGH) invited Ramesh Bhutada, a staunch supporter of many Hindu causes, Advisor to the Hindus of Greater Houston (HGH) and national Vice President of the Hindu Swayamsevak Sangh (HSS), USA as the Chief Guest for their annual Gala.
After the landslide victory of the Bharatiya Janata Party in India and the rise of Hindu Nationalism, which has made many minorities – especially Muslims – uncomfortable and concerned for their rights, Bhutada's presence at the gala was an effort to show the more moderate side of the BJP and assuage these fears.
In what turned out to be the evening's epic moment, Bhutada's simple yet powerful speech on Hindu-Muslim unity was met with a long standing ovation from every seat in the room including the Consul General of India Dr. Anupam Ray who was among the first to rise and applaud.
Bhutada, a Houston-based industrialist, began his address by wishing the members of the Association Eid Mubarak and commended IMAGH on their mission of fostering amity across cultures, communities and religions.
He deliberately reiterated his introduction as a leader of the HSS and the Rashtriya Swayamsevak Sangh (RSS), an organization that inspires him, because he explained, he "wanted to have an open dialogue."
The RSS and HSS, he emphasized, are primarily involved in character building of the youth so that its members can become proud citizens of the country they live in. RSS is the world's largest voluntary organization and runs more than 150000 community service projects in India.
Bhutada expressed his concerns about the false propaganda in sections of the media and certain politicians who have sought to separate both communities for their vested interests. He assured the gathering that "the RSS and the HSS would like communal harmony and unity amongst all religions."
A receptive audience treated this statement to a warm round of applause.
Elaborating on this point, he recalled an interview 10 years ago when RSS Chief Mohan Bhagwat, then General Secretary of the RSS, was staying at his house. During the course of the interview, the journalist Haider Kazim asked Mohan Bhagwat, "Sir, what do you think of minorities' development and progress?"
Without missing a beat, Mohan Bhagwat replied, "India's development cannot be complete without the development and progress of the minorities." As Bhutada framed it, this statement came "straight from the horse's mouth." He also recalled spending several hours in discussions with Mohan Bhagwat on matters of India's national interest.
Coming to the core of his message, he continued, "We all have historical baggage – let's acknowledge that, but we cannot look backwards. We have to look forward and that is the only way we can lead a peaceful life in this world."
How powerful is looking forward? To explain this, Bhutada alluded to Speaker Richard McKinney's keynote. McKinney had served in the Marines for 25 years and harbored a deep hatred for Muslims. But a chance meeting with some members of the Muslim congregation changed his life dramatically and he became a Muslim.
Bhutada noted that when McKinney was looking backwards, he was stuck in the mire of hate but the day the Marine began looking forward, his anger faded and was replaced by love. Bhutada observed, "This is the same person but look as the transformation."
Weaving one more example in his message, Bhutada spoke of another member in the audience – Consul General Dr. Anupam Ray. In 1947, Dr. Ray's father had to flee East Pakistan, now Bangladesh and in 1971, religious violence forced his maternal grandparents to leave Bangladesh too. But Dr. Ray chose not to let these incidents dictate his life.
A few weeks ago, the Consul General had "the heart and the courage" to hold an Iftar dinner at the Consulate, not because he had to as Consul General but because he wanted to. The only way, Bhutada said, we can win the hearts of people is by love and peace, cooperation and unity. That's the only way the world can progress.
Bhutada briefly touched on his support of the Kalam Center - an NGO started by a young man Arshad Sheikh, in the old city of Charminar, Hyderabad. He then described how, four years ago, he was introduced to a young poor Muslim man, Arshad Shaikh, in the old part of Hyderabad and had agreed to help him financially.
Donors to the IMAGH Scholarship fund with Houston Community College Trustee Neeta Sane (second from right). Top right: 6-year-old Omar Patel who read the 'Tilawat Quran', with emcee Shazia Khan.

Bhutada did this on a friend's recommendation and he has been funding their programs for the past four years. Today, the Center provides vocational training to 500 young Muslim boys and girls for ages 8 and up and 70% of the beneficiaries are girls.
During the day, the children attend the Madrasas and from 5-7 in the evening come to one of the 20 centers spread across the old city to acquire vocational training in subjects other than Urdu. Bhutada urged the gathering to support these poor children and give them a chance in "becoming proud citizens of India."
Lauding this much needed message of harmony and unity, IMAGH's Past President Latafath Hussain, in a statement said "While we had no doubt that his presence and speech will add char chand to our Eid Milan, even we were overwhelmed when 500+ guests gave a standing ovation to his speech. He delivered it from the heart and the message of not looking back but forward was appreciated by all."
When it was his turn to speak, the guest of honor Indian Consul General Anupam Ray called Bhutada's inclusion in the gala and his acceptance to attend "most extraordinary". He then expanded on the idea of India's cultural heritage through stories that resonate in the Indian psyche like that of Kabir's death or legend of Guru Nanak's death.
"Poverty, disease, internet, technology has no religion," he declared. "Religion should unite all of us." He then recited by heart the Preamble to the Indian Constitution, which prominently uses the word "secular" in the opening line. He used the occasion to bid goodbye as he is expected to leave for his next posting as soon as the Government decides what that will be. The IMAGH hosts presented him with a black Stetson as a farewell present.
This year's theme for the gala was "Strength, Thy Name is Woman" and a video presentation produced by Fateh Ali Chatur showed clips from speeches by Malala Yousafzai, the youngest Nobel Peace Prize winner speaking after receiving the award; Mother Teresa and New Zealand Prime Minister Jacinda Ardern speaking in Parliament after the recent massacre in a mosque there.
(Based on inputs from Vilay Pallod, USA)