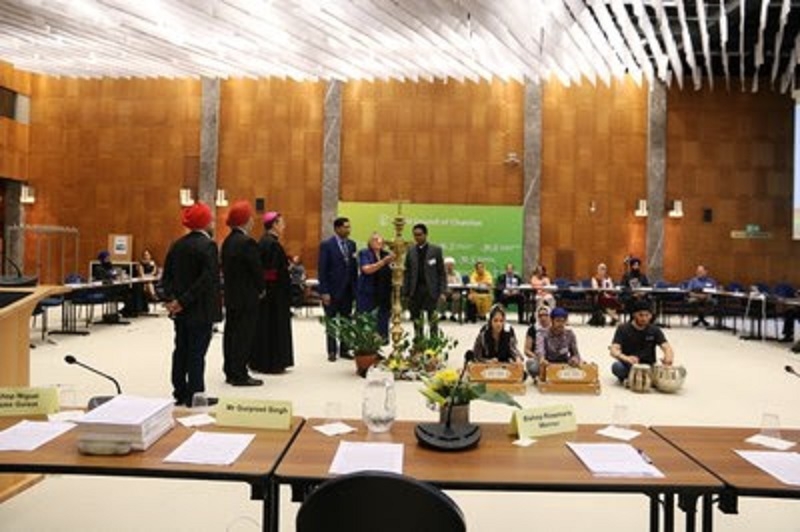 New Delhi, July 6: Global Church organization the World Council of Churches (WCC) on Friday held a Christian-Sikh dialogue involving some Sikh and Christian leaders to commemorate the 550th birth anniversary of Guru Nanak Dev, the first Guru of the Sikh sect.
According to the WCC press release this dialogue was organised with an intention to find out how to achieve durable and lasting peace in the strife-torn world. "Pursuing Peace in a Pluralistic World" was the theme of the dialogue.
At least 40 religious leaders, scholars and independent activists from the Christian and Sikh traditions participated in the dialogue program.
Expressing 'great joy' over the event WCC General Secretary Dr Olav Fyske Tveit said, "This is an important year in the Sikh calendar as it marks the 550th birth anniversary of Guru Nanak. Therefore, initiating this formal encounter between Christians and Sikhs during this year is a special way of commemorating the life and work of Guru Nanak."
Tveit said. "We are reminded each passing day in poignant ways of the growing need for lasting and sustainable peace," he said. "The rise of xenophobia, violent extremism and populist nationalism attest to the urgency of faith communities to redouble our efforts and imagine new models for building peace."
The WCC General Secretary further said that the world can no longer afford the the luxury of thinking and working as isolated entities. Stressing the need for collaborative action he said that the time is ripe for us to think and act collaboratively recognizing the interdependent nature of our common existence. He also emphasised the need to overcome the divisive tendencies 'among and within us'.
"In a world sharply divided by hate and fear the best way for religions to not be part of the problem, but be part of the solution, is to be part of the solution together," he said.
Guru Nanak emphasised universal kinship as the highest of religious aspirations and urged his followers to treat all human beings as brothers and sisters. This dialogue was cantered on a holistic understanding of peace which is intrinsic to the Christian and Sikh faith traditions, bearing in mind that peace without justice is incomplete.
The gathering is attempting to foster a new partnership that can effectively decipher the signs of the times and offer responses which are courageous and committed.
Surprisingly, the WCC press release did not quote from any of the Sikh participant who had participated in the dialogue event and gives only one-sided report of what the WCC general secretary spoke at the event.
Of late, in India, Punjab happens to be on the radar of Christian missionary organizations that work under the guidance of the global Church bodies like WCC. It is against this background this dialogue event needs to be seen and interpreted.