New Delhi, August 10: Bear Grylls with PM Modi while wandering in the forest, rowing boat in the river, making weapons and doing many other adventurous activities had a great experience. Grylls respected PM Modi as "very calm" even as the shooting team for Discovery Channel faced inclement weather. Arguing that the "wild was a great leveller", Grylls said the team was hit by "really big stones and torrential rain" during the shoot. Even as his team was on edge, Modi was "just very calm and I saw that throughout our journey". Grylls opined, "It was good to be reminded that as a world leader, Prime Minister Modi is calm in a crisis."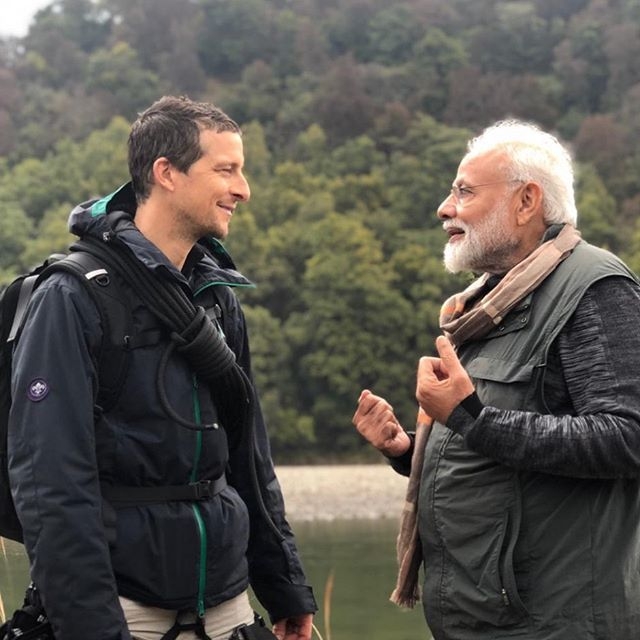 Grylls was also overwhelmed with Modi's humility. "He was a very humble guy and even though there was pouring rain and his secret services were trying to get out umbrellas, he said, 'no, I'm fine'," Grylls remembered. Grylls noted that even though Modi got "soaking wet" during their journey on a small raft, "there was a big smile on his face even through the rain".
Grylls added Modi was "very calm and considerate, very trusting of me and we just travelled together," even as the prime minister's security team found it difficult tagging along.
Also, he added, "I think often you see politicians behind a podium looking smart in a suit. But the wild is a great leveller, it doesn't care who you are. It rewards commitment and courage, you got to work together. We got hit by some really big storms and torrential rain whilst we were there. Whatever we were doing, he was very calm. That was cool to see."
Prime Minister Modi will be seen in a never-seen-before avatar on August 12 when he ventures into the wilderness of Uttarakhand along with Bear Grylls, the host of the popular television show 'Man vs Wild'! The show, which has been shot as a means to promote awareness on animal conservation and environmental change, will air on Discovery Channel on August 12 at 9pm.