Mumbai, August 12: RSS, an organisation which is recognised as worlds' biggest NGO, has not only remained a nationalist organisation but it has significantly established itself as a social organisation as well. Janakalyan Samiti is one such arm of the RSS which has proved itself a devoted social organisation by extending a helping hand to needy people wherever and whenever required. Beginning its philanthropic work from 1972 drought, RSS, through Jankalyan Samiti has remained true to the trust people they have in their work and capability.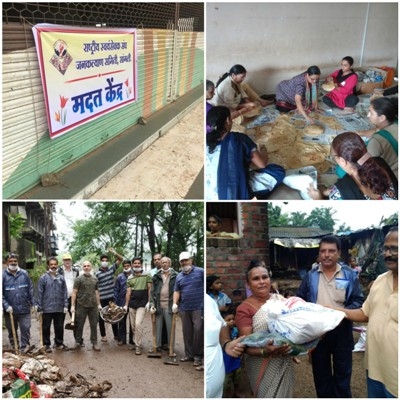 Jankalyan Samiti is a phenomenal example of converting the people's willpower of help into a permanent organisational entity. It has been successfully taking up hardcore tasks such as disaster management, health aids in tribal areas, spreading the importance of value based education, upliftment of minority and weaker sections, water management, and so on.
Staying committed to the holy task of social work, the Samiti is playing a vital role in rescue and relief operations currently being made to get rid of the disastrous flood situation in Maharashtra. Prompt action and hardwork by the volunteers of Janakalyan Samiti has brought a smile on the faces of many victims.
In Sangli, the volunteers are offering food to around five to six thousand people every day with at a speed of one thousand people per hour. Women in the area are voluntarily preparing and offering Chapatis in the area. Local people are showing a nice support to all helping activities in the flood affected areas with great enthusiasm and devotion.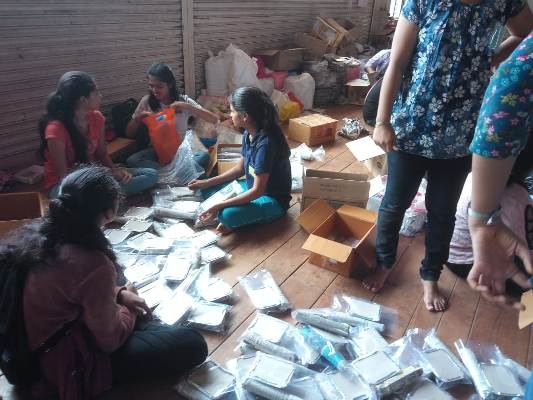 In karad as well, the Samiti volunteers worked tirelessly to meet the needs of the flood-victims. As the police force and NDRF team is on 24-hour duty, the Janakalyan Samiti volunteers did a significant task of 'taking care of the caretakers'. From August 5 to 9, the volunteers provided water, breakfast, tea and two-time meal on the spot to the police and NDRF Jawans. Flood obviously brings plenty of garbage on roads and fields. Janakalyan Samiti volunteers have been involved in cleaning activities on various places in Karad. Today, 25 volunteers cleaned Ghats on the river, some temple areas and roads. Fire brigade has also involved in cleaning through heavy waterspray.
The Palghar branch of Janakalyan Samiti on Friday distributed essential commodities to 52 families in Sakhare Pada, Sarve Pada, Jogad Pada, and Gondali Pada in Palghar district.