New Delhi, August 13: With the state of Jammu and Kashmir witnessing a complete communication blockade, the central government on Monday wrote a letter to Twitter in order to block "fake" accounts for allegedly spreading rumours about situation in Jammu and Kashmir. Following the lead, the micro-blogging site suspended four Twitter handles.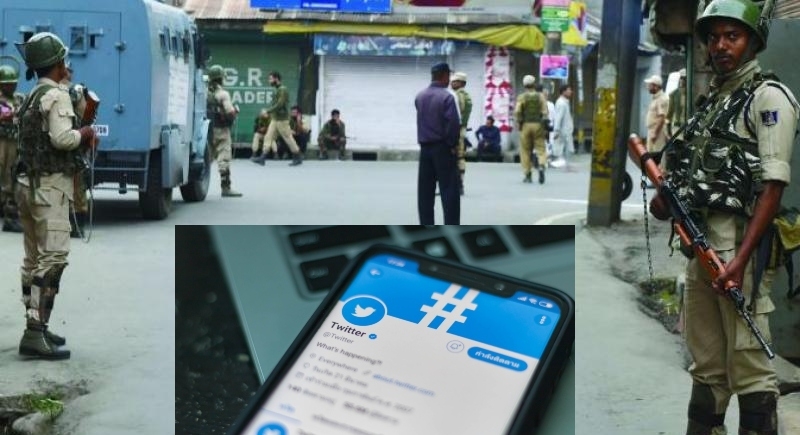 Informing about the same, the Twitter official said, four more accounts are expected to be blocked soon for allegedly being engaged in similar activities. Apparently eight Twitter accounts have been spreading fake news and misinformation to disturb peace and calm in the Valley.
The officials have flagged the following Twitter accounts of which one allegedly belongs to the separatist leader Syed Ali Geelani which is Voice of Kashmir (@kashmir787), MadihaShakil Khan (@Red4Kashmir), Arshad Sharif (@arsched), Mary Scully (@mscully94), Syed Ali Geelani (@sageelaniii), @sadaf2k19, and @RiazKha723, and @RiazKha61370907.
The Union home secretary had recommended the closure of these accounts with immediate effect. The Twitter spokesperson addressing the media said that they do not comment on individual accounts for privacy and security reasons. Legal requests made to Twitter are published twice-yearly in our Twitter Transparency Report.
Meanwhile, the Jammu and Kashmir Police said it will approach Twitter to take action against a handle which falsely claimed about fratricide clashes between two security forces operating in the state. "This malicious content is strongly rebutted. The matter has been taken up with @TwitterSupport for action," the Jammu and Kashmir Police tweeted.
Social Media giant Facebook has said it is treating discussions on Jammu & Kashmir with top priority and is removing content that violates its community standards. Twitter has also suspended accounts of few Pakistani journalists who were spreading rumours about the situation in Jammu & Kashmir on receiving complaints about it.
The move comes amid a near-total communication blackout in the Valley that started on the night of August 4. Cellular and internet facilities were shut first, followed by suspension of all telecommunication services, including broadband and landline after the Centre passed the law to revoke Article 370 that gave special status to Jammu and Kashmir.