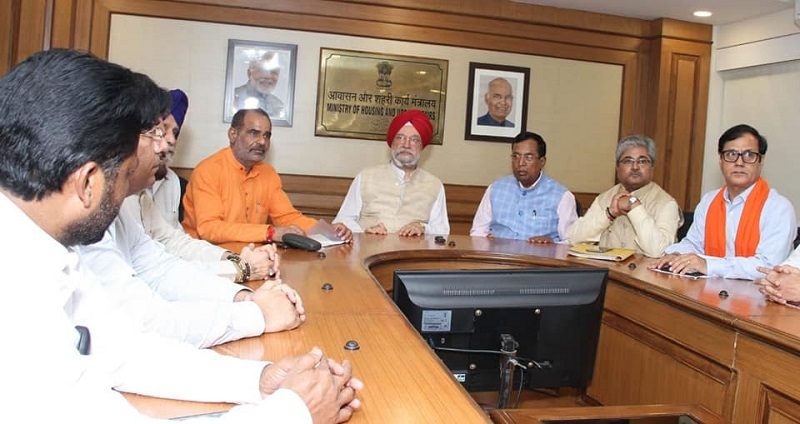 New Delhi, Aug 14: Anguished over the incident of demolition of temple dedicated to Sant Ravidas in Delhi, a team of Vishwa Hindu Parishad (VHP) led by its Working President of Delhi Unit Vagish Issar and BJP MP Ramesh Vidhudi met the Union Ministers Thawar Chand Gahlot and Hardip Puri.
It may be mentioned that the old temple in South Delhi's Tughlakabad area dedicated to Sant Ravidas was vandalized and demolished by some miscreants on August 10. The VHP delegation met the Union Ministers to register their protest over the incident.
Vagish Issar said that they informed the ministers of the situation and the hurt feelings of the Hindus following this incident. The delegation demanded immediate reconstruction of the temple. They als demanded that a grand Bhagwan Ravidas Memorial be constructed in Delhi on the lines of Dr Babasaheb Bhimrao Ambedkar Memorial.
The delegation included Dushyant Kumar Gautam, BJP National Vice President Om Prakash, MP South Delhi Ramesh Bidhudi, MP North Delhi Hansraj Hans, former Union Minister Vijay Sampla, Suresh Rathore, President of Sant Kabirdas Peeth, Rajesh Bagga, and others.
They demanded that the reconstruction of the damaged temple should be done as fast as possible. The minsters assured the delegation to look into the matter and take immediate action on their demand. The VHP is standing in solidarity with the Ravidasi Samaj and the delegation assured all support and cooperation in restoration of their honour and respect.