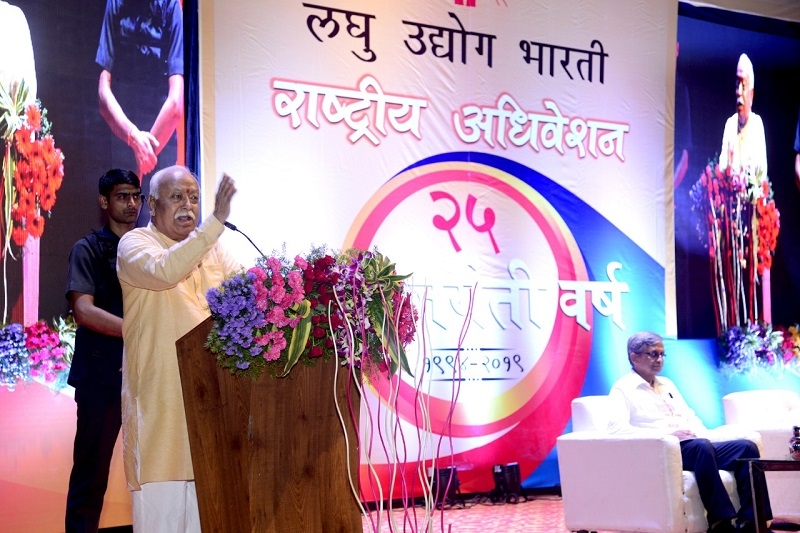 "After successfully completing 25 years of fruitful existence, the Laghu Udyog Bharati (LUB) is poised for a take-off. You are the trendsetters of tomorrow. Convert your organization into an influential entity with the capacity of transforming the situation in micro, small and medium enterprises (MSME) sector in the country", RSS Sarsanghchalak Dr Mohanrao Bhagwat, exhorted the delegates.
He was addressing the inaugural session of the Silver Jubilee All India Conference of Laghu Udyog Bharati (LUB) at Suresh Bhat Auditorium in Nagpur on Friday, August 16 evening. A 1700 strong audience of entrepreneurs drawn from Manipur to Gujarat and Jammu & Kashmir to Kanyakumari was listening to him in rapt attention.
LUB National President Jitendra Gupta and Maharashtra State President Ravindra Vaidya shared the dais. General Secretary Govind Lele conducted the proceedings.
Recalling his memories of the yesteryears Dr Bhagwat narrated how he was witness to establishment of Laghu Udyog Bharati in Nagpur some 25 years ago when he was Pracharak of Nagpur Prant. Tracing the development of LUB since then, the Sarsanghchalak said that today it has grown into a huge organization and has gathered enough strength to give a definite direction and new dimension to the MSME sector in the changing scenario.
Emphasizing on development of MSME sector and artistry to create wealth and to make maximum people economically self-reliant and independent, Dr Bhagwat said that more these enterprises grow the more economic independence would be ensured for individuals. But to achieve this it is necessary to do it with a holistic and decentralized thought. And this is what is lacking today, he added.
There is also a need to adopt an integrated approach for development of industry, agriculture and trade. The integrated approach would lead to creation of wealth and it will bring with it the riches, he said. For this we need to adopt a balanced approach in planning the schemes and to create conducive atmosphere for the growth of MSME sector and artistry. This should be the mission and target of Laghu Udyog Bharati, Dr Bhagwat underlined.
The Sarsanghchalak mentioned the resolution submitted by RSS founder Dr K B Hedgewar before the Resolution Committee of the Congress party in 1921 in which he exhorted the Congress to declare total independence as its aim and take a vow to free the countries of the world from the shackles of capitalism and imperialism. This was exactly what Dr Babasaheb Ambedkar, who gave us the constitution, had described as 'Economic Independence', Dr Bhagwat said comparing the views of both the stalwarts.
He said that the Macro, Small and Medium enterprises and artistry does minimum harm to the environment. Therefore, from the environment protection and pollution point of view it would be advisable to encourage MSME and artistry units, the RSS Chief said.
Dr Bhagwat said that a small entrepreneur holds an honorable position in the society. He can influence the society's mind set on social and economic issues and he can educate and enlighten the society on these matters. But this is possible only when our behavior matches with our thoughts, he said. "People have understood our goals, now the individual way of thinking should be converted into national idea", he added.
Creating wealth from the waste: The inaugural session was followed by business session on creating wealth from waste. It was addressed by Satyanarain Dangayach, Founder Trustee of Innovative Thought Forum and former Executive Director of Sintex Limited.
Addressing the gathering Dangayach said we Indians believe in welfare of all through profit. We believe in sustainable profit which is ethical and for the benefit of all, he said adding that the western philosophy does not think so. The philosophy of capitalism as advocated by Adam Smith only believes in creating wealth or earning profit.
Emphasis is given on cleanliness and environment after the 'Swachh Bharat Abhiyan' which added to the awareness about environment conservation and cleanliness manifold.
Elaborating how the waste material can be used to create wealth Dangayach spoke on Fly Ash Mission. He said, "250 million tons of fly ash is generated in the country annually. Out of this, 120 million tons is used as building material which fetches revenue worth Rs 40000 crore. If the remaining fly ash is used, it would give us more revenue". He also explained the concepts of cleaner production center and zero liquid discharge.
MSME has important role: Union Surface Transport and MSME Minister and MP from Nagpur Nitin Gadkari in his session next day dwelt upon the role of MSME sector in making India a $5trillion economy and fulfilling the dream of Prime Minister Narendra Modi to make India a global super power in economic sector.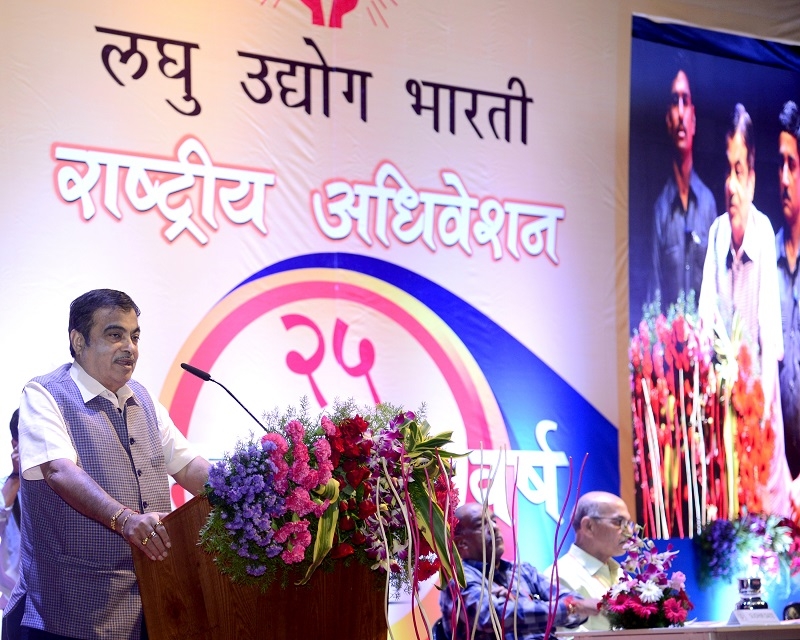 Gadkari said that it is necessary to increase exports in order to make Indian economy strong in the world and in this the MSME sector can play a very important role.
RSS Sah-Sarkaryawah Dr Krishna Gopal, LUB National President Jintendra Gupta, former President Om Prakash Mittal, General Secretary Govind Lele and Sudhir Date were present on the dais.
Gadkari said that if the target of making India a $5 trillion Super Economic Power as envisaged by our Prime Minister Narendra Modi is very clear before us. The MSME sector contributes 29% in GDP growth and 40% in exports. As per government figures there are six crore MSME units and 2crore of them have not registered as yet. The MSME sector would play a very important role in creation of jobs and in coming five years five crore jobs would be created.
If the MSME sector gives 50% contribution in economic growth in the country it would be the biggest contribution, Gadkari said exhorting them to increase the exports and reduce imports. Capital investment and employment in MSME should be increased.
The Minister known for his dynamic decision taking capacity exhorted the entrepreneurs to go in for big dreams and come out of the mentality of remaining backward to enjoy the benefits. "Entrepreneurs should come to me to set up industrial clusters for a particular sector. I will immediately sanction and provide them subsidies. However, they will have to sign affidavits that if they are unable to create a certain number of jobs within the deadline, they will pay back the subsidy amount".
Gadkari spoke at length on his pet subject of bio-fuels and explained how vehicles are shifting to bio-fuels. Even the Spice Jet has flown its plane on bio-fuel, he said adding that the operation was successful. We import the aviation fuel worth Rs 40000 crore and just think if we use this bio-fuel how much money we would save.
He exhorted the MSME sector to go in for bio-fuel production in a big way. He also urged them to go in for organic plastic manufacturing. It degrades within 72 hours. We can reduce crude oil imports by manufacturing organic plastic, he said.
Research and Development: The second business session was dedicated to Research and Development. Dr Ashok Rao from Bengaluru explained through a power point presentation how the artificial intelligence (AI) and Internet of Things (IoT) is going to dominate the future and how we should be ready to adopt the science and technological changes to accomplish our mission.
The technology prepared by the human beings is changing so fast and becoming superior than the creators. The human life is increasingly getting dependent on the technological advancements. This technology is doing wonderful jobs in farming, health, education etc. sectors but there is need to use the technology with a caution lest it is misused or abused.
Dr Bharatbhushan Joshi, Principal of Cummins College of Engineering dwelt on creating more wealth from less giving examples of Jaipur foot, clay utensils, Nano car etc.
Vishram Jamdar, former LUB President and Chairman of VNIT Nagpur stressed on the role of educational institutions and industries to achieve a better understanding between the two for honing the required manpower.
He said there are good numbers of institutes like NIT all over the country. However, it would be worth watching how the students passing out from them become good successful entrepreneurs. He said that five Centers of Excellence would be set up all over the country to train the manpower needed for MSME sector.
Approach Indian institutes for advice: In his address RSS Sah-Sarkarywah Dr Krishna Gopal exhorted the MSME sector to approach the Indian Institutions for technological advice instead of rushing to foreign advisors. He said that we have plenty of institutions that are engaged in research and development and they can better provide the required advice.
Union Minister of State for Heavy and Public Sector units and Parliamentary Affairs Arjun Ram Meghwal was prominently present.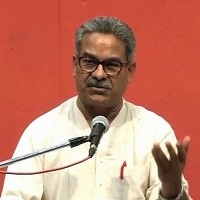 Dr Gopal further said that India used to export cotton, silk textile, carpets, steel, etc. since ages. India was number one in exports and trade. But our industries were destroyed in systematic way and our economy was shattered. But India is rising again with pride and no country in the world can do without Indian doctors or engineers or nurses.
We often approach the foreign agencies for advice to solve our difficulties. We have good institutions like IITs with a very skilled staff of teachers and researchers but due to lack of coordination we are not in a position to utilize their expertise. He appealed to the entrepreneurs to approach such institutions for their difficulties.
The new liberal economy is competitive, so we have to enter into the market with full confidence and capability. The government should guide the entrepreneurs about the challenges and difficulties that they are going to face.
Chairman of Associated Capsules Ltd. Ajit Singh said that earning profit is not his only goal. We sell our products in India with moderate rates but charge more in foreign markets. We pay taxes honestly and all officers and employees take their lunch together in company's canteen. Once in a year community lunch is organized. We treat our enterprise as one family and employees are treated as associates, he said.
Union Minister Arjun Ram Meghwal assured the entrepreneurs that all their problems would be resolved. They should be rest assured. If this government can remove Article 370 and 35A, it can also ameliorate the conditions of MSME sectors. India has to become world economic superpower and in that process the role and contribution of MSME sector will be most wanting, Meghwal said.
Felicitation of Entrepreneurs: On the occasion of this Silver Jubilee Conference, the LUB honored the first generation entrepreneurs. They included Naresh Vatsal of Golden Pankh Export-Import of Moradabad, Neeraj Parik of Umanand Dairy, Guwahati, Prabhukumar Gupta of JGM Industries, Siliguri, Virendra Nagpal of Sports Linje, Ashok Domadia of Microtech Metal Industries and Fitwell, Bachchu China Vyankat Subbarao of Ashwini Homeo and Ayurvedic Medicines, Kakinara, Jyoti Bala of Jyoti Sero Rubber, Gitashori Unnam and Aseem Sundari Devi of Green Biotech Ecosolutions Pvt. Ltd., Reena Rathore of Mewar Technocast Pvt. Ltd. and others with Udyami Puraskar.
New team of LUB: Baldev Prajapat was elected National President of LUB at the AGM held here on Sunday at Reshimbag. Govind Lele retained his post as General Secretary. The other office-bearers included Shashibhushan Vaidya (Vice-President), Yogesh Gautam Treasurer, and Sudhit Datey and Rakesh Garg Joint Secretary.
The LUB deliberated on various issues in the three-day session. It also discussed the hurdles faced by the entrepreneurs. LUB believes that the outcome of these deliberations will go a long way in building the national economy.
Brainstorming sessions were held on various industrial verticals including engineering industry, food and beverages and agricultural production industry, plastics, polymer and rubber, pharmaceutical, medicines and chemicals- allopathic and ayurvedic, textiles and garments, electronics and electricals, automation and computer products traditional industries, village and cottage industries mining and minerals and printing and packaging.