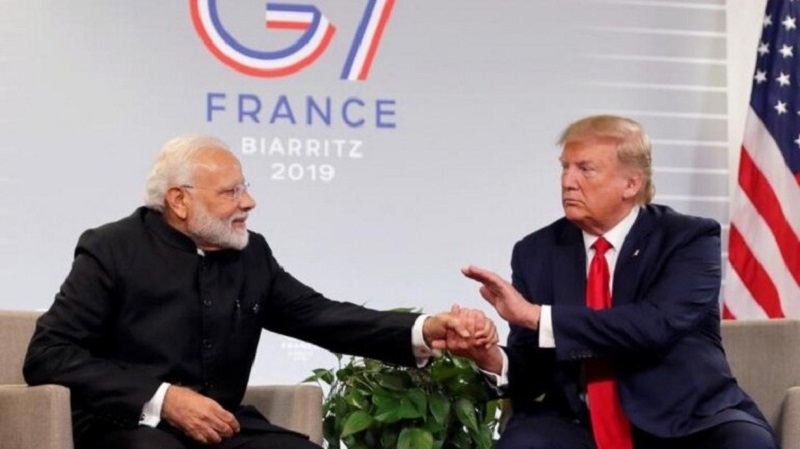 Biarritz (France), Aug 26: India registered a very big diplomatic victory on Monday when Prime Minister Narendra Modi pointblank told US President Donald Trump that all issues between India and Pakistan including Kashmir are bilateral and the two neighbors will resolve them without any interference from other countries.
To the surprise of all, particularly that of Pakistan Prime Minster Imran Khan, US President Donald Trump conceded to PM Modi's views on the issue. It may be noted that just a month ago when Pakistan PM Imran Khan met Donald Trump in Washington, President Trump had said that PM Modi had requested him to mediate between the two neighbors to resolve the Kashmir issue. Today, he reversed his position after listening to PM Modi at Biarritz in France where the two leaders met on the sidelines of G7 meeting.
PM Modi clearly said that India and Pakistan are capable of resolving their issues mutually and need no intervention from any third party. "We don't interfere in other countries' affairs and we do not want any mediation in ours", Modi said while talking to President Donald Trump on Monday.
"Issues between India and Pakistan are bilateral nature, and we do not want mediation from any country in the world. If before 1947 we were one country, then I think we can find a solution now too," says PM Modi.
"All issues between India & Pakistan are bilateral in nature that is why we don't bother any other country regarding them."
"When I called Pakistan PM after he won elections, I told him that both countries need to fight against poverty, illiteracy and other bigger issues. We need to overcome our differences and work together," said PM Modi on issues with Pakistan
He told President Trump that Pakistan is sheltering and nurturing terrorists and we are repeatedly asking them to take action against terrorists in the interest of humanity.
President Trump sounded convinced by PM Modi's briefing. "PM Modi told me that the Kashmir situation is under control," said US President Donald Trump, adding, "We spoke last night about Kashmir, Prime Minister really feels he has it under control. They speak with Pakistan and I'm sure that they will be able to do something that will be very good."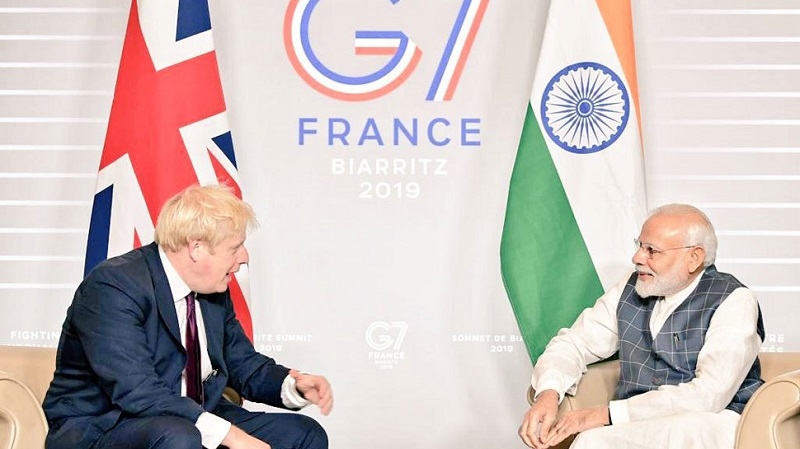 The Indian Prime Minister arrived at Biarritz Sunday evening from Baharin where he inaugurated a 200-year old renovated temple and offered puja there, Modi is in France on personal invitation from the French President Emmanuel Macron. Immediately after landing at Biarritz he had his first bilateral meeting with British Prime Minister Boris Johnson.
The Ministry of External Affairs (MEA) official spokesperson Raveesh Kumar described it as a "good meeting". "Discussions focused on strengthening bilateral ties going forward, in trade & investment, defence & security, science & technology and education sectors". "Connected histories, common future," he said.
Modi is expected to deliver a talk at the G7 Summit on climate change and biodiversity on Monday.
French President Macron is also interested in meeting Modi before the speech of Indian Prime Minister.