New Delhi, August 26: India created history on Sunday as no more bronze, no more silver – P V Sindhu is finally the undisputed golden girl. She became the first Indian to win Badminton World Championships gold by beating familiar rival Nozomi Okuhara of Japan in a lop-sided final Basel. By this win, the whole nation lauded Sindhu for her victory.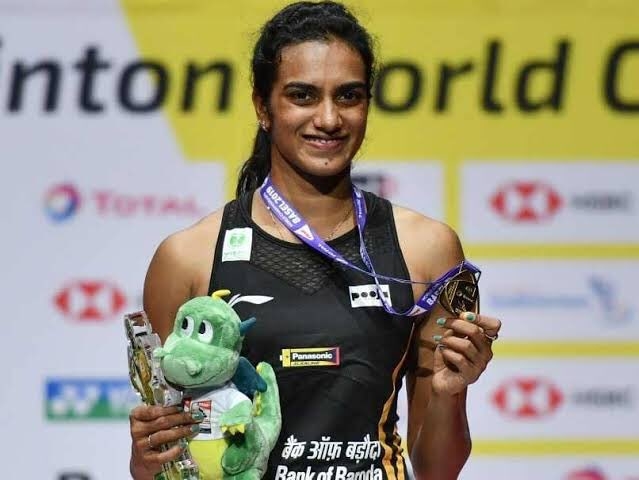 Sindhu produced the most devastating performance of her career, bludgeoning Nozomi Okuhara into submission 21-7 21-7 in 38 minutes at the TOTAL BWF World Championships 2019.
"I'm so happy. I was expecting this for a long time. It's definitely a proud moment for me and for India. A lot of people have been waiting," said the new queen of badminton.
"This is my answer to the people who have asked me questions over and over. I just wanted to answer with my racket and with this win – that's all."
"Yes, people are already asking 'Sindhu, what about gold in Tokyo 2020?'," she said, adding that today will "motivate me a lot more"."Badminton is my passion and I feel that I can win more titles."
"I was dominating. It was important for me to be very alert and every point really mattered to me. I tried to get every point even though I was leading by a large margin," said the star who also beat Beiwen Zhang, Tai Tzu Ying and Chen Yufei en route to glory.
"I was prepared for everything. At times, I was nervous but I was determined to finish it off."
Applauding Sindhu's victory, President Ram Nath Kovind, Vice President M Venkaiah Naidu and Prime Minister Narendra Modi congratulated ace shuttler PV Sindhu for winning the World Badminton Championships.
In a tweet, President said, Sindhu's magic on the court and perseverance inspire millions of people.
Vice President Venkaiah Naidu said, the entire nation is proud of her stupendous achievement.
PM Modi while appreciating Sindhu's win said, "The stupendously talented @Pvsindhu1 makes India proud again! Congratulations to her for winning the Gold at the BWF World Championships. The passion and dedication with which she's pursued badminton is inspiring. PV Sindhu's success will inspire generations of players."
Defence Minister Rajnath Singh described Sindhu as an exceptional player. Union Home Minister Amit Shah said she has made the entire nation proud with her incredible achievement. Union Sports and Youth Affairs Minister Kiren Rijiju has said that Sindhu has created a history by winning a gold medal.