New Delhi, August 6: After a heated debate over the Jammu and Kashmir Reorganisation Bill, Lok Sabha with 370 approval passes the historic decision to revoke Article 370. Batting for scrapping the special status and inheriting the state in two Union Territories, Amit Shah with a bold step truly exhibited India's strong stand on marking Jammu and Kashmir as an integral part of the country. After slating a re-voting for the historic decision, Lok Sabha passed the bill with 370 Yes and 70 No.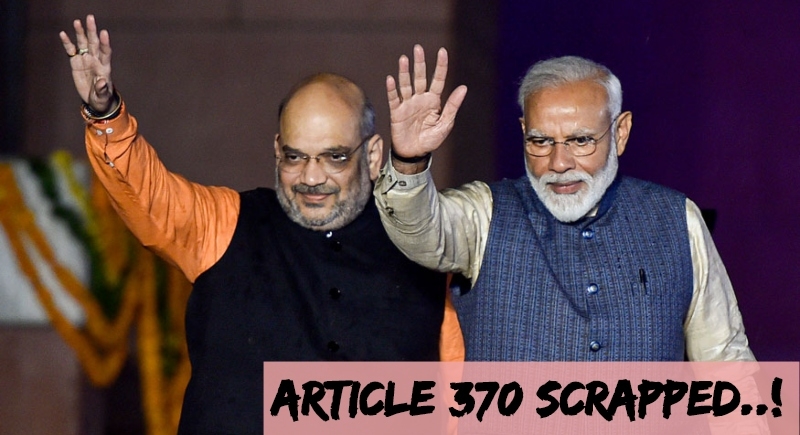 Addressing the Lok Sabha after he moved the resolution to revoke Article 370, Shah attacked the Congress for "questioning" the status of the state and added that Parliament had the right to make laws on the state. Amit Shah said that Article 370 was a roadblock for Jammu and Kashmir. J&K is an integral part of India like any other state in India. Hitting at Congress he said, Pakistan occupied Kashmir is still an integral part of India. Even those who speak against it, want Article 370 to be scrapped but are worried about their vote bank.
Clearing off mere speculations, Amit Shah asserted that there is no objection in giving full statehood to Jammu and Kashmir. "Once the state of affairs normalises in J&K then the status can be changed from Union Territory to state."
Hitting out at the Opposition, Home Minister Amit Shah said, "Who took Kashmir to the United Nations, it was Pandit Jawaharlal Nehru. History will decide if this decision (to revoke Article 370) is right or not, but whenever it will be discussed, PM Narendra Modi will be remembered by the people."
Adding further he said that curfew is imposed in Jammu and Kashmir only because to maintain the law and order of the state. He said Jawaharlal Nehru was responsible for the PoK problem. "We will not touch Article 371. And there is no comparison between Article 370 and Article 371 (which has special provisions for other States, mostly from the Northeast)."
Responding to Supriya Sule's comment on lack of consultations, Shah said, "Debates have been happening for three generations. How long do we discuss? Should we ask the people who take inspiration from Pakistan? We are not against debate but there should be a solution as well." Mocking the opposition, he also said Union Territory status of the state is temporary and it we will not take 70 years to change the same.
Sharping his attack on separatists, Shah said, "Government is not interested in talking to those people in Jammu and Kashmir who get directions from across the border. Modi government is committed to bringing development to Jammu and Kashmir because the people of J&K are in our hearts."