United Nations, Sept. 9
: Although United Nations Regional Commissions have been in existence for more than 70 years, for the first time ever, each one is currently headed by a woman designated by Secretary-General António Guterres.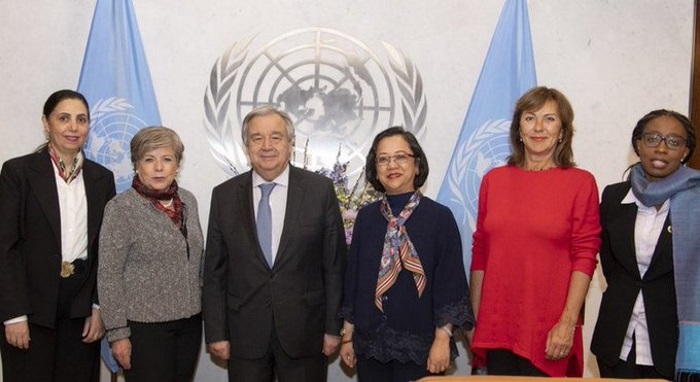 This accomplishment underscores that, since the day he took office, the UN chief has been determined to achieve gender parity by 2030 as part of the Agenda for Sustainable Development.
This step reflects Sustainable Development Goal 5 (SDG 5), on women's empowerment to make a reality.
Let's meet all the heads of UN Regional Commissions-
Latin America and the Caribbean: Alicia Bárcena-
Alicia Bárcena, Executive Secretary for the Economic Commission for Latin America and the Caribbean, known as ECLAC, detailed some of the battles her region faces, such as slow economic growth, high debt, a deterioration in quality employment and increased poverty.
She sees these "long-term challenges" as threats to gender equality, such as "gender gaps in labor markets, the overload of women's unpaid work, their limited access to credit and productive assets, and women lacking their own income". At the same time, incorporating technological change "raises new questions about its disruptive effects on societies and especially on gender equality".
Europe: Oľga Algayerová-
Oľga Algayerová, Executive Secretary for the Economic Commission for Europe, called UNECE, told UN News that by appointing women as UN Regional Commission heads, the Secretary-General is making "a clear call" to ensure that gender parity is "a reality in our regional organizations".
"In the UNECE region, the political and economic landscape now looks far more balanced than it did some decades ago,'' she asserted.
Ms. Algayerová explained that as a women leader, she is especially sensitive to women's situations and needs. And as such, she can be more persistent in searching for gender-responsive solutions and broad-based decisions "in consultations with women's groups" and others.
Asia and the Pacific: Armida Alisjahbana-
For her part, Armida Alisjahbana, Executive Secretary of the Economic and Social Commission for Asia and the Pacific, or ESCAP, told UN News that while "significant progress" has been made in her region, economic and social inequalities persist.
"Growing disparities in income and wealth disproportionately affects women, especially those in vulnerable situations,'' she said, pointing out that "for every 10 men who are in employment, there are only six women working".
What's more, she lamented, "women are overrepresented in low-paying jobs with little social protection provisions" and "have less access than men to financial services and productive assets, including land, capital, and information technologies".
On the political front, Ms. Alisjahbana said that women's representation in Asia and the Pacific continues to be low in comparison with other regions of the world.
Western Asia: Rola Dashti-
Rola Dashti, Executive Secretary of Economic and Social Commission for Western Asia (ESCWA), shared with UN News her view that leadership is "not a privilege" but a "responsibility with accountability".
Woman or man, an "all-weather leader" must work "in a responsible, efficient and effective manner to achieve the desired goals", she believes. Ms. Dashti expressed pride in that she could be "a good example" of women's ability to "carry out substantive tasks and achieve the mission assigned".
Against the backdrop of an Arab region embroiled in conflicts, war, displacement and grave economic and environmental crises, the ESCWA chief said this situation aggravates the already "complicated task" of meeting SDG5.
Africa: Vera Songwe-
Being a woman leader in Africa is a "daily battle of assertion", said Vera Songwe, the head of the Economic Commission for Africa (UNECA), who also noted that the challenges of being a woman leader in the region are no different than anywhere else because "patriarchy is common."
Ms. Songwe told UN News that the continent is seeing more and more competent women in leadership – in places such as Ethiopia, Rwanda, Seychelles, and South Africa – but that women still face obstacles, such as age-old false perceptions about women.
She also spoke about the need to hire more women into the workforce and to mentor their process. "It is a challenging task but we believe achievable and we continue to work towards this end," said Ms. Songwe.