Ahmedabad, January 11: The Centre on Friday announced that the Citizenship (Amendment) Act or CAA has come into force from January 10, 2020. In a gazette notification, the MHA Shah said that the Act under which non-Muslim refugees from Pakistan, Bangladesh and Afghanistan will be given Indian citizenship, will come into force from January 10.
The Gujarat Legislative Assembly meanwhile passed a resolution congratulating Prime Minister Narendra Modi and MHA Amit Shah for securing the passage of the Citizenship Amendment Act. The resolution, which was opposed by Congress MLAs, claimed that persecuted minorities from Pakistan, Bangladesh and Afghanistan were not offered Indian citizenship by earlier governments because of their policy of appeasement.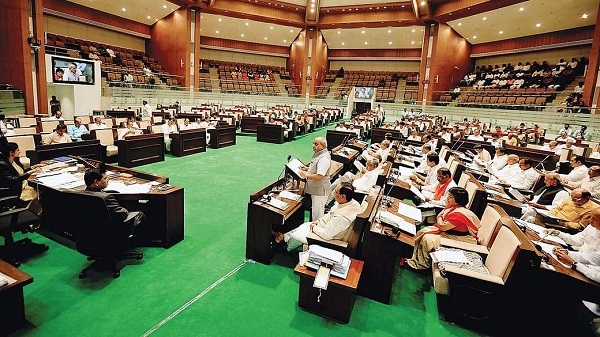 The House was adjourned for fifteen minutes following a ruckus when more opposition MLAs started shouting slogans and displayed posters saying 'Boycott CAA/NCR/NPR'. The resolution, moved by Minister of State for Home Pradeepsinh Jadeja, said, "Prime Minister Narendra Modi and Home Minister Amit Shah have shown far-sightedness by taking a bold and historic decision to amend the Citizenship Act by which Hindus, Sikhs, Jains, Buddhists, Christians and Parsis of three neighbouring countries will be able to get Indian citizenship".
Some anti-nationals and political parties opposing it were silent on the persecution of religious minorities in Pakistan, and spreading rumours that the CAA will take away the citizenship of the members of the minority community in India, the resolution said. Minister Jadeja told the House that the Act will not take away anyone's citizenship. "CAA is only about granting citizenship to the religious minorities of three countries".
"I want to assure that no Indian will lose citizenship. This act is not at all unconstitutional. It will alleviate the pain of persecuted minorities," he added. Even Mahatma Gandhi and former prime minister Manmohan Singh were of the opinion that persecuted minorities should be granted citizenship, Jadeja claimed.
Leader of Opposition Paresh Dhanani sought to link the CAA with the NRC and National Population Register (NPR). "CAA will destroy the secular spirit of our Constitution. CAA is linked with NRC and NPR. People are afraid that they may lose their citizenship. This act will divide the nation. For granting citizenship to a few foreigners, you want to strip crores of our own people of citizenship," the Congress leader said.
However the Chief Minister said that he was very much an Indian by birth. "When I was born in Myanmar, my parents were holding Indian passport. I am an Indian since my birth. My name was added in the passport as an Indian. We came back to India when I was around two and half years old," the CM said. The discussion went on for around two hours before the resolution was passed with a majority vote.