Chennai, October 12: To generate direct jobs in the state, the Tamil Nadu Chief Minister Edappadi Palaniswamy on Monday inked memorandums of understanding (MoUs) with 14 companies including JSW Renew, Britannia, Apollo Tyres which, will invest over 10,055 crore rupees in various industrial projects.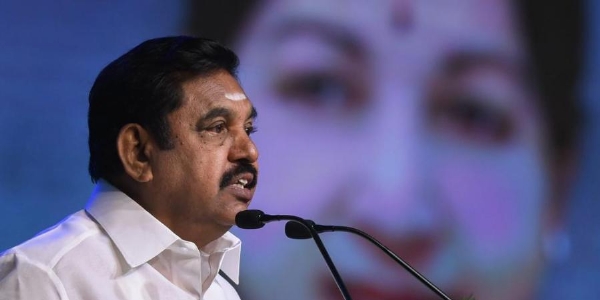 These projects will be implemented in Chennai, Chengalpattu, Kancheepuram, Tirunelveli, Thoothukudi, Tenkasi, Ramanathapuram, Tiruppur, and Tiruvannamalai districts. Out of these 14 projects, four MOU's were exchanged online however, the remaining 10 MoUs were exchanged physically. According to the state government, the investments would generate over seven thousand direct jobs and many more indirect jobs.
Notable among the investment proposals include the JSW Renewable Energy Ltd's plans to generate renewable energy in Thoothukudi, Tenkasi, Tirunelveli, Ramanathapuram, and Tirupur districts. JSW projects also have been committed the largest of these investments worth of 6,300 crores. The firm has said that it would be employing over 2,420 persons.
Apart from JSW, Apollo Tyres has signed the agreement for expanding its operations at Oragadam in Kanchipuram district. It will invest Rs 505 crore in an expansion project at its Orgadam facility. Moreover, Li-Energy invest Rs 300 crore for EV battery packs, and South Korea-based LS Automotive Pvt Ltd will put in Rs 250 crore to manufacture auto switches.
The Hiranandani group establishes an industrial logistics park at Oragadam. Hyundai Wia will invest Rs 109 crore in a brownfield expansion for auto components. And Green Tech Motors & Services will invest Rs 90 crore for battery and BMS. While FMCG major Britannia has signed an MoU to invest Rs 250 crore in an expansion project.
Furthermore, the state also signed an MoU with US-based TPI Composites for a Rs 300-crore expansion of wind blade manufacturing. The Spanish IT firm Mantra Data Centre established its Data Centre near Chennai and Aosheng Hitech Ltd has signed the agreement for launching a carbon fiber plates manufacturing unit.
Tamilnadu government ha signed 42 MoU's since last January worth over 31464 crore rupees with a potential to create 69,712 jobs.