New Delhi, October 12 : The Vishva Hindu Parishad has expressed its concern over the brutal killing of a boy Rahul Kandela (Rajput), son of a driver from a poor backward class in Delhi, by some radical Muslims asking if this 19-year-old teenager being friends with a Muslim girl had become his crime, for which he was penalized by Jihadi elements with mob lynching?
VHP Central Joint General Secretary Dr. Surendra Jain today said that it is a matter of great concern for the entire country that whenever a Hindu boy falls in love with a Muslim girl, that boy is tagged as a criminal and gets marked for sure death penalty, but when a Muslim boy establishes a relationship with a Hindu girl even by force or fraud, he does not come under any category of crime for them. "By tagging the Hindu youth as a criminal and killing him by mob lynching cannot be an indicator of a civilized society", he said.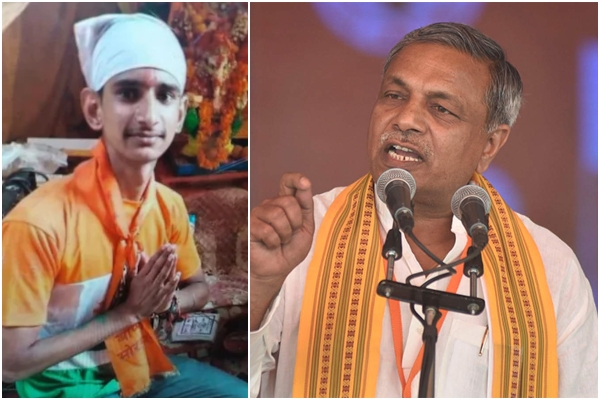 Dr. Jain further said that Muslim society is the happiest in Bharat. This can only be possible by virtue of the goodwill and tolerance of majority Hindu society. Despite this, one has to comprehend why a large section of Muslim society nurses so much hatred for Hindus. Even on trivial matters, he goes on to mob-lynch Hindus. In the last four-five years, there have been more than 73 incidents of mob lynching of Hindus by Jihadists. In the national capital Delhi itself, there have been more than 9 mob lynching incidents to kill Hindus in the last 5 years.
He said that the VHP urges the leaders of Muslim society to remedy and cure this sickness Jihadi-Mindset of a section of their society and bring them to the path of CO-EXISTEN instead. The tolerance of Hindu society should not be taken otherwise. The Vishva Hindu Parishad believes that the so-called secular fraternity is no less guilty for promoting this bigotry and violent hatred. For some isolated incidents with a member of Muslim society, they not only put the central government but the Hindu society and the entire country in the dock, but not a word of sympathy and condolence escapes their mouth when scores of youths like Rahul are mob-lynched.
When IB officer Ankit Sharma was assaulted, brutally tortured and killed and his badly mutilated body dumped in the drain, why was the mouth of the secular fraternity stitched? A despicable and repellent crime like rape is unpardonable. But in this too, only the secular fraternity can commit the crime of seeing Hindu-Muslim. "Their reaction in the Hathras incident has made it clear that these incidents are merely a means for the secular fraternity to fulfil their vested interests and they also commit the crime of becoming the puppets in the hands of anti-India foreign powers.
The role of Dalit organizations like the Bhim Army has made it clear that they too do not hesitate to play their anti-Dalit and anti-national role to fulfil their vested interests. They are working overtime to destabilize elected nationalist governments, promote anti-national activities, defame the Hindu society and the country. The society will never forgive them for this", Dr Jain added.