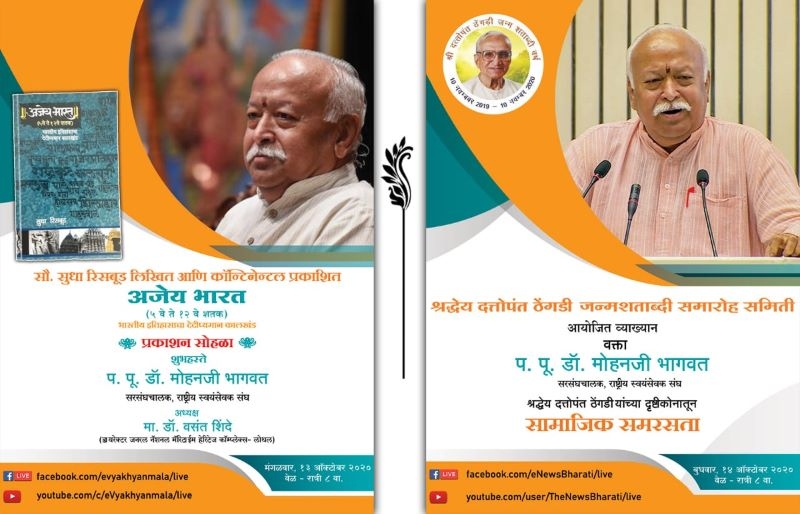 Pune, Oct 13: Rashtriya Swayamsevak Sangh (RSS) Sarsanghchalak Dr. Mohanrav Bhagwat will be releasing "Ajeya Bharat". a book written by Sau. Sudha Risbud at a virtual function.
The book discusses the glorious period of Indian History from the 5th to 12th centuries and is published by Continental Prakashan, Pune.
Dr. Vasant Shinde, Director General of Maritime Heritage Complex will chair the release function to be held tonight at 8.
The program can be viewed at facebook.com/evyakhyanmala/live and youtube.com/evykhyanmala/live.
Lecture on Social Harmony: RSS Chief will be delivering a lecture on "Social Harmony as viewed by Late Dattopant Thengdi" on October 14 at 8 pm.
The lecture is being organized by Shraddheya Dattopant Thengdi Birth Centenary Celebrations Committee as part of the centenary celebration program.
Late Thengdi besides being a pioneer of a nationalist trade union in India, was an avowed champion of social harmony and played a key role in launching the 'Samajik Samarasata Manch' to foster social harmony between various sections of the society.
This lecture is live and can be viewed at facebook.com/eNewsBharati/live and youtube.com/TheNewsBharati/live on October 14 at 8 pm.