Geneva, October 13: Praising India's Covid-19 contact tracing app Aarogya Setu, World Health Organisation Director-General Dr. Tedros Adhanom Ghebreyesus said that the Indian App has helped city public health departments identify clusters and expand testing.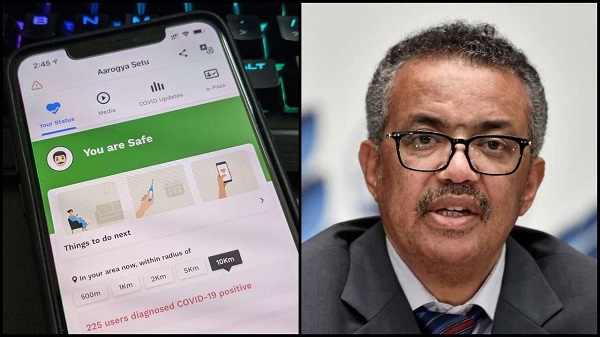 Emphasizing on the need to implement "tried and tested public health tools" like self-isolation and contract tracing to break the chain of Covid-19 transmission he said technologies like mobile applications were making these tools more "effective". The Aarogya Setu application in India that has been downloaded by 150 million users" is one such technology
"Aarogya Setu has helped city public departments to identify areas where clusters could be anticipated and increase Covid-19 testing in a targeted way," Ghebreyesus said. He also mentions how Aarogya Setu has helped cities identify emerging hotspots and helped limit the pandemic.
Earlier, World Bank also praised the Aarogya Setu app saying it is an example of how digital technologies can help track the spreading infection. It was also ranked among the top 10 most-downloaded non-gaming apps worldwide in May 2020.
The app is designed to inform the people of any potential risk of COVID-19 infection around them, best practices to stay healthy, and relevant/curated medical advisories pertaining to the pandemic. The app was developed to help people self-assess and calculate their risk of catching the coronavirus infection.
It is developed by the GoI's National Informatics Centre under the Ministry of Electronics and Information Technology. It supports as many as 11 different languages including Gujarati, Marathi, Aarogya Setu has become the most-downloaded Covid-19 tracking app in the world. It has been installed by around 150 million users in the country.
The Centre has been pushing the use of the Aarogya Setu app and regular updates on it in case one tests positive for coronavirus and also if someone has contacted a Covid-19 patient.